"The Colony" Historical Marker (Greenwood Forest Farms)
Introduction
From the 1880s until the 1960s, Jim Crow laws restricted virtually every aspect of life for African Americans. Those restrictions often applied to travel and vacations, as many hotels and resorts only catered to white people. As a result, affluent African Americans, in some cases, bought large homes or cottages and formed resort communities only for African Americans. Greenwood Farms, sometimes known as "the Colony," was founded in 1919 and was the first African American resort in New York state.
Images
Historical marker recognizing "The Colony"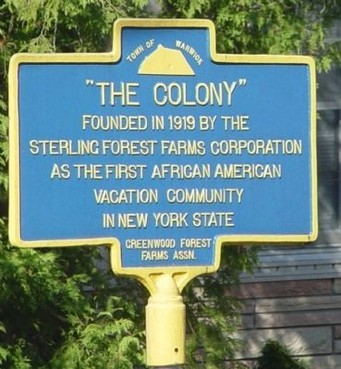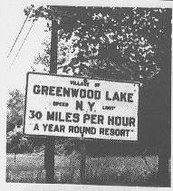 Backstory and Context
Beginning in the late nineteenth century, segregation kept whites and African Americans separate in virtually aspects of life, including vacation. Segregation in the Southern states is well-known, but African Americans often faced similar circumstances on beaches in other parts of the country, where they were either prohibited outright or at least unwelcome.

In coastal areas across the North, African Americans formed corporations and bought land to serve as vacation spots. Greenwood Forest Farms was one such place. The resort community began with a group of prominent Brooklyn African Americans who hoped to find trade opportunities in South America. World War I put an end to those plans, and they decided to take their accumulated wealth and create a vacation community instead.

Greenwood Forest Farms was founded in 1919 and consisted of twenty-eight cottages. Land was set aside fora clubhouse and a man-made lake. The streets were privately owned and were maintained by the community, and for several decades, the community generated its own electricity. At the time of the community's establishment, cottages sold for between $200-300.

Greenwood Farms, known as "the Colony," became well-known among affluent African Americans. Some of the most well-known figures of New York's African American arts community lived or vacationed at the Colony, including Langston Hughes.

In the 1960s, the Colony and other communities like it declined in importance once discrimination in public facilities was no longer legal. Nonetheless, some descendants of the original owners at the Colony still live there year-round. In 2006, a historical marker was installed to recognize the significance of Greenwood Farms.
Sources
Scruggs, Sheldon. A Legacy of Pride. Times-Herald Record. August 09, 2006. Accessed December 27, 2017. http://www.recordonline.com/article/20060809/COMM/608090305.

Hull, RIchard. Greenwood Forest Farms. The Villager. Accessed December 27, 2017. https://greenwoodlake.wordpress.com/greenwood-forest-farms/.