Frederick Squires House
Introduction
This Craftsman-style house belonged to Frederick Squires, a New York-trained architect who entered the petroleum business in 1914. The home was built in 1927 by combining two gable-front houses originally from the 1870s. Its use of natural materials such as wood and brick, ample built-in cabinetry and bookcases, and open floor plan exemplify the Arts and Crafts/Craftsman style of the early 20th century. Inspired in part by the English Arts and Crafts movement, this style rejected the machine-made objects of the Industrial Revolution and the distance that had grown between manufacturer and consumer. Instead, Craftsman proponents advocated for a return to skilled handicraft, "honest" use of materials, and relative simplicity of design (in contrast to, for example, Victorian frills and over-embellishment). This house (along with the Henry Ahrens House, also in Champaign) was added to the National Register of Historic Places in 2011.
Images
Exterior of the Frederick Squires House (Stephen Haas, for The News-Gazette)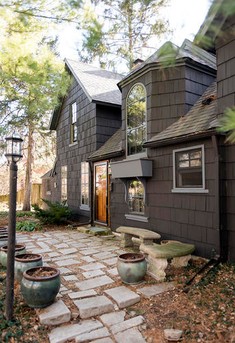 The living room of the house features exposed brick surrounding the fireplace, exposed wooden beams, and built-in shelves. (Stephen Haas, for The News-Gazette)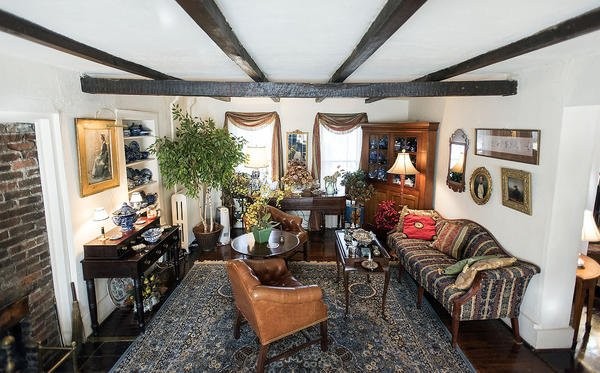 Backstory and Context
Frederick Squires:
Born in Plainfield, New Jersey in 1879, Frederick Squires earned a BA in Architecture from Williams College and a BS from the School of Mines of Columbia University (established in 1864 as the first mining and metallurgy school in the United States). He and classmate John Wynkoop opened the architectural firm Squires and Wynkoop in New York City after their 1904 graduation. The firm produced two twelve-story office buildings in New York City, as well as various residential and concrete buildings in the northeast. Squires and Wynkoop published many of their designs in Architectural Record, Concrete-Cement Age, House and Garden, and other publications.

Frederick Squires married Ethel Warrick in 1907; the couple had three children. Squires returned to Williams College in 1909 to design the house for Phi Delta Theta Fraternity (to which he had belonged), and in 1911 to design the Gargoyle Gate. In 1913, he published a book entitled The Hollow Tile House (1913) on a new construction technique he developed. A year later, he published a more whimsical book, Architectonics: The Tales of Tom Thumtack, Architect, illustrated by Rockwell Kent.

Starting in 1914, Squires worked with his brother Walter, who ran an oil extraction business. Together, they renamed the business "The Squires Brothers Oil Co." The family moved to Ohio and enjoyed the financial success that came from high oil prices from 1914 until 1920. During the 1920s, Squires faced a number of business troubles as oil prices decreased and the company faced an expensive lawsuit. The company (renamed Remlik Oil Company in honor of its investor Mr. Kilmer) sold its old leases in Ohio and acquired new ones in Illinois and Indiana, prompting Frederick Squires' move to Champaign, Illinois. Despite his financial struggles, he built his house in Champaign during this time. After nearly a decade of plummeting oil prices, the Great Depression of 1929 proved fatal for the company.

Squires accepted a job with the Illinois State Geological Survey in 1931, which he held until retirement in 1950. In this role, he published prolifically on oil recovery. Following his retirement, he continued publishing and also served as an adviser for the Dow Chemical Company, the E.I. du Pont Company, and the U.S. Bureau of Mines. For more on the history of oil production in Illinois, see Karen Kummer's concise summary, p. 16-17.

Construction of the Frederick Squires House:
The house has a complex history, as Karen Kummer of the Preservation & Conservation Association explains:

The Frederick Squires House is an extensive rebuilding of a circa 1870s vernacular gable-front L-plan house that was undertaken by its owner, Frederick Squires, a New York trained architect. In 1927, Squires moved a second, very similar, circa 1870s vernacular gable-front house to his lot and joined it, via the two-story wing, with the original dwelling. He then remodeled the enlarged irregular plan dwelling into his personal architectural expression of an Arts and Crafts/Craftsman-influenced residence; the building retains the integrity of this architect's very personal design (p. 3).

Built on a foundation of concrete and brick, the Squires House is covered in dark brown wooden shingles. In addition to the main structure formed by the two gable-front houses, it has wings on the eastern and western sides to house the kitchen and garage.

Craftsman-Style Architecture
Brothers Charles Sumner Greene and Henry Mather Greene, who worked as architects in Pasadena during the early 20th century, are credited with developing this architectural form. Craftsman-style bungalows proved extremely popular with American families between 1905 and 1930.

Craftsman-style homes tend to use natural materials in muted earthly shades of brown and green. The style drew inspiration from the English Arts and Crafts movement, which valued the artistry of handmade items over the more generic machine-made objects that the Industrial Revolution had made possible. For instance, exposed rafter beams under the roof eaves highlight the skilled handiwork that went into constructing the house. Proponents of Arts and Crafts sought a return to traditional, even medieval, modes of production, and an emphasis on high quality without excessive or fussy embellishment. Craftsman style also borrowed elements from wooden architecture in East Asia.

Typical features of these houses include:
- 1- or 1.5-story plans
- Open floor plan
- Low-pitched roof
- Built-in cabinets
- Dormers
- Double hung windows
- Broad eaves
- Exposed rafters
- Spacious fireplaces
- Large porches
- Made of wood or other natural materials

In sum, Monica Obniski describes Craftsman homes and the influence of the Greene brothers as follows: "They fashioned a distinctive style, heavily influenced by Asian design, that reached its zenith with the bungalow, the quintessential Arts and Crafts architectural form, characterized by broad overhanging eaves, articulated woodwork, and an open plan."

The Frederick Squires House displays many of these characteristics. Its dark brown, wood-shingled exterior blends into its environment, and the house has multiple dormers and double hung windows. The interior of the Squires House is likewise heavily influenced by Arts and Crafts/Craftsman style. Its floor plan is open, and the rooms contain built-in bookcases, corner cabinets, fireplaces, and wood paneling. Throughout the construction of the house, Squires displayed his preference for using natural materials (brick, tile, stone, and wood), especially materials that were locally-sourced or "recycled." As Kummer notes, his decision to join two preexisting houses reflects the Craftsman philosophy of using readily available, natural materials in the local environment (19-20).

The Arts and Crafts/Craftsman movement also valued fresh air and the great outdoors. Unsurprisingly, the Frederick Squires House is well-landscaped, with space for a garden and simple flagstone paths. Despite his career shift away from architecture to petroleum at age 35, Frederick Squires retained his love of design and constructed his personal home in Champaign in accordance with the Craftsman values of simplicity, honesty, quality, and handicraft.


Sources
Clark, Robert Judson, ed. The Arts and Crafts Movement in America, 1876–1916. Princeton: Princeton University Press, 1972.

"Craftsman-style Bungalows." Antique Home. Accessed December 27, 2017. http://www.antiquehome.org/Architectural-Style/craftsman.htm.

"Earth and Environmental Engineering: History." Columbia University. Accessed December 27, 2017. http://eee.columnbia.edu/history-1.

Gray, Liz. "Arts and Crafts Architecture." HGTV. Accessed December 27, 2017. http://www.hgtv.com/design/home-styles/arts-and-crafts-architecture.

Kacich, Tom. "Two local homes join esteemed company on National Register." The News-Gazette. December 15, 2011. Accessed December 27, 2017. http://www.news-gazette.com/living/2011-12-15/two-local-homes-join-esteemed-company-national-registe....

Kummer, Karen Lang. National Register of Historic Places Registration Form. U.S. Dept of the Interior, NPS. April 2011. Accessed December 27, 2017. http://gis.hpa.state.il.us/pdfs/801822.pdf.

Marcoux, Steele. "American Architecture: The Elements of Craftsman Style." Houzz. May 23, 2012. Accessed December 27, 2017. https://www.houzz.com/ideabooks/2349556/list/american-architecture-the-elements-of-craftsman-style.

Obniski, Monica. "The Arts and Crafts Movement in America." Heilbrunn Timeline of Art History. Metropolitan Museum of Art. June 2008. Accessed December 27, 2017. https://www.metmuseum.org/toah/hd/acam/hd_acam.htm.



Additional Information