First Congregational Church of Poughkeepsie (Underground Railroad Heritage Trail)
Introduction
The First Congregational Church of Poughkeepsie was founded in 1837. From its founding, the church took an active stance against slavery. Dutchess County was home to a number of free African Americans as well as Quakers. Following an attack on the abolitionist Samuel Gould in 1837 during a speech at the Second Presbyterian Church in Poughkeepsie and the failure of that church's minister to take a strong anti-slavery stand, local abolitionists proposed founding a church focused on the abolition of slavery.
Images
First Congregational Church of Poughkeepsie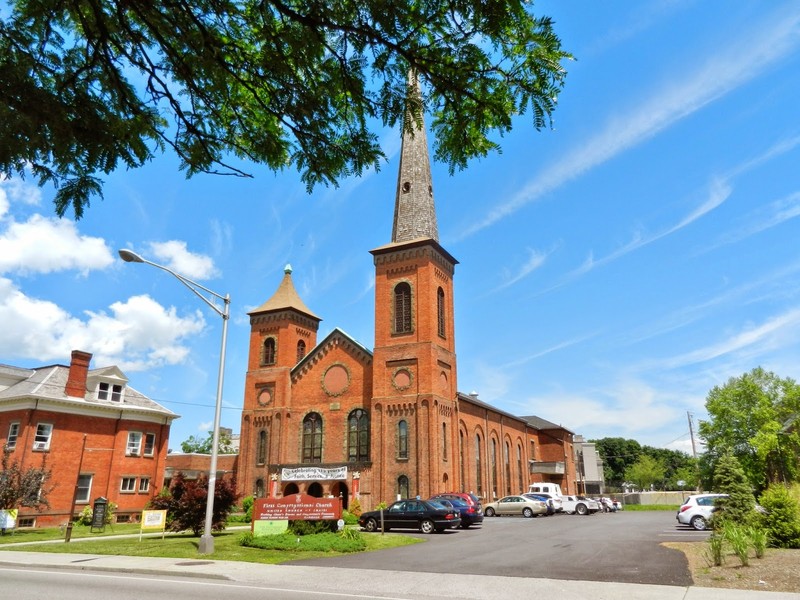 Backstory and Context
While Dutchess County was not, on the whole, a bastion of anti-slavery sentiment, the county did possess a vibrant and committed network of abolitionists. Most of Dutchess County's abolitionists were either free African Americans and rural Quakers. In 1834, Black and white abolitionists in Dutchess County organized the Poughkeepsie Anti-Slavery Society (PASS), an organization which was committed to ending slavery.

In 1837, PASS invited the abolitionist Samuel Gould to speak at the Second Presbyterian Church. During his speech, he was attacked by a mob of men who were opposed to abolitionism. After beating Gould, the mob roamed through the town, breaking windows.

Some of the congregants of both First and Second Presbyterian Churches were dismayed by their ministers' refusal to take a strong antislavery stand. In the aftermath of the attack on Gould, members of those churches began leaving, and in the summer of 1837, they formed the First Congregational Church of Poughkeepsie, and vowed that the church would be opposed to the institution of slavery.

The new congregation purchased the sanctuary of Second Presbyterian, which ceased operation. A few years later, FCC sold the property and in 1859, built the church that now stands at 269 Mill Street.

In the 1850s, FCC continued its antislavery work. The church hosted famed abolitionist Frederick Douglass when he was prohibited from speaking at city hall. The church also raised money for the return of John Bolding, a local tailor who had been captured by US marshals to be returned to the South under the auspices of the Fugitive Slave Law. Bolding lived in Poughkeepsie as a free man for the remainder of his life.

During the twentieth century, FCC continued its commitment to social justice issues. The congregation is an active supporter of LGBTQ causes, and is engaged in the issues of hunger, homelessness, and poverty.

Because of its role in the antislavery movement, the FCC sanctuary was designated as a site on the New York Underground Railroad Heritage Trail.
Sources
Our History. First Congregational United Church of Christ. Accessed December 24, 2017. https://opentogod.org/about/our-history/.