Opus 40
Introduction
Built on 6.5 acres of land that was once a quarry, Opus 40 is an enormous environmental sculpture. It is the work of one man, Harvey Fite, who worked on the paths, pools, and sculptures that make up Opus 40 for 37 years, until his death in 1976. The work is carved and sculpted entirely in bluestone and is sometimes likened to other monumental works of stone, such as Stonehenge or the Acropolis. Opus 40 is listed on the National Register of Historic Places.
Images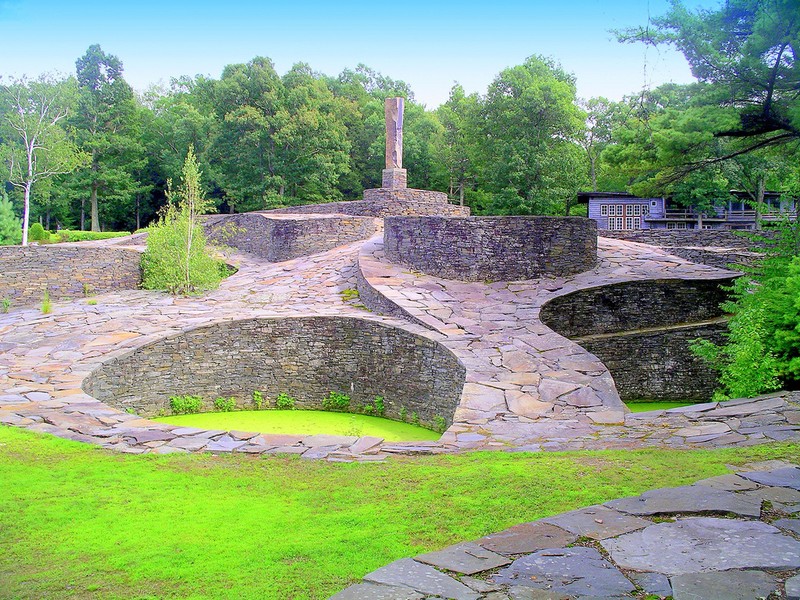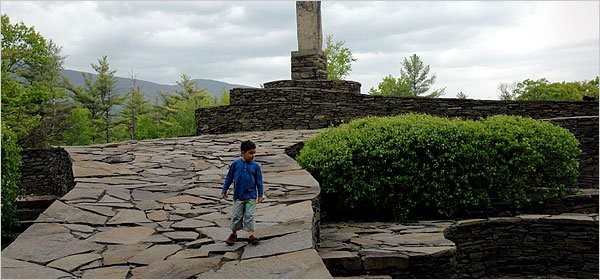 Backstory and Context
Opus 40 began in 1938, when Harvey Fite, a sculptor and professor at Bard College, purchased an abandoned bluestone quarry. Fite bought the property for $250 and intended to use it as a source for stone to be used for his sculptures. Instead, after spending some time in Honduras working on the restoration of Mayan ruins, Fite decided to transform the disused quarry into a space to display his sculptures.

Fite went to work building ramps and terraces out of the rubble left behind. His original plan was that the terraces would lead to the sculptures, but the work gradually took on a life of its own. He realized that the central sculpture, a 1.5 ton work called Flame, was too small to suit the scale of what he was doing in the quarry. Flame was replaced many years later with a 9 ton bluestone slab from a nearby riverbed.

Opus 40 began with 6.5 acres, but Fite gradually added a wood and stone home, a garage, a Blacksmith's shop, and increased the amount of land to more than 70 acres. He also built the Quarryman's Museum, a small gallery to showcase the tools he used in his work. All of the work at Opus 40 was done solely by Fite.

For many years, the site had no name. Fite settled on Opus 40 because he believed it would take 40 years to complete. As it happened, Fite was killed in an accident on the site in 1976, 37 years after beginning his work there.

Opus 40, which is listed on the National Register of Historic Places, is open to the public but closes occasionally for weddings and other events.
Sources
Wallis, David. A Monumental Vision of Half a Lifetime. New York Times. June 02, 2006. Accessed December 23, 2017. http://www.nytimes.com/2006/06/02/travel/escapes/02trip.html.


Additional Information