Witte Museum
Introduction
The Witte Museum is San Antonio's premiere museum of South Texas history, culture, and natural science. The permanent collection features historic artifacts and photographs, Texas art, textiles, the world-renowned Hertzberg Circus Collection, dinosaur bones, cave drawings, Texas wildlife dioramas. Kids especially enjoy the Science Treehouse. The most recent addition is the 20,000 square foot Robert J. and Helen C. Kleberg South Texas Heritage Center—a permanent home for the Witte's South Texas collections.
Images
The Witte Museum is San Antonio's premiere museum of South Texas history, culture, and natural science.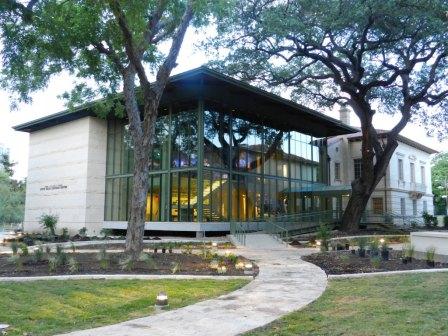 Backstory and Context
San Antonio was a modern, thriving town in the early twentieth century, but lacked many of the cultural institutions that marked other great American cities. Notably, there was no public museum. Local residents relied on privately owned exhibits of art and zoological collections to provide them a glimpse of the wonders of the artistic and natural world. Unlike other cities, San Antonio in the early 1900s had no men and women of extravagant wealth to build their cultural institutions. Instead, the Witte Museum was the product of a disparate group of individuals that included the owner of a large natural history collection, H.P. Attwater, prominent clubwomen including Lena McAllister and Ethel Tunstall Drought, and Mayor John Tobin. They were inspired by a local high school teacher, Ellen Schulz, who envisioned a public museum for the enjoyment of all San Antonians.
Ellen Schulz was aware that H.P. Attwater's renowned collection was for sale, and after seeing it in 1922 she became determined to acquire it for San Antonio. By early 1923, schoolchildren were standing on street corners calling, "Spare a dime?" and community leaders had formed an organization they called the San Antonio Museum Association to assist in the effort. Through sales of bluebonnets, cakes and performances of "Peter Pan" and "Los Pastores," the community contributed $6,200 to purchase the Attwater Collection, install it at Main Avenue High School, and open the city's first public museum on October 8, 1923.
Even before the museum opened, Lena McAllister suggested to Schulz that a formal museum be organized and constructed. The idea took hold as the Attwater Collection's popularity inspired other donors and the museum soon outgrew its home. By 1924, Schulz, accompanied by her friend and high school principal, Emma Gutzeit, visited Mayor Tobin to enlist the city's support to build a museum. Though the mayor reportedly first inquired, "What is a museum?" he was eventually converted to the cause. He was even convinced by Ethel Tunstall Drought, president of the San Antonio Art League, that the museum needed a second story where her organization's growing art collection could be displayed. Led by Tobin, the city committed land in San Pedro Park, and on June 22, 1925, approved $25,000 for construction of the building. Ground was broken for the new museum on September 22, 1925, and then, two days later, local businessman Alfred G. Witte died.
Museum advocates and the mayor were not aware that Alfred Witte, in his will dated June 6, 1921, bequeathed $65,000 to the City of San Antonio for construction of a museum of art, science and natural history to be located in Brackenridge Park and named for his parents.
Sources
"The History of the Witte Museum." Witte Museum. Accessed June 10, 2014. https://www.wittemuseum.org/history-2.
Additional Information