Rondout Lighthouse (Rondout II)
Introduction
The Rondout Lighthouse was built in 1915 and is still fully operational. It is one of seven remaining lighthouses on the Hudson River and is the third in this location. The lighthouse is now fully automated and is maintained by the Hudson River Maritime Museum. It is listed on the National Register of Historic Places.
Images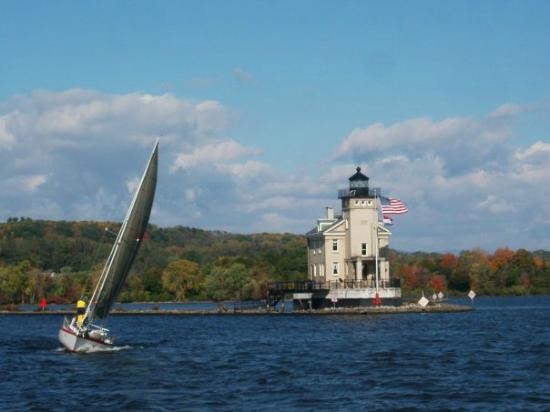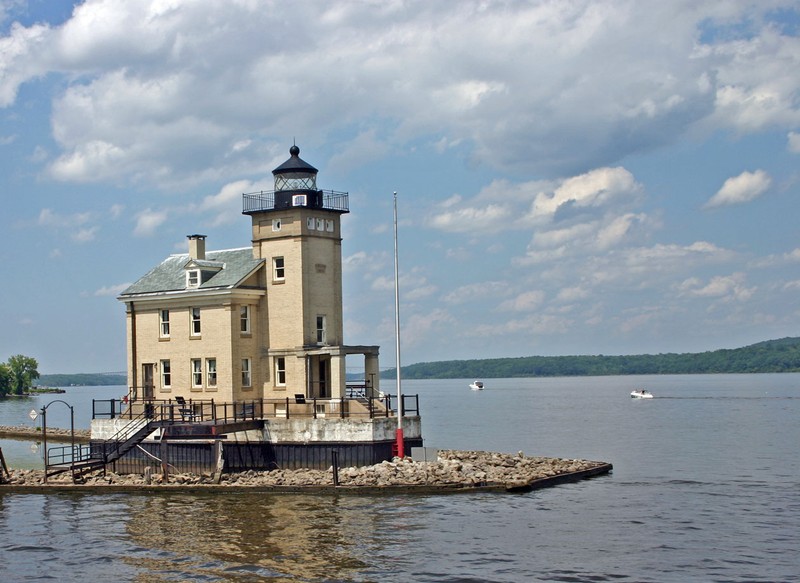 Backstory and Context
For most of the nineteenth century, Rondout Creek was a major deepwater port, and in 1837, a lighthouse was built to mark the entrance to the creek on the Hudson River. The first lighthouse was a simple wooden structure which was eventually damaged beyond repair in a storm.

A second lighthouse, known as Rondout I, was built of stone in 1867. Both the first and second lighthouses were located closer to shore than the current lighthouse, and the stone foundation of the second lighthouse is still visible.

When dredging led to the realignment of the harbor's entrance, the current lighthouse was built. Known as Rondout II, the lighthouse was completed in 1915. The new lighthouse was a two-and-a-half story structure constructed of yellow brick on 50-foot wooden pilings.

The current Rondout Lighthouse became fully automated in the 1950s, but over the course of its history, numerous keepers lived and worked in the building. One was a woman, Catherine Murdock, who served as keeper of the lighthouse for fifty years. She took over the post following the death of her husband, who had also been the lighthouse's keeper. Catherine Murdock served as keeper until 1907 when her son succeeded her at the post.

From the 1950s until the 1980s, the lighthouse was largely abandoned, until the Hudson River Maritime Museum began efforts to restore the building. In 2002, the Coast Guard transferred ownership of the lighthouse to the city of Kingston and the museum. The lighthouse is also listed on the National Register of Historic Places.



Sources
Rondout Lighthouse History. Hudson River Maritime Museum. Accessed December 21, 2017. http://www.hrmm.org/rondout-lighthouse.html.

Rondout II. National Park Service. Accessed December 21, 2017. https://www.nps.gov/nr/travel/kingston/k23.htm.


Additional Information