Aero Memorial
Introduction
To commemorate aviators who died in World War I, sculptor Paul Manship created an open bronze sphere that suggests the heavens and the earth, with intricate intertwined forms evoking the signs of the zodiac. he artist Paul Manship was a leading figure in American sculpture for several decades. Profoundly influenced by classical Roman and archaic Greek Art, he received many major sculpture awards in the United States and abroad, and his famous Prometheus dominates Rockefeller Center in New York.
Images
The bronze sphere opposite the main entrance of the Franklin Institute is dedicated to the aviators who died in World War I.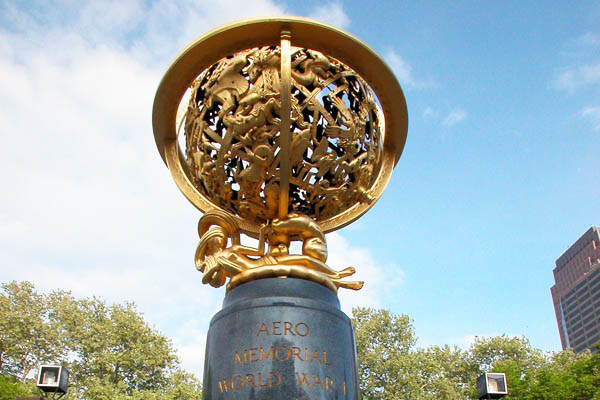 Backstory and Context
The idea for
Aero Memorial
was conceived by the Aero Club of Pennsylvania, which donated modest funds for the purpose to Fairmount Park Art Association (now the Association for Public Art) in 1917. Fundraising took many years and the work did not begin until 1939, when the Art Association contacted Manship. The idea of a celestial sphere was finally approved in 1944. Manship had already executed a number of similar spheres, including one for the Woodrow Wilson Memorial at the League of Nations in Geneva.
Sources
Public Art in Philadelphia by Penny Balkin Bach (Temple University Press, Philadelphia, 1992).