Canfield Casino and Congress Park
Introduction
Saratoga Springs's onetime popularity as a spa and gambling destination was based largely on Canfield Casino, which was built in 1866. The spring water which bubbled up into Congress Park and was bottled and sold as a curative also drew visitors from around the country. The efforts of reformers led to the closure of the casino in the early 1900s. The building, which is listed on the National Register of Historic Places, is now used as a venue for weddings and other events.
Images
The building was constructed in 1870 and now holds a museum operated by the Historical Society of Saratoga Springs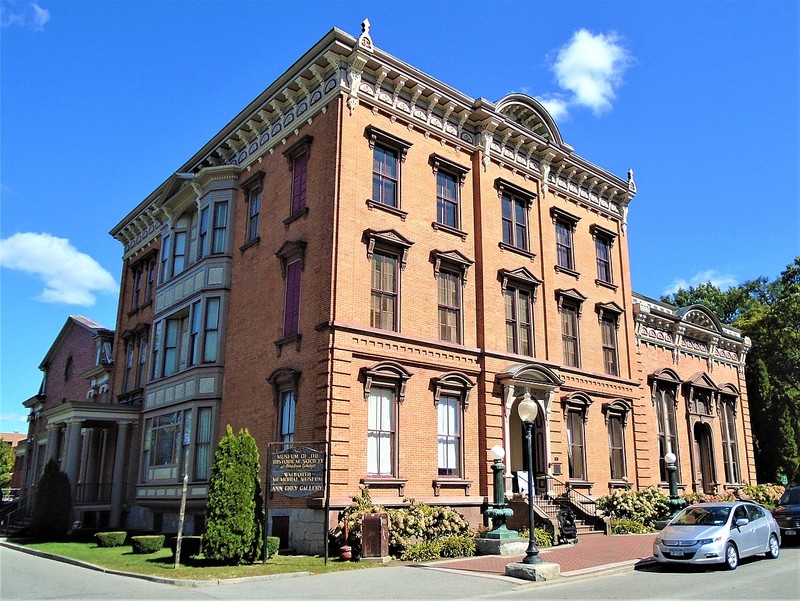 Backstory and Context
The restorative waters of the city's numerous springs made Saratoga Springs a popular destination for travelers from around the country. "Taking the waters" became a popular pastime and a cure-all for Americans in the late 1800s, while many others came to the city for its race track and gambling.
Saratoga Springs's popularity as a resort began when John Morrissey, a former professional boxer, arrived in the area in 1861 and established a gambling house. Morrissey was also a founding member of the Saratoga Race Course. In 1870, Morrissey opened the Saratoga Club House, the elegant establishment which eventually became Canfield Casino.
Morrissey died in 1867 and a few years after his death, Richard Canfield bought the property and spent a considerable sum of money to improve the building. and make it more like grand European establishments. In 1902-03, Canfield added a large, elegant dining room with multiple stained glass windows at the rear of the casino and installed an early form of air conditioning. 
Under Canfield's guidance, the casino flourished and Saratoga was known throughout the world as the American Monte Carlo. Visitors traveled to Saratoga from around the country, including some of the wealthiest Americans of the nineteenth century, such as the Vanderbilts and J.P.Morgan. 
Canfield Casino sits on Congress Park, the former site of the Congress Springs Bottling Works and the Congress Hotel. The park was designed, in part, by Frederick Law Olmsted, who designed Central Park.
By the early 1900s, gambling had fallen into disfavor with reformers who viewed it as a vice and a danger to society. The casino was forced to close in 1907 and in 1911, Canfield sold it to the city at a loss. The city then demolished the Congress Hotel and used the land to enlarge the park. 
Today, Canfield Casino is listed on the National Register of Historic Places and is a popular venue for weddings and other events.
Sources
History of Saratoga. Saratoga Springs Visitor Center. Accessed December 17, 2017. http://www.saratogaspringsvisitorcenter.com/about-saratoga-springs/history-of-saratoga.
Canfield Casino. Saratoga Springs History Museum. Accessed December 17, 2017. http://www.saratogahistory.org/about-the-museum/canfield-casino.
Image Sources
https://en.wikipedia.org/wiki/Canfield_Casino_and_Congress_Park#/media/File:Canfield_Casino_main_building_and_east_wing,_Saratoga_Springs.jpg

Additional Information