Olana State Historic Site (Frederic Church House)
Introduction
The estate known today as Olana was home to Frederic Church, one of the most acclaimed figures to emerge from the Hudson River School of landscape painting. The home was designed by Calvert Vaux, who was a co-designer, along with Frederick Law Olmsted, of Central Park. The home was built in 1872 and combines a number of styles, but with an obvious Middle Eastern influence.
Images
Olana State Historic Site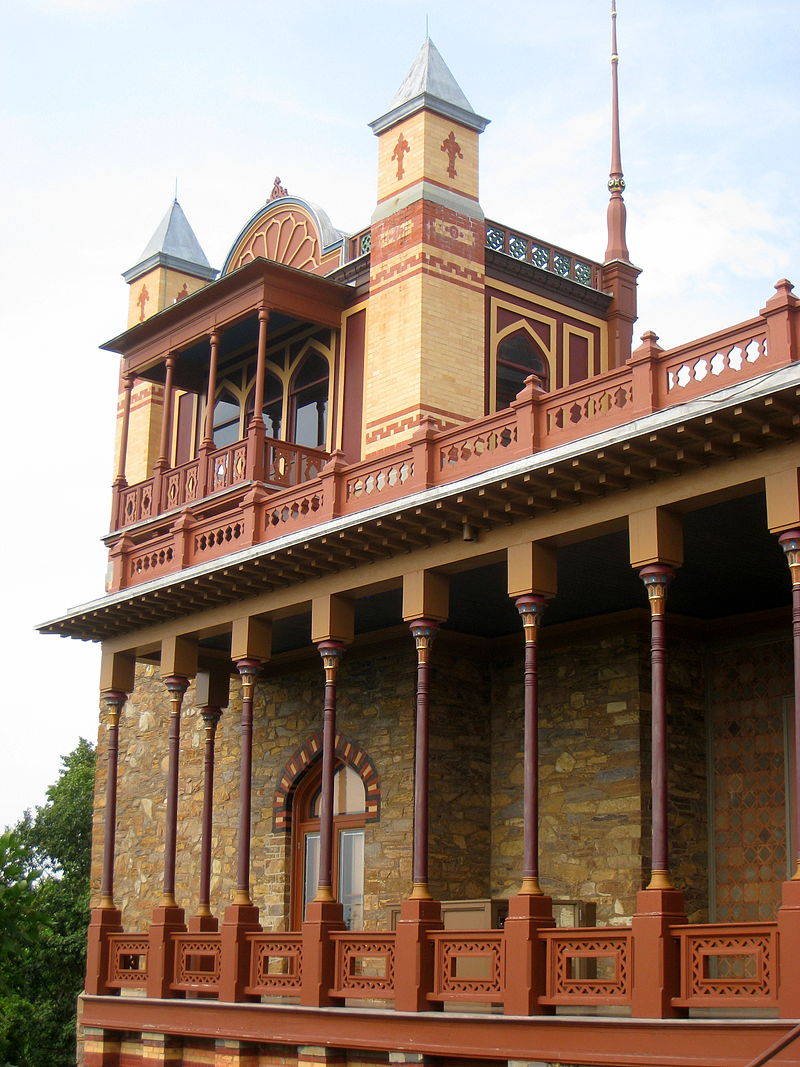 Backstory and Context
Famed landscape painter Frederic Church took meticulous care when designing and planning his home. He spent three years searching the northeastern United States for the perfect property. He made the initial purchase of 126 acres in 1860—a spot overlooking the Hudson River and the Catskill, Taconic, and Berkshire Mountain ranges. 
Much of the land was used for agriculture and the family referred to the estate as "the farm." But Church also allotted a significant portion of the land for the creation of a landscaped park. The park features hundreds of transplanted trees, a manmade lake, a summer house, and five miles of carriage drives. Eventually Church acquired enough adjacent parcels of land that his estate totaled 250 acres. 
The focal point of the Church estate is Olana, the family's residence. After Frederic and Isabel Church made an 18-month-long tour of Europe and the Middle East, the couple was inspired by Middle Eastern architecture and wanted to incorporate elements of it into their home. Calvert Vaux, who was a co-designer of Central Park, was commissioned to design the home, with significant input from Church. 
The home was under construction for two years, and the same care that went into the design of the house went into choices regarding décor and furnishings. The Churches filled the home with objects acquired during their travels. Frederick Church designed stencils based on his travels in the Middle East which and those stencils were used extensively throughout the house. Church continued working on the property for much of the remainder of his life. 
Following the deaths of the Churches, the property went through a succession of heirs, one of whom attempted to sell Olana to developers. A public campaign was launched to stop the sale of Olana and the development of the property, and in 1966 New York State purchased the estate and opened it to the public. The property was added to the National Register of Historic Places in 1965.
Sources
History--The House. Olana. Accessed December 15, 2017. http://www.olana.org/the-house/.
Olana State Historic Site. New York State. Accessed December 15, 2017. https://parks.ny.gov/historic-sites/23/details.aspx.
Additional Information