Wardman Tower
Introduction
Wardman Tower is a historic wing of the Washington Marriott Wardman Park hotel in the Woodley Park neighborhood of Washington, D.C. Built in 1928, Wardman Tower is the only surviving section of the Wardman Park Hotel, a luxury residential hotel built by D.C. developer Harry Wardman. Functioning mostly as a private residence in the early twentieth century, Wardman Tower has been home to Vice Presidents, Congressmen, government officials, diplomats, and socialites of Washington, D.C. It was recently converted into a condominium in 2017 and added to the National Register of Historic Places in 1983.
Images
Wardman Tower viewed from the east by Jürgen Matern on Wikimedia Commons (CC BY-SA 3.0)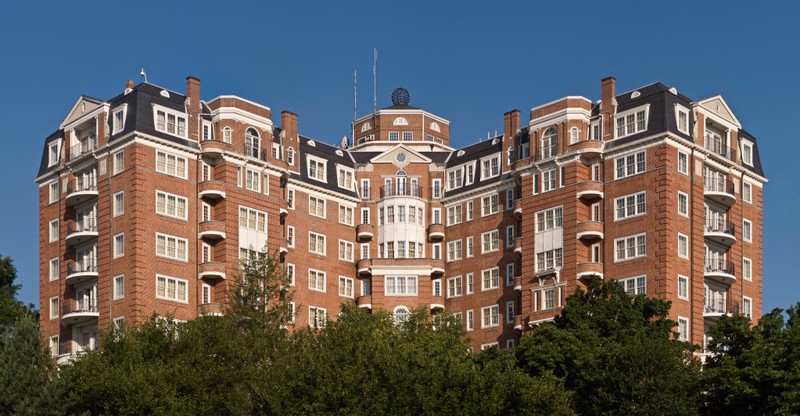 Backstory and Context
Wardman Tower has long been associated with the elite of Washington, D.C. Its lavishness today is comparable to when it opened in 1928, an expansion of the larger Wardman Park Hotel built by one of D.C. most prestigious developers, Harry Wardman, at the height of his career. This English Colonial Revival structure overlooking the scenic Woodley Park and nearby Rock Creek Park was, according to the National Register of Historic Places nomination,"a visual anchor and entrance to the Woodley Park neighborhood."
Harry Wardman (1872-1938) immigrated from England to Philadelphia, where he studied carpentry. He came to Washington, D.C. in 1902 and by the 1920s, constructed more than 5,000 homes, 250 apartments, and other buildings including the British Embassy at 3100 Massachusetts NW. As the rural outskirts of Washington began to suburbanize in the early twentieth century, Wardman purchased land in Woodley Park, along Connecticut Avenue and Rock Creek Park. He filled the budding neighborhood with beautiful homes and rowhouses of varying architectural styles. 
His most ambitious venture was the Wardman Park Hotel, built between 1917 and 1918. Intended for private residence, the Wardman Park was the largest hotel in Washington, D.C., with 1,200 rooms and 625 baths, and one of the most exclusive. It stood eight-stories tall and was U-shaped with four radiating wings. It proved highly successful as World War I came to a close and Woodley Park matured into a stylish neighborhood. Wardman continued his own developments within the neighborhood, constructing the expansive Cathedral Mansions apartment complex in the early 1920s.
In 1928, Wardman expanded on the hotel with the construction of the Wardman Tower, originally called the annex. This X-shaped structure was designed much like the hotel, with red brick, balconies, and colonial revival accents. Wardman's architect was Mihran Mesrobian, a Turkish-born Armenian who immigrated to Washington, D.C. and collaborated with Wardman on a number of projects, including the Cathedral Mansions. Though smaller than the hotel at 350 rooms, the Wardman Tower remained luxurious. Each room included a living room, formal dining room, kitchen, and any number of bedrooms, dens, and libraries. The Wardman Tower attracted a number of notable residents, including Lyndon B. Johnson and Spiro Agnew, both while serving as Vice President of the United States; Cordell Hull, Franklin D. Roosevelt's Secretary of State; Mamie Doud Eisenhower during World War II; Perle Mesta, socialite and Ambassador to Luxembourg; and George Woods, President of the World Bank.
In 1929, Wardman sold hotel and annex due to financial difficulties. Over the next few decades, the Wardman complex was owned by a number of companies. The rooms remained popular as private residences until the 1950s, when the Wardman was purchased by the Sheraton Corporation and became a traditional hotel. In the 1980s, the Sheraton Corporation demolished the Wardman Park Hotel to construct a full-scale convention hotel, which has since hosted lavish parties and inaugural balls. The Wardman Tower was spared and given its current name in honor of the late Harry Wardman, whose development projects transformed much of Washington, D.C. Marriott acquired the hotel and renamed it in 1998, and then sold it to JBG Smith and CIM Group for $300 million.
Beginning in 2015, the Wardman Tower was renovated into some of the city's most expensive condominiums, selling for between $2.5 to $9 million. Each unit includes an open floor plan, a balcony, modern amenities, as well as historic bricks, cast iron, stone, and architectural details. The building also offers a fitness center, yoga studio, club rooms, and private garden. 
Sources
Bond, Jeremy. "JBG buys Wardman Park Hotel in D.C". The Gazette. July 8, 2005. Accessed December 2017. http://www.gazette.net/gazette_archive/2005b/200527/business/realestate/284066-1.html
Goldchain, Michelle. "Recently converted Woodley Park development boasts some of the priciest condos in D.C." Curbed Washington, D.C. June 26, 2017. Accessed December 2017. https://dc.curbed.com/2017/6/26/15874330/woodley-park-wardman-tower-condo
Goldchain, Michelle. "Woodley Park's historic Wardman Tower completes two-year restoration." Curbed Washington, D.C. November 1, 2017. Accessed December 2017. https://dc.curbed.com/2017/11/1/16593276/wardman-tower-restoration-woodley-park
National Park Service. "Wardman Park Annex and Arcade." National Register of Historic Places Inventory-Nomination Form. Prepared by Anne H. Adams. Washington, D.C.: National Park Service, Department of the Interior, 1983. Accessed December 2017. https://npgallery.nps.gov/pdfhost/docs/NRHP/Text/84000869.pdf
Images:
"Marriott Wardman Park Tower." Photo. Jurgen Matern. 2009. Wikimedia Commons. Accessed December 2017. https://en.wikipedia.org/wiki/Marriott_Wardman_Park#/media/File:Marriott_Wardman_Park_Tower_on_a_sunny_summerday_view_from_east.jpg
Image Sources
https://commons.wikimedia.org/wiki/File:Marriott_Wardman_Park_Tower_on_a_sunny_summerday_view_from_east.jpg

Additional Information