Arnett William "Ace" Mumford Historical Marker
Introduction
On October 9, 2016, the city of Buckhannon honored hometown hero and football coaching legend William Arnett "Ace" Mumford with this historical marker. Mumford was born in Buckhannon WV in 1898 and his parents sent him to live with family members in Parkersburg since there was no school for African Americans in Buckhannon at that time. Mumford became a star football player at Sumner High School (later integrated into Parkersburg High School) and graduated from Wilberforce University in Ohio before his legendary football coaching career at Jarvis Christian College, Bishop College, Texas College, and Southern University. The celebration to honor Ace Mumford was part of the city's second annual Diversity Day.
Images
The historical marker honoring Ace Mumford in Buckhannon.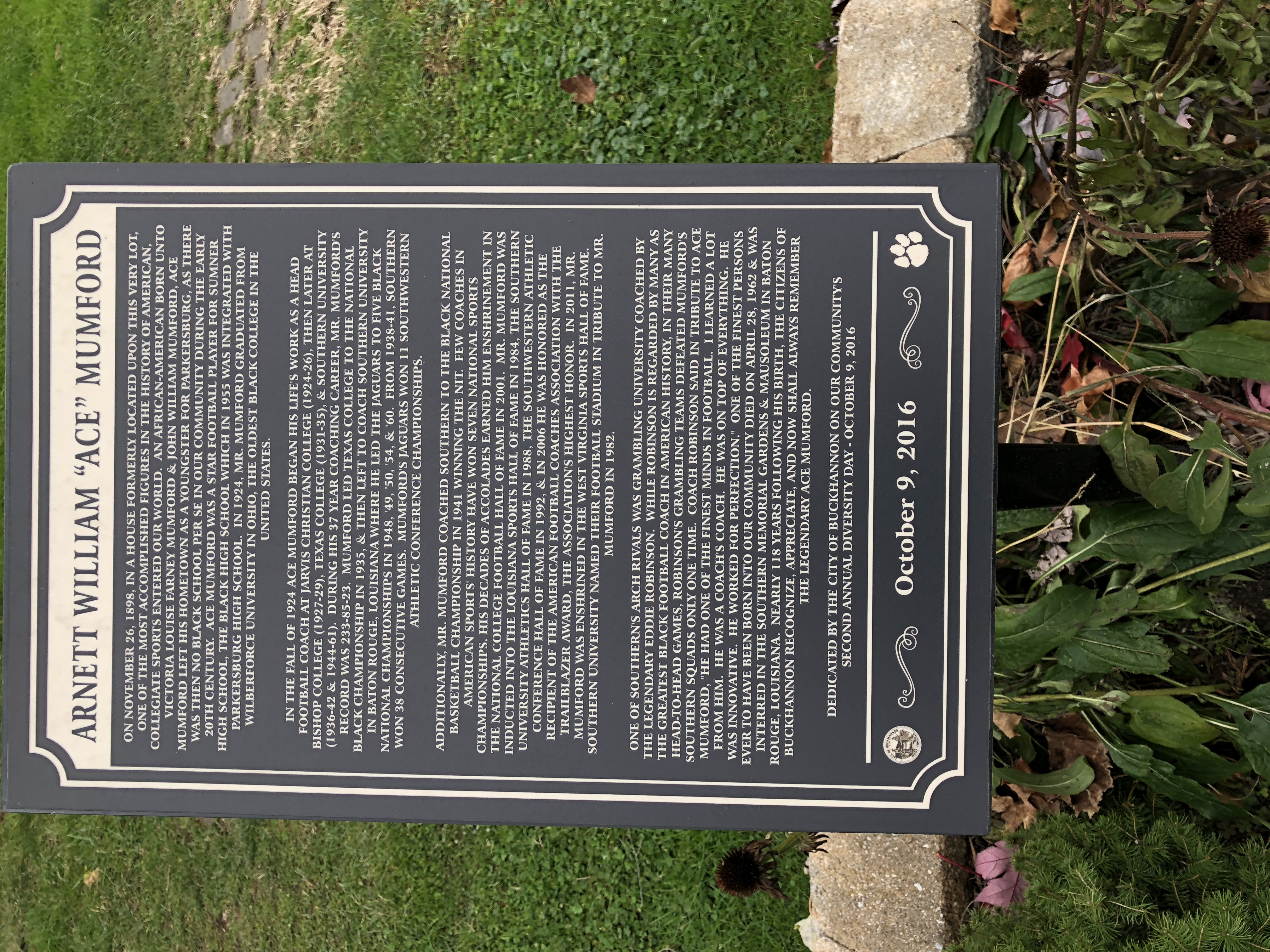 Mumford was a star player at Wilberforce and graduated in 1924. He set coaching records at Southern University.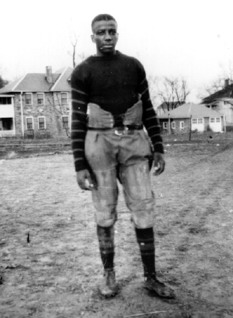 Backstory and Context
Ace Mumford led his teams to six national Black championships, including Texas College in 1935 and at Southern University in 1948, 1949, 1950, 1954, and 1960. Mumford won 72% of his games as a coach in 26 years, compiling a 233-85-23 record. At Southern University, Mumford had a 38-game undefeated streak from 1948-1950. Mumford was not only a successful coach, he pushed his players to achieve off the field, frequently stressing the importance of academics to his players. Mumford is a member of the National Football Foundation College Hall of Fame along with four other sporting halls of fame.
Despite his success, Mumford was largely forgotten by residents of his hometown of Buckhannon. Chris Wallace, Memphis Grizzlies general manager and Buckhannon native re-discovered Mumford by coincidence. Wallace learned about Mumford when inquiring about Southern University's basketball team for a magazine article. When Southern's sports information director learned that Wallace was from Buckhannon, he informed Wallace of Mumford's many accomplishments. Wallace noted that Mumford was "a Mount Rushmore figure in the history of Black college football." (Johnson, 2016)  
Wallace worked with Buckhannon mayor David McCauley to honor Ace Mumford at Buckhannon's second annual Diversity Day. The ceremony began at the corner of Latham and Sedgewick Streets, the birthplace of Ace Mumford. The city installed a placard honoring Mumford and sent a duplicate sign to be presented at Southern University Chris Wallace gave the keynote address, stressing the impact that Mumford had on and off the field, as well as speaking to the importance of remembering and celebrating the diverse history of the Buckhannon community.  
Sources
Ace Mumford. National Football Foundation. Accessed December 08, 2017. http://www.footballfoundation.org/Programs/CollegeFootballHallofFame/SearchDetail.aspx?id=50116.
Johnson, Luke. "Legendary Southern coach 'Ace" Mumford honored in the West Virginia hometown that almost forgot him." The Advocate(Baton Rouge), December 10, 2016.
Duckworth, Katrina. "Buckhannon celebrates dedications." Inter-Mountain(Elkins), October 10, 2016.
Additional Information