Sojourner Truth Building; of Sojourner Truth's Women's Rights Speech "Ain't I a Woman?"
Introduction
This building was constructed in 1916 and renovated in the early 1990s and named in honor of Sojourner Truth, the famous abolitionist and women's rights orator who is credited with making a speech challenging the exclusion of women of color from antebellum women's movement. Born into slavery in or around 1797, Truth escaped with her daughter in 1826 and later made a living by traveling and giving speeches at conventions and selling portraits of herself at the gatherings. Truth was present at the women's rights convention that took place in this location in 1851 at the Universalist Stone Church which stood at this site prior to the construction of the present building that now bears her name. While Truth's exact speech was lost to history, an account of the proceedings published a month after the convention confirms that she did address the convention. A later account of the speech includes Truth's use of the phrase "Ain't I a Woman" as a refrain used to counter the exclusion of women of color from the antebellum women's movement and from notions of womanhood framed by whites.
Images
This marker erected in 1981 that stands on the Sojourner Truth Building.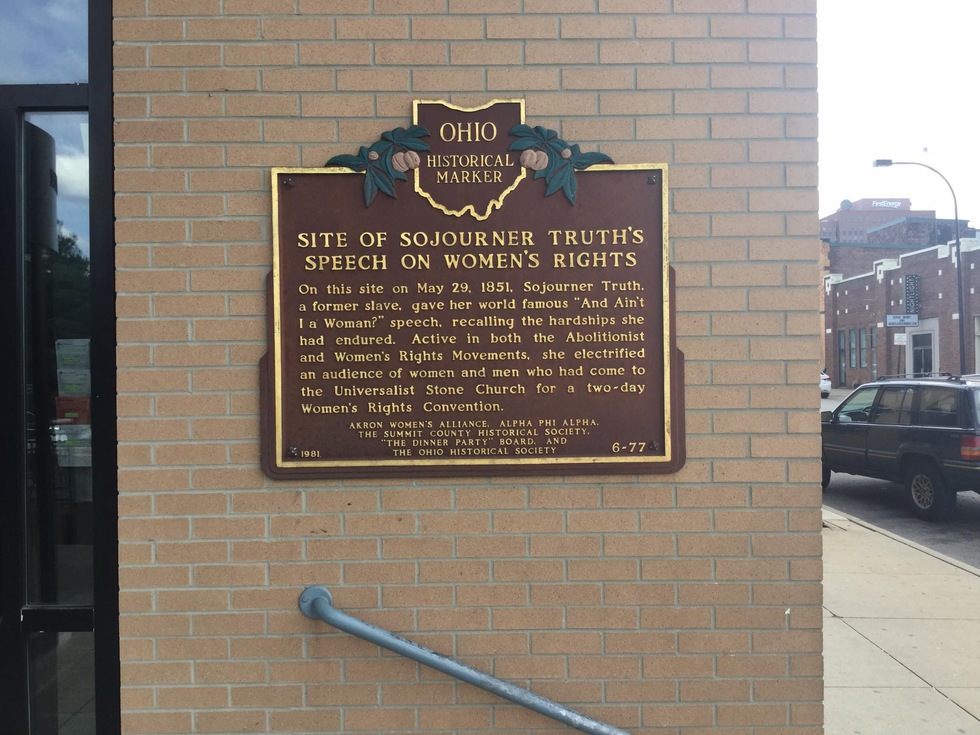 The portraits Truth sold to support her orations. Inscribed at the bottom "I sell the shadow to support the substance"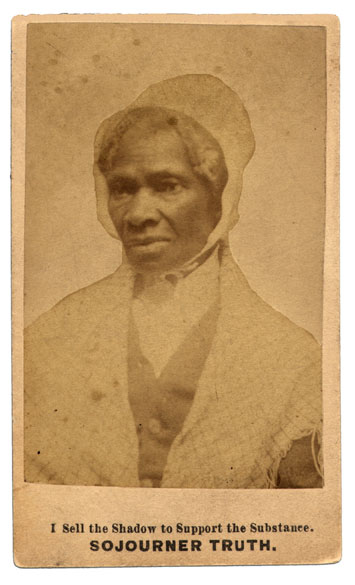 Backstory and Context
Sojourner Truth was born into slavery as Isabella Baumfree in the year of 1797 in Ulster County, New York. Once she escaped to her freedom Truth became the first African American woman to win a lawsuit in the United States. This lawsuit, filed in 1827, was to free her son Peter from slavery as he had been illegally sold. Less than a decade later, in 1835 she won a second lawsuit against a newspaper for slander. By this point, Truth was already becoming a public figure. In 1844, she joined the utopian abolitionist organization the Northhampton Association for Education and Industry and became acquainted with famous abolitionist writers and orators such as Fredrick Douglass and William Llyod Garrison.

After joining the Northampton association, her career as an orator took off. Although a captivating orator, Truth was illiterate had her grandson Sammy Banks accompany her on her travels to assist with reading and writing. In 1850, she dictated her autobiography to an acquaintance from the now disbanded Northhampton Association, Olive Gilbert. It was titled The Narrative of Sojourner Truth, A Northern Slave. In 1851 at a women's rights convention in Akron, Ohio, she gave one of her most famous speeches, "And Ain't I a Woman?" at the Universalist Stone Church, which is now a vacant building entitled the "Sojourner Truth Building."
Although the most famous version of this speech is still referenced today by writers and figures such as Toni Morrison, there is much controversy surrounding its publication. There was no original copy written by Truth since she could not write and the speech had impromptu references to ministers who had spoken before her. The two published references to her speech provide two very different accounts that differ in tone and dialect. The president of the convention, Frances Gage, published a version of the speech twelve years after it was given. This version, which is the one commonly used now, contains a southern dialect. Problematically, Sojourner Truth was born in New York and spoke Dutch until she was nine years old. It is unlikely she would have spoken with a Southern dialect. A second version, published by a reporter only a few months after, seems to present a more accurate version containing more of a northern dialect.
Although it can never be proven which version rings truest, the speech is still an important piece of literature, used over centuries, to advocate for the equality and strength of African-American women. This marker was created in 1981 with the help of the Akron Women's Alliance, Alpha Phi Alpha, The Summit County Historical Society, "The Dinner Party" Board, and The Ohio Historical Society. It can be found on the empty Sojourner Truth Building that stands in the place that used to hold the Universalist Stone Church, where Truth's historic speech was given.
Sources
1. "Taking the Name of Sojourner Truth". Sojournertruth.org. Accessed December 07, 2017. http://www.sojournertruth.org/History/Biography/NY.htm.
2. "Slavery and Freedom". SojournerTruth.org. Accessed December 05, 2017. http://www.sojournertruth.org/History/Biography/Default.htm#Slavery.
3. Sojourner Truth's "Ain't I a Woman". NOLO. Accessed December 05, 2017. https://www.nolo.com/legal-encyclopedia/content/truth-woman-speech.html.
4. "Who Was Sojourner Truth?". Sojourner Truth Memorial. Accessed December 05, 2017. http://sojournertruthmemorial.org/sojourner-truth/her-history/.
5. "Sojourner Truth". Library Of Congress. Accessed December 05, 2017. http://www.loc.gov/exhibits/odyssey/educate/truth.html.
6 Fischer, William. "Site of Sojourner Truth's Speech on Women's Rights". The Historical Marker Database. June 06, 2016. Accessed December 05, 2017. https://www.hmdb.org/marker.asp?marker=43726.


Additional Information