Former Site of Novak's Food Market - A Landmark of Black Television and History in Baltimore
Introduction
Situated in an East Baltimore intersection, the plot (now also a construction site) that once held Novak's Food Market, also known as Novak's Grocery, had been a location of unfortunate violence in both film and reality. Prior to 2015, the Baltimore market was probably best known as a film location for the critically-acclaimed HBO drama The Wire- specifically the death scene of one of it's most infamous characters. In real life, Novak's Food Market was set ablaze during riots that overtook the city of Baltimore between April 28th and 29th in 2015. The riots began after the death of a young Black man- Freddie Gray, sparked protests against police brutality. While the protestors themselves remained peaceful, rioters took to the streets causing mayhem and setting over fifteen East Baltimore buildings on fire, including Novak's Food Market.
Images
Character Omar Little, played by actor Michael K. Williams, on The Wire, walks into the once real life market, Novak's Food Market on the East Side of Baltimore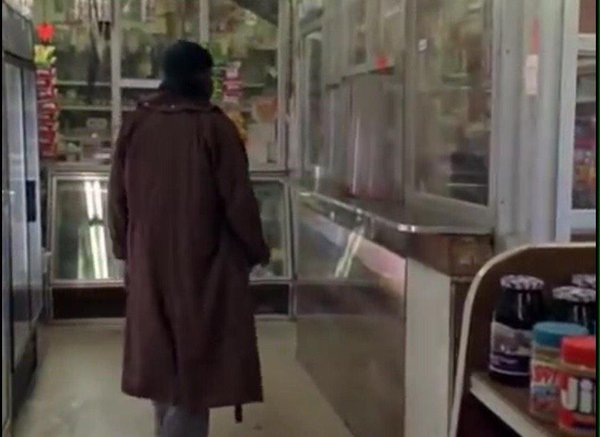 Novak's Food Market in 2014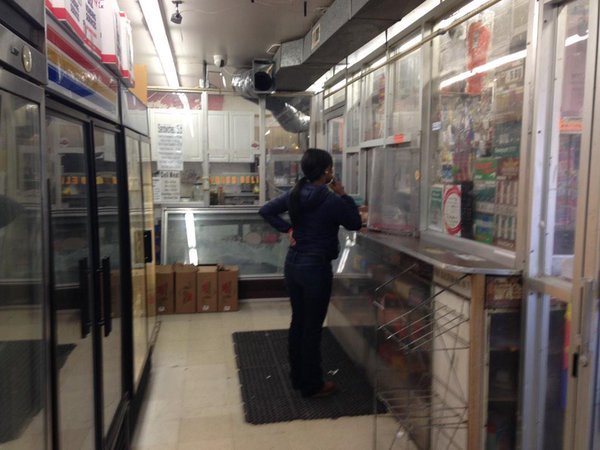 Novak's Food Market burns during the riots following the death of Freddie Gray in Baltimore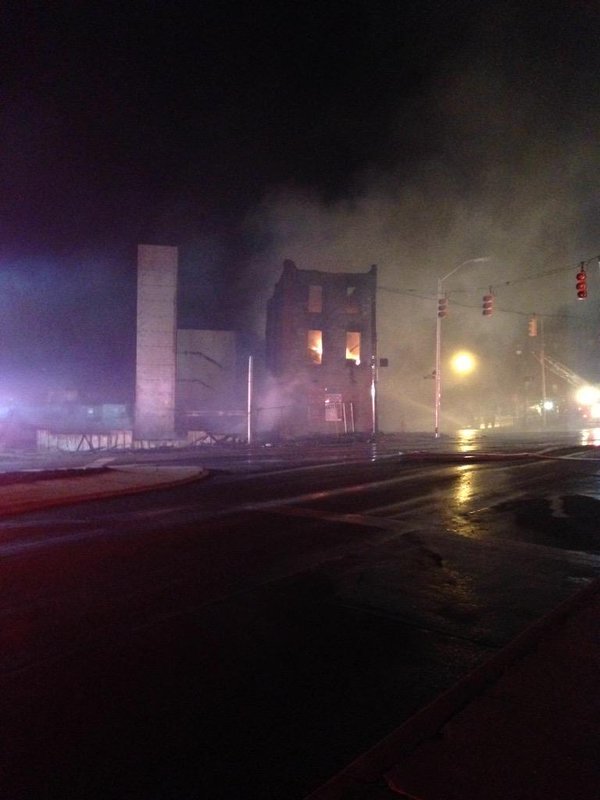 A mural in Baltimore memorializes Freddie Gray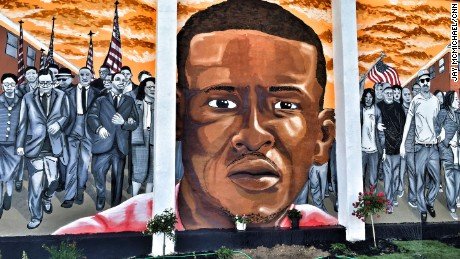 Peaceful protestors march for justice following the death of Freddie Gray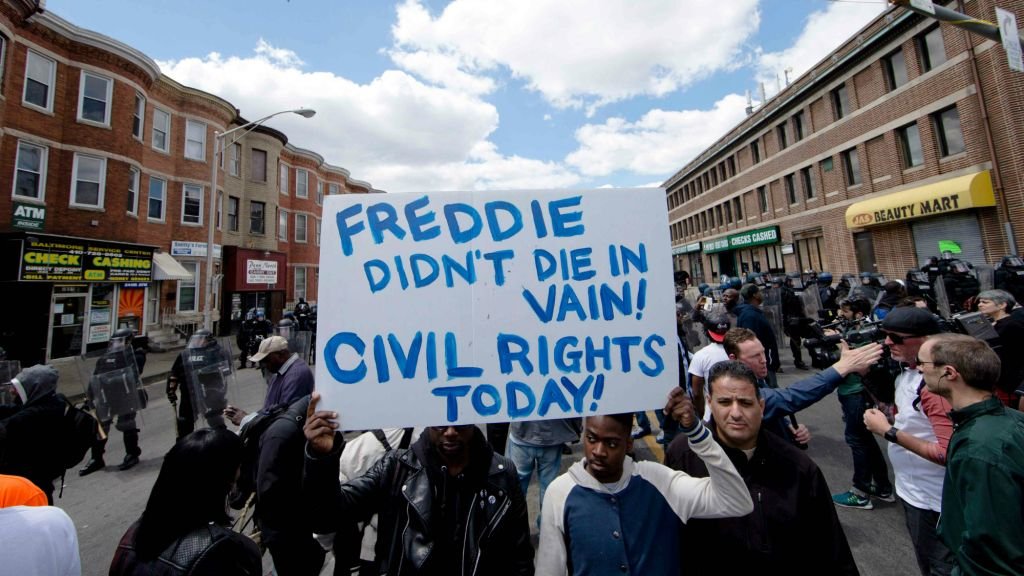 25 year old Freddie Gray of Baltimore, Maryland was fatally injured after being arrested by Baltimore Police on April 12, 2015. He succumbed to his injuries on April 19, 2015.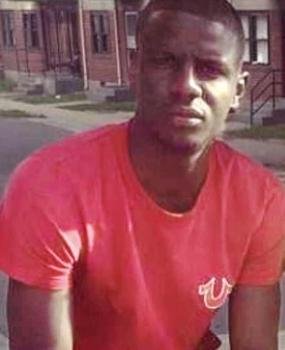 Backstory and Context
The Wire is an American crime drama filmed and based in Baltimore, Maryland and aired on HBO between 2002 and 2008. It primarily centered around issues facing Black communities, such as the drug trade, addiction, mass incarceration, gentrification, education disparities, and police brutality among others, in Baltimore and the Baltimore Police Department. The five season series also confronted topics like deindustrialization, the economy, terrorism, politics, and the media. The Wire was nominated for, and won, a wide variety of awards, including nominations for the Primetime Emmy Award for Outstanding Writing for a Drama Series, NAACP Image Award for Outstanding Drama Series for each of its five seasons, Television Critics Association Awards, and Writers Guild of America Awards. It received little in the way of mainstream Hollywood attention with critics citing the shows grim nature, inner city setting, and realism as what kept it from garnering more attention.
Yet, the show's ability to tackle real urban problems is what led it to become one of the most cult classic television shows of all time. In addition, actors like Aidan Gillen, Idris Elba, and Michael B. Jordan, all gave some of their best performances on the series. Perhaps most notable, however, was the character of Omar Little, portrayed by Michael K. Williams. Omar, a robber of drug dealers, was a character ahead of his time. Similar to a modern day, inner city Robin Hood, Omar was a top player in the drug game, but he kept to a code and faced off against homophobia, racism, and the industrialized prison system. Unfortunately, as the series came to an end, so did the life of Omar Little. He is killed, by an extremely young boy, with a gunshot wound to his head. This infamous and violent scene was shot inside, the now torn down, Novak's Food Market on the East Side of Baltimore.
Despite The Wire ending in 2008, the issues that made up the foundation of the series remained in Baltimore – particularly police brutality. As reports from media outlets like The Baltimore Sun and The Atlantic suggest, police brutality did not just spring up with the deaths of young men like Michael Brown and others, they had, in fact, been happening for years with several million dollars in funds being allocated to victims and families. Between 2011 and 2014, The Baltimore Sun reports that 5.7 million dollars is the amount the city paid to victims of brutality. The unfortunate reality is that large number is just a fraction of cases that come to light. However, one Baltimore case has come to shape the narrative surrounding police brutality and Black lives in America.
On the morning of April 12, 2015, Freddie Gray was arrested for possessing a knife- a charge later revealed as false. One of the officers on a police bike, made eye contact with Gray and states that the young man ran from the police. After chasing and apprehending him, police arrested Gray and put in the back of a Baltimore Police Department van. Sometime between being arrested and arriving to the station, Gray was severely injured and arrived in a coma. He was sent to the hospital and succumbed to his injuries, ruled officially head trauma and an eighty percent severed spinal cord in the neck, on April 19, 2015. By April 25, six of the officers involved were suspended with pay as the investigation began. The medical investigation found that Gray had sustained the injuries while in transport. The medical examiner's office concluded that Gray's death could not be ruled an accident, and was indeed a homicide, due to the officers failing to follow safety procedures in the transport of the arrested person. As of 2017, all charges have been dropped, or in trail were found not guilty, against the officers involved. In September of 2015, the city of Baltimore reached a settlement with the family of Freddie Gray, awarding them 6.4 million dollars.
Protests following the arrest and brutality involving Freddie Gray, began as early as April 18th in Baltimore. By the 25th, hundreds of people had gathered in the city to demand further action by the city and Baltimore Police. Unfortunately, what began as peaceful protests became overshadowed by violent riots, with mobs destroying property and setting fire to over fifteen East Side businesses. These businesses included a CVS pharmacy and the infamous Novak's Food Market featured in HBO's The Wire. Many of the African American actors from The Wire, who spent years portraying Baltimore residents, urged rioters to protect the city they loved and to stand against injustice in constructive ways.
Regrettably, in the two years since Freddie Gray's death and the protests, riots, and dialogue that occurred after, not much has changed for the state of race relations, or police brutality, in Baltimore or the nation. The aftermath is best surmised in Baltimore Sun article recognizing the two-year anniversary of the loss of Gray's life. It reads, "In the days and weeks after the death of Freddie Gray shook Baltimore, leaders and activists spoke of seizing the moment to confront some of the city's most vexing challenges: entrenched poverty, mistrust between police and the community, criminal violence. Two years after Gray's death, some wonder if Baltimore let slip an opportunity to achieve lasting change." 1
Sources
Fenton, Justin. Two years after Freddie Gray's death, Baltimore residents say they're still waiting for change. The Baltimore Sun. April 2017. http://www.baltimoresun.com/news/maryland/freddie-gray/bs-md-ci-freddie-gray-two-years-20170407-stor.... 1
Puente, Mark. Undue Force. The Baltimore Sun. September 2014. http://data.baltimoresun.com/news/police-settlements/.
Friedersdorf, Conor. The Brutality of Police Culture in Baltimore. The Atlantic. April 2015. https://www.theatlantic.com/politics/archive/2015/04/the-brutality-of-police-culture-in-baltimore/39....

Freddie Gray's death ruled a homicide. PBS. May 2015. https://www.pbs.org/newshour/nation/freddie-grays-death-ruled-homicide.

Kurp, Josh. A Baltimore Reporter Is Taking Photos Of 'The Wire' Filming Locations Now Vs. Then. Uproxx. 2014. http://uproxx.com/tv/a-baltimore-reporter-is-taking-photos-of-the-wire-filming-locations-now-vs-then....

Ramisetti, Kirthana. 'The Wire' filming location burns down during Baltimore riots as show's creator David Simon, stars plead for end to violence. New York Daily News, April 2015. http://www.nydailynews.com/entertainment/tv/wire-creator-stars-react-baltimore-riots-article-1.22020....
Additional Information