Bertha Pleasant Williams Library
Introduction
Located on the same avenue where Rosa Parks grew up, Bertha Pleasant Williams Library was the second public library established for the African American community of Montgomery, Alabama. The building was named after its first head librarian and the first Black professional librarian to work in Montgomery, Bertha Pleasant Williams. The library opened its doors in 1960–two years before public libraries were desegregated by Alabama courts. The library holds over 600,000 volumes of books of all genres since its opening.
Images
Plaque marking the Bertha Pleasant Williams library as a historical landmark in 2018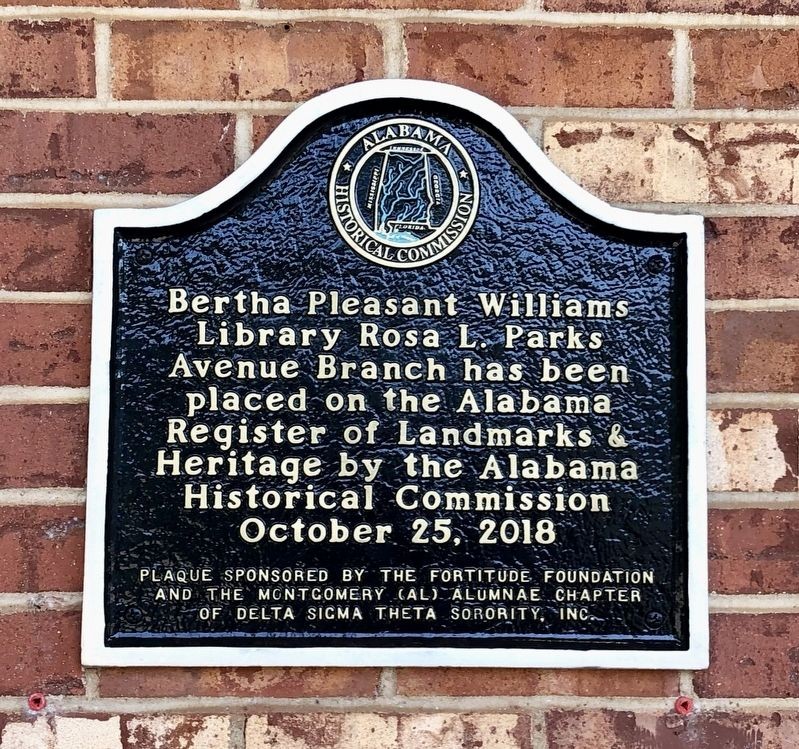 Bertha Pleasant Williams in 1943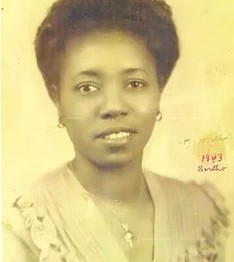 Bertha Pleasant Williams later in life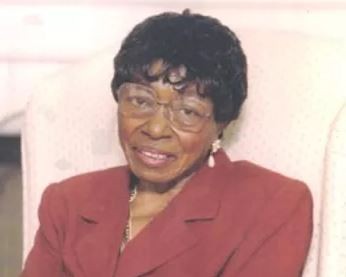 Backstory and Context
In the late 1940s, members of the Black community in Montgomery, Alabama lobbied the segregated city to establish a library branch that served African Americans. Eventually, the city conceded provided that the groups could meet the city requirement of having a qualified librarian. Such a librarian was found in Bertha Pleasant Williams, who held a M.A. degree from Atlanta University's newly formed library science program. Williams was offered the job shortly after her graduation and she accepted it becoming the first African American professional librarian in the city of Montgomery when she started her job in 1948. That same year, Williams led the city's first library that served Black patrons out of two rooms in the Montgomery City Federation of Colored Women's Clubs' Community House. This location became known as the South Union Street branch and she led this branch for all twelve years of its operation.
In 1960, the South Union Street branch closed down after this building was opened under the title of the Montgomery Branch Library on Cleveland Avenue. Williams became head librarian of this branch upon its opening. This location remained to be the only library for Montgomery's Black community until 1962 when Judge Frank Johnson ordered desegregation of Montgomery's libraries. In 1965, the branch was renamed the Rosa Parks Branch Library following the renaming of Cleveland Avenue— the avenue where Rosa Parks spent her childhood—to Rosa Parks Avenue.
Bertha Pleasant Williams left this branch in 1968 to work at the Alabama State University Library where she worked for fourteen years. Alabama State University honored her fifty years of contributions to library service and education in Alabama with a special Golden Graduation Diploma in 1993. Williams was again celebrated in 2005 at the 50th anniversary of the Montgomery Bus Boycotts. She was honored as "an unsung hero" for being a founding member of the Women's Political Council which led various civil rights actions including the historic bus boycotts. 
Four years following her death in 2008, the Montgomery City Council decided to rename the branch after its first head librarian. In October of 2018, the Alabama Historical Commission placed the Bertha Pleasant Williams Library on its Alabama Register of Landmarks & Heritage. A ceremony was held at the unveiling of the newly placed historical marker during which many local Black community leaders spoke about the personal significance the library had held for them during their childhoods in the 1960's. Originally only holding about 15,000 volumes at the time of its opening in 1960, the library has grown to a collection of over 600,000 volumes and still serves the community today. 
Sources
BCRI. Jackson Community House and Museum, Birmingham Civil Rights Institute. Accessed September 13th 2020. https://www.bcri.org/jackson-community-house-and-museum/.
Blumenstein, Lynn. Bertha Pleasant Williams Dies, Library Journal. December 1st 2008. Accessed September 13th 2020. https://www.libraryjournal.com/?detailStory=bertha-pleasant-williams-dies.
Edwards, Brian. Montgomery officials honor national recognition of Bertha Williams Library with unveiling of historic marker, Montgomery Advertiser. June 18th 2019. Accessed September 13th 2020. https://www.montgomeryadvertiser.com/story/news/2019/06/28/montgomery-officials-honor-national-recognition-bertha-williams-library-unveiling-historic-marker/1596430001/.
Hilton, Mark. Rosa Parks Branch Library / Bertha Pleasant Williams, Historical Marker Database . January 20th 2014. Accessed September 13th 2020. https://web.archive.org/web/20150917191157/https://www.hmdb.org/marker.asp?marker=71388.
Walker, Teshima. Walking Down Rosa Parks Avenue, NPR. December 6th 2005. Accessed September 13th 2020. https://www.npr.org/templates/story/story.php?storyId=5040529.
WSFA 12 News. Council reaches compromise over renaming of Rosa Parks library, WSFA 12 News. July 18th 2012. Accessed September 13th 2020. https://www.wsfa.com/story/19050384/council-reaches-compromise-on-library-renaming/.
Image Sources
https://www.hmdb.org/m.asp?m=136278

https://dallashanbury.wixsite.com/gonebutnotforgotten/bertha-pleasant-williams

https://dallashanbury.wixsite.com/gonebutnotforgotten/bertha-pleasant-williams

Additional Information