Shreveport Municipal Auditorium
Introduction
Built in the 1929 and designed by architect Samuel Weiner, the Shreveport Municipal Auditorium is one of the city's most important landmarks. It is so significant, in fact, that is listed on the National Register of Historic Places and is a National Historic Landmark. Its significance lies in its its Modernistic architecture and for the role it played in popularizing and shaping country music. In terms of architecture, the building features an elaborate decorative brick and limestone exterior. Notable interior decorative elements include bas-relief panels and an Egyptian-styled entrance opening to the lobby. The auditorium has over 3000 seats and features a decorative ceiling. As for the building's association with American music, it was here that many famous talented American artists got there start—including stars such as Elvis Presley, Hank Williams, and Johnny Cash—on a radio show called "Louisiana Hayride," which ran from 1948-1960. Many of these artists would go on to perform at the Grand Ole Opry show in Nashville, Tennessee. In this way, the show served as a springboard to stardom and it became known as the "cradle of the stars." Today, the auditorium remains a vibrant entertainment venue. the building was dedicated to the soldiers of World War I on Veterans' Day, which was known at that time as Armistice Day. In its early years, the auditorium played host to the military by serving as barracks for the troops and housing the early aircraft warning system known today as radar. In terms of architecture, the building
Images
The Shreveport Municipal Auditorium was built in 1929 and is famous for being the launchpad for many famous performers from 1938-1960.
The auditorium features over 3,000 seats.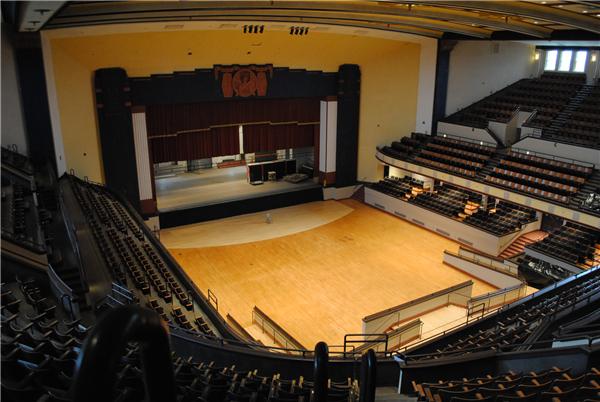 Backstory and Context
The auditorium was built as a memorial to the service members who participated in World War I. Fittingly, it was dedicated on November 11, which is Armistice Day, the day the war officially ended. For a time after it was built, the auditorium was used as barracks for troops and it also housed a radar aircraft warning system.
By the time Louisiana Hayride first aired on the KWKH station in Shreveport, the station was already well-established, having been in operation since 1922. It aired country music from the beginning but it became known around the country in 1927 when the Jimmie Davis Show started and popularized the song "You Are My Sunshine." Soon, more and more artists began to perform on KWKH. During the 1930s, it established itself as one of the nation's top stations for country music.
Louisiana Hayride debuted on April 3, 1948 in the auditorium. It was known as a "barn dance" show, which consisted of a variety of country music performances and comedic and other kinds of acts. Barn-dance shows grew in popularity during the 1930s and reached its peaked in the years after World War II. Louisiana Hayride was an immediate success and remained very popular for a decade. Reasons for its success possibly include the mixture of cultures that existed in the region (Shreveport had been an important geographic crossroads for a long time) and the fact that people tended to have more money to spend, thanks to the booming oil and gas industry. Other possible factors for its popularity were that it aired on Saturday evening and was the only thing to do, it used a powerful broadcast channel and could be heard as far as the Pacific Ocean, and it took chances on musicians who performed new styles.
As stated above, many famous country artists got there start here at the auditorium when they performed on the show. Arguably the most notable of these was Elvis Presley, who made his debut on October 16, 1954. He signed a contract to perform on every show and did so for 18 months, developing his techniques and style that would become famous around the country (a statue of him stands outside of the building). Other famous artists who got their big break here included Hank Williams, Kitty Wells, and Johnny Cash. A number of famous African-American musicians performed here as well including blues artist Huddie "Leadbelly" Ledbetter, James Brown, Aretha Franklin, and B.B. King.
Sources
Duncan, Patricia. "Shreveport Municipal Auditorium." National Park Service - National Historic Landmark Nomination Form. October 6, 2008. https://s3.amazonaws.com/NARAprodstorage/lz/electronic-records/rg-079/NPS_LA/91000624_NHL.pdf.
"History of the Shreveport Municipal Auditorium." Shreveport Municipal Auditorium. Accessed December 10, 2017. http://www.shreveportmunicipalauditorium.com/about/history.
National Register Staff. "Shreveport Municipal Auditorium." National Park Service - National Register of Historic Places Nomination Form. May 28, 1991. https://npgallery.nps.gov/GetAsset/84166251-fc41-4220-81d5-250f4ea21b5c.
Additional Information