The National Association of the Advancement of Colored People's (NAACP) Silent Protest Parade
Introduction
The National Association of the Advancement of Colored People's (NAACP) silent Protest Parade took place in New York City, New York on Saturday, July 28, 1917. The Silent March went south down on 5th Ave continued all the way to Madison Square. The NAACP was able organize close to ten thousand African American participants. The Silent March was in response of the race riots and lynching happening in states like Illinois, Tennessee, Texas and other southern states.
Images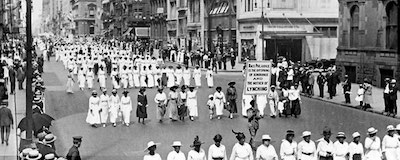 Backstory and Context
The second president of the NAACP James Weldon Johnson, grouped together with other civil rights leaders who planned the protest. The group decided that they did not want a massive protest, which may lead to riots; however, they believed a silent march would send a message for racial reform. They believed that it was important to have as many Blacks there as possible, they believed by having a nearly all Black march, it would send a stronger message.
One of the most notable events that the NAACP were protesting at the Silent March was the East St. Louis Race Riot also known as the East St. Louis Massacre. This atrocious incident caused nearly six thousand African American people were displaced from their homes and several hundred people died.
Many of the marchers carried posters and banners, which gave visual representation for the reasoning behind the Silent March. The people who planned the Silent March were thinking ahead of their time. It is claimed that both participants and viewers had not seen anything like that not only in the city but also throughout the nation. The Silent March was truly silent, there was not music, chanting, or shouting. It was the first of many marches towards the betterment of African American people; it brought the civil rights movement into the spotlight.
Sources
On This Day in NYC's History: Black New Yorkers Rose Up. New York Natives. 7/28/13. http://newyorknatives.com/Black-new-yorkers-rose-up-on-this-day-in-nycs-history/.

NAACP Silent Protest Parade, New York City. Blackpast.org. http://www.Blackpast.org/aah/naacp-silent-protest-parade-new-york-city-1917.


Additional Information