Whitehall
Introduction
This pillared mansion was built near the street, although the property extended over an entire city block; it includes gardens, stables and servants quarters. During the Civil War, it served as a hospital for Confederate soldiers. Whitehall was built by James Walton Harris, a prominent attorney and Planter. It was later owned by the Harris' granddaughter, Mrs. T.W. Hardy.
Images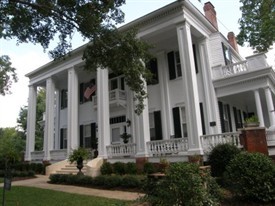 Backstory and Context
Built in 1843 by James Walton Harris, Whitehall was originally designed as a two-story Greek
Revival townhouse. The stately mansion exhibits six square, paneled columnns at the edge of a wooden porch. The banisters bordering the porch consist of identically-milled hardwood balusters. Inside the home, heart-pine floors and handsome woodwork provide the background for the Boggess' collection of eighteenth- and nineteenth-century antiques.
Sources
1) http://www.southernliving.com/static/pdf/slvacations/ColumbusCulturalHeritage_sept10.pdf 2) http://visitcolumnbusms.org/index.php/interactive_map/location/50#top
Additional Information