Mclevy Hall
Introduction
Mclevy Hall is located in Downtown Bridgeport Connecticut, in the historic Golden Hill District.It is designed by Alexander Jackson Davis. It was formerly known as Bridgeport City Hall. It was renamed after Jasper Mclevy in 1966 the Mayor of Bridgeport from 1933-1954.It was the site where President Abraham Lincoln spoke.
Images
Mclevy Hall formlery known as "Bridgeport City Hall".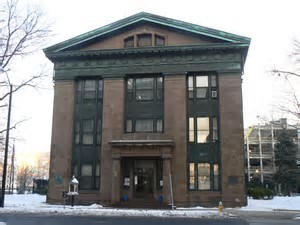 Postcard Photo of Mclevy Hall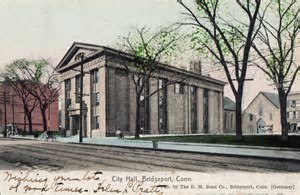 Plaque located outside of Mclevy Hall commemorating the visit from our President Abraham Lincoln. This plaque marks the site where Lincoln spoke.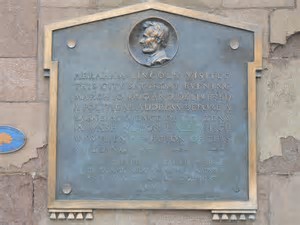 Postcard Image of the day Lincoln came to Bridgeport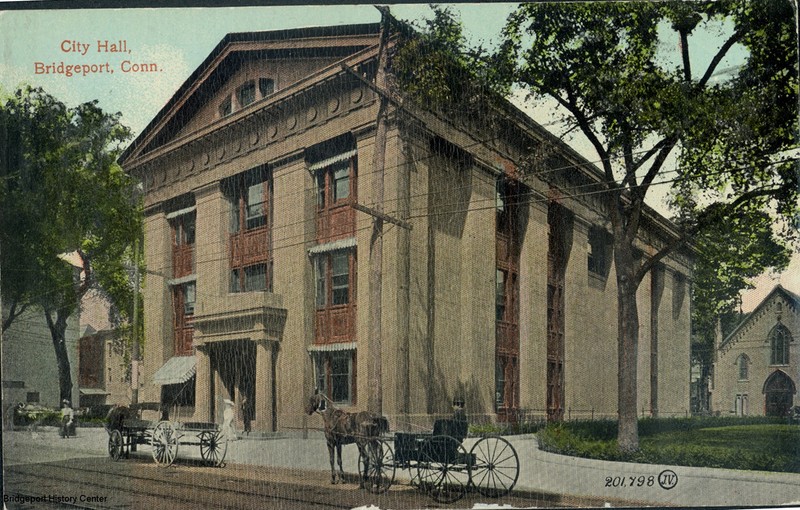 Backstory and Context
Mclevy Hall was originally Bridgeport City Hall. When it was erected in 1954 it was designed to be the Fairfield County courthouse as well. The architect that designed Bridgeport City Hall was Alexander Davis Jackson. He originally designed architectural illustrations. He moved on to assist in creating the Federal Hall National memorial which is on the National Historical list.

Jasper Mclevy was the 1st and only Socialist Party elected Mayor in the Park City's history. He ran twenty times before he became elected. Once elected he was the longest standing mayor for the city of Bridgeport 24 years. They say he ran so long that a Bridgeporter born when Mclevy was first elected he could vote for him. (Sunday Herald,1962). He was a working class member of the Bridgeport community. He was a roofer who joined the Socialist party and became a politician. He was compared to P.T. Barnum in that he was a vital and dedicated piece in the positive changes in the Park Cities history.

The Park City has always been an important stop for presidential nominees, the city has had 16 presidential visits to date. Abraham Lincoln visited the Park City March 10, 1860. He was not yet a dedicated Republican candidate. He had to campaign through New England and didn't want to make multiple speeches, so the consensus was they were pretty uniform in context. There are no articles on exactly what was said but there are many articles on how it may have been a spin off of the Cooper Union speech that put him on the road to the White House.


Sources
"He was Truly a Great Jasper."
Sunday Herald
(Bridgeport), November 25, 1962, 16-22.
Witkowski, M. K. (2008, October 07). The Hidden History of Bridgeport. Retrieved November 11, 2017, from https://web.archive.org/web/20101227073956/http://www.hiddenhistoryofbridgeport.com/2008/10/candidat...
"Fairfield County Courthouse at Bridgeport Golden Hill". State of Connecticut Judicial Branch. Retrieved 2017-11-12.
Burr, Raymond F., Abraham Lincoln: Western Star Over Connecticut, Lithographics Inc., Canton, Connecticut (no year given), pages 1 and 15; book contents reprinted by permission of the Lincoln Herald, (Harrogate, Tennessee) Summer, Fall and Winter, 1983 and Spring and Summer, 1984


Abraham Lincoln to Mary Todd Lincoln, March 4, 1860. Holograph letter. Robert Todd Lincoln Papers, Manuscript Division, Library of Congress (048.00.00) Digital ID # al0048p1, al0048p2
Additional Information