Maltz Museum of Jewish Heritage
Introduction
Located next to Temple Tifereth Israel, the Maltz Museum opened in 2005 and features more than 24,000-square-feet of exhibit space. The museum's stated mission is to build bridges of tolerance and understanding between people of all faiths and backgrounds. To this end, it offers exhibits that primarily focus on the American Jewish experience. One of its permanent exhibits, "American Story," does just that, giving visitors a sense of the challenges Jewish people have overcome in the United States. The museum features another permanent exhibit in The Temple-Tifereth Israel Gallery, which presents an internationally-recognized collection of religious art including ritual objects, sacred books and scrolls, and fine art from around the world. The Tifereth Gallery, which is referred to as the Temple Museum of Religious Art, is the fourth-oldest museum of Judaica in the country.
Images
The Maltz Museum opened in 2005.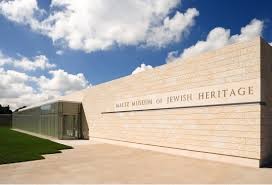 Sources
"About the Maltz Museum." Maltz Museum. Accessed January 1, 2018. http://www.maltzmuseum.org/about/mission-statement.
Additional Information