Maltz Performing Arts Center at The Temple – Tifereth
Introduction
This beautiful building, officially known as the Maltz Performing Arts Center at The Temple – Tifereth, is a synagogue and performing arts center located in Silver Park in Cleveland, Ohio. It was completed in 1924, and it is jointly operated by the Jewish congregation Temple – Tifereth Israel and Case Western University. Though originally the congregation's main place of worship, most of the main services have taken place at the congregation's current house of worship in Beachwood since 1963. The congregation still uses The Temple, as it is sometimes called, for special occasions, and it is also home to the Temple Museum of Religious Art.
Images
The Temple was built in 1924 and is today primarily a performing arts center for Case Western University.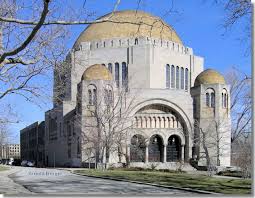 Backstory and Context
In 1850, the congregation of Tifereth Israel (Hebrew: Glory of God) was formed by a small group of families in downtown Cleveland who had recently broken off from the Orthodox Anshe Chesed congregation. Tifereth Israel began merely by renting out space to use in downtown Cleveland, but as time passed and their congregation grew larger, it became clear that a change was necessary.
The congregation moved several times before coming to reside at the Willson Avenue Temple in 1894, where the congregation remained for some time. After undergoing some structural changes in their system of beliefs, as well as increases in the congregation size, Tifereth Israel commissioned the construction of a new center of worship, the Temple, located in University Circle. The Temple was completed in 1924 and was considered to be a representation of their heritage and their history as a congregation.
With a large congregation and a new building, the Temple held regular services for decades, but in 1948, several hundred members left in order to begin a more suburban congregation. Despite this, the congregation of the Temple continued to grow into the late 1950s. In 1950, the Temple was also selected as a site for a gallery of the Temple Museum of Religious Art.
The Temple was not to be used for the remainder of Tifereth Israel's lifespan, however, as in 1964, much of the congregation began to move to yet another suburban offshoot in Beachwood, which grew significantly over the following decades. As the Beachwood location grew, however, the Temple at University Circle diminished, and as a result, it eventually was removed from regular main services. Today, the Temple location still houses the art gallery, and the building is used on High Holy Days, as well as for other select events.
Sources
 Arnold, Berger. "Tifereth Israel (The Temple) - Rabbi Abba Hillel Silver's congregation in Cleveland, Ohio." Cleveland Jewish History. Accessed August 14, 2015. http://www.clevelandjewishhistory.net/silver/temple.html.
"The Temple-Tifereth Israel History." Temple-Tifereth Israel. Accessed August 14, 2015. http://www.ttti.org/about-us/history. 
Additional Information