Central High School, Louisville
Introduction
Constructed in 1952, this school's history dates back to the 1880's, when African American citizens filed an appeal to the Louisville Board of Education asking for a high school that would be open to their children who were excluded from the public high schools of the city owing to their race. The appeal was successful and Louisville Colored High School began operations in September of 1882. Today, the educational establishment that grew from this effort is known as Central High School, a school open that was first established as the first African American high school in the city. The school opened with just twenty-seven students and the faculty consisted of one principal, Mr. J.M. Maxwell and one instructor, Mr. C.W. Houser. These students were taught basic arithmetic, reading, and also botany, rhetoric and philosophy. The original school was located on the corner of Sixth and Kentucky Streets. In 1895, the school relocated to Ninth and Magazine Street.
Images
Front of Central High School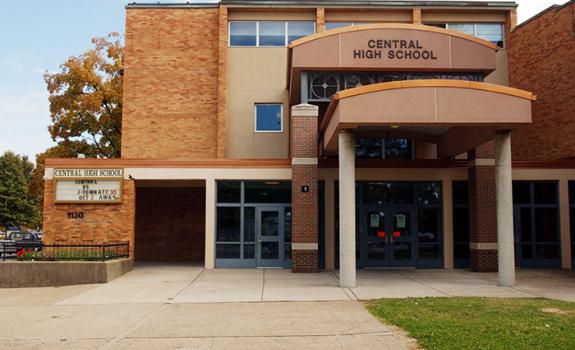 Backstory and Context
In 1907, Central High School expanded its curriculum to include manual training with courses in mechanics, plumbing, blueprinting, and dressmaking. In 1912, the high school relocated, but the vocational school stayed at 9th and Magazine Street and operated until 1952.
In 1932, the school instructed nine hundred pupils with thirty instructors and received accreditation from Southern Association of Colleges and Secondary Schools. Having initially been named Louisville Colored High School, the name was changed to Central High School in 1945 after pupils and parents asked that the name "Colored" be replaced. In 1950, the school's enrolled over twelve hundred students with 52 faculty members. In September of 1952, Central High School moved to its current home on Chestnut St.
On May 17, 1954, the Supreme Court declared that segregated schools violated the Constitution, yet Louisville and many other cities continued to operate segregated schools. After years of protest, a legal challenge reached the District Court in 1975 and Judge James B. Gordon ordered Louisville and Jefferson to integrate with the guidance that African Americans would constitute at least 15% of the student body in most schools but no school should have a 50% African American school population. Dr. Harvey Sloan was the mayor of Louisville worked with school leaders to come up with a plan that included busing students across the city.
The school year began on Thursday, September 4, 1975, and integration commenced without much protest for the first day. On September 5th however, close to 10,000 students began a protest that included setting fire to school buses and violence directed against Black students. 2,500 white rioters clashed with police and over 500 were arrested. The Kentucky National Guard was called into the city to help control the rioting and racial violence that was taking place. When the school week started again on Monday, Sept. 8, armed law enforcement and guards went on the buses and stood at schools to ensure that peace was kept. As time went on, integration through busing became the accepted norm. However, following the protests of whites throughout the US and the decision of many whites in Louisville to move from areas where students were being bused, the schools of the city and the neighborhoods became increasingly segregated.
Central High School has a large African American population in addition to many partnerships with prestigious educational institutions such as the University of Louisville Schools of Law, Medicine, Business, and Dentistry. The school also has a partnership with Morehead State University School of Veterinary Science as well as Spalding University School of Nursing. Famous alumni include Sam Gilliam, a prominent artist and graduate of the class of 1951. Elmer Lucille Allen graduated from Central High School in 1949 and went on to become the first African American chemist at the Brown-Forman Corporation. The school also counts Muhammad Ali as one of its alumni.
Sources
Quick, Kimberly. Louisville, Kentucky: A reflection on School Integration. The Century Foundation. September 15, 2016. Accessed December 06, 2017. https://tcf.org/content/report/louisville-kentucky-reflection-school-integration/. Article on Civil Rights Movement in Louisville

"Louisville Central High School/Central High School Magnet Career Academy," Notable Kentucky African Americans Database, accessed December 6, 2017, http://nkaa.uky.edu/nkaa/items/show/375.



Kleber, John. Encyclopedia of Louisville. Lexington, KY. University Press of Kentucky, 2001. Historical events, people and places of Louisville


Additional Information