First Wendy's Restaurant
Introduction
This historical marker designates the location where the world-famous fast food franchise began in Columbus when founder Dave Thomas opened his first restaurant in 1969.
Images
The first Wendy's restaurant in Columbus Ohio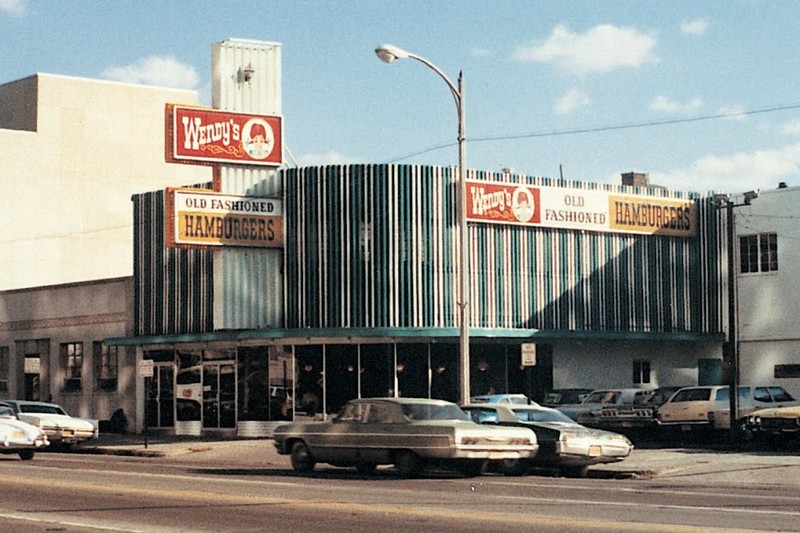 Inside the first Wendy's restaurant before it was closed in 2007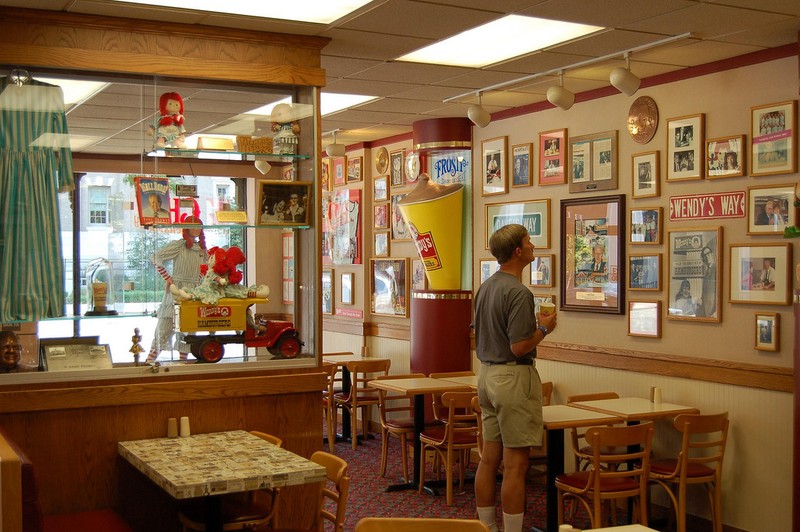 Dave Thomas serving his signature square hamburger (a reminder of his promise to never cut corners).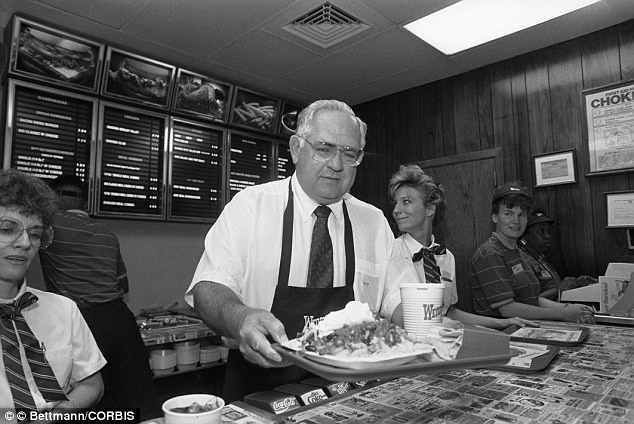 This historical marker was placed by the Ohio Historical Society in 2007.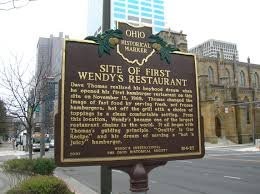 Backstory and Context
Five decades after Dave Thomas opened his first restaurant, Wendy's has grown to become the third-largest fast food hamburger restaurants worldwide. At this site in 1969, Wendy's was founded by the then 35 year-old Dave Thomas, who named the restaurant after his daughter Melinda "Wendy" Thomas. Wendy was a nickname that Melinda's brothers playfully gave her while growing up.

The restaurant quickly earned a local reputation with its unique style of square hamburgers and Dave's classic slogan "We don't cut corners." Before opening Wendy's Dave spent his career studying the fast food chain business and worked with the leaders of several successful chains. Though Wendy's had an early reputation of being slightly more expensive than other fast-food chains like McDonalds, KFC, and Burger King, the restaurant also differentiated itself by emphasizing that they never served a hamburger made from frozen beef. Within a year after opening the first Wendy's Thomas was already opening a second store featuring what Dave claimed "the first modern-day, drive-thru window," added in 1971.

Wendy's began franchise operations in 1972 when the first franchisee opened a restaurant in Indianapolis. By 1976, there were 500 Wendy's throughout the nation. In 1979 Wendy's became the first fast food restaurant to introduce a salad bar. In the 1980s the company added an average of 500 new restaurants each year. In 1996, the company purchased Tim Horton's and later purchased Baja Fresh Mexican Grill.

The growth and popularity of this franchise is a result from their creative advertising that emphasized freshness and quality. One of the most successful advertisements of all time sought to differentiate the company by slamming the size of their competitors as an unsatisfied customer of another restaurant asked "Were's the Beef?" Thomas would also star in most of his commercials to help promote his pledge to the public to provide quality fresh food. In 2007 the first Wendy's was shut down after being open for years as a free museum/restaurant, they were loosing money. The Wendy's corporation claimed that it would be too costly to keep up or renovate so they shut it down March, 2nd 2007. To this day Wendy's is a International juggernaut in the fast-food business and is still serving square hamburgers to millions.
Sources
Rebecca Kerewsky, World's First Wendy's (Gone) Roadsideamerica.com March 16th 2007 https://www.roadsideamerica.com/tip/6388

Ohio History Central Wendy's Ohio History Connection http://www.ohiohistorycentral.org/w/Wendy%27s
Additional Information