Gibson Hall -- Tulane University
Introduction
This article is about the namesake of one of Tulane's central administrative buildings on the university's uptown New Orleans campus.
Images
Gibson Hall shown in an mid-1890s photograph of Tulane University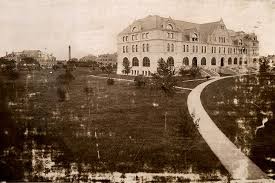 Backstory and Context
Gibson Hall, the Oldest Building on the Campus of Tulane University
Tulane University, founded in 1834, was driven by the business of slavery. A constant reminder of this American history can be seen on Tulane's campus today with the representation of Confederate monuments. Many students who attend Tulane University may not be aware of the Confederate symbolism represents on their campus. Others might see these monuments and realize that Tulane University was not founded on principles of inclusion. In many ways, Tulane was founded at a time when Louisiana was a slave state, and it was located in New Orleans, a sight of one of the largest slave auction areas in the country.
In 1894 during a wave of construction on southern college campuses, in addition to widespread Civil War memorialization and monument building, Tulane University constructed Gibson Hall in honor of a former Confederate General Randall Lee Gibson. Gibson Hall is the oldest standing structure on Tulane's campus. Gibson himself was responsible for making the university a private institution and served as the first leader of the reorganized school that had begun as a medical college. Gibson also wanted "Tulane to change his bequest from serving just the 'young men of the city of New Orleans' to 'young white persons' of New Orleans." Although that notion paved the way for white women to receive an education at Tulane University, that comment also excluded people of color.

New Orleans was unique among antebellum southern cities and towns in that it boasted a very large population of Creole Blacks--descendants of the original gens de coleur libres. According to historians, including Walter Johnson's recent history of New Orleans slave markets, the city specialized in supplying Planters all over the region with slaves. It was out of this atmosphere that the original University of Louisiana was formed before the Civil War began in 1861 and New Orleans was captured by Union forces in 1862.

Randall Lee Gibson himself was product of the city's interracial history. Based on genealogical records, Gibson has African ancestry, which is very common among New Orleans's Creole Blacks. His great-grandfather, Gideon Gibson, was a Creole, "born to a British subject of African origin." Gideon married Mary Martha O'Connell, a white woman, and together they had nine children. Gideon's last child was the Reverend Randall Gibson, Randall Lee Gibson's grandfather. In short, Randall Lee Gibson was considered a Black man during his life even though he passed as white in a society that was quickly drawing the color line after the Civil War.
During the Civil War, Gibson received a commission and served as a Confederate general. As an officer, he led many bloody campaigns during the conflict until he surrendered in 1865 near Mobile, Alabama. When the Civil War concluded, Gibson's thriving plantation business failed, and he began to practice law in New Orleans. He emerged during the period of "Redemption" and afterwards as a prominent politician who had stints in the U.S. House of Representatives (1875-83) and U.S. Senate (1883-92).
In 1881, Paul Tulane, a Presbyterian philanthropist, turned to Gibson to incorporate his "desire to create an institution in New Orleans for the education of white young persons embodying [supremacist] views." Tulane turned to Gibson because he had the political clout to make such a desire happen. Gibson assembled influential lawyers, bankers, clergymen, and even judges to convince the state legislature to permit them to consume the University of Louisiana or Medical College of Louisiana. Gibson would also instill Paul Tulane's wishes into the university as well, which would only educate whites and uphold antebellum traditions of the South. By 1884, Tulane University was thriving and had financial support granted by the of Louisiana Act 43 of 1884. In short, the University of Louisiana became Tulane University in 1884.
Tulane was a part of the wave of memorialization, and as a result, Confederate monuments were built on the university's campus to show respect to prominent Confederate leaders. The wave of memorization stemmed from the Lost Cause of the Confederacy. The Lost Cause was a literary and intellectual movement that justified why the Confederates lost the Civil War. The Lost Cause essentially rewrote the past from a very pro-South and pro-Confederate perspective. Its proponents argued that the Civil War's outcome and Reconstruction policies that followed it attempted to destroy the southern way of life. Lost Cause ideology also denied their role of slavery played in the conflict. The Lost Cause Movement was a way to build southern nationalism after the Confederate loss in the Civil War. As a result, many associations like the United Confederate Veterans, United Sons of Confederate Veterans, and United Daughters of the Confederacy built Confederate monuments to celebrate the failed cause for southern nationhood--a Confederacy built on slavery and white supremacy.

Tulane University admitted its first African American students in 1963 in the midst of a New Orleans school crisis over desegregation. Federal Judge J. Skelly Wright argued in a monumental ruling that year that since Tulane University had benefited so much from state subsidies over the years, that it was essentially a public institution bound by the rules of the Fourteenth Amendment's equal protection clause. Wright's decision paved the way for students Pearlie Elloie and Barbara Guillory Thompson to be admitted.

Tulane University is considered a very prestigious, private institution, ranking at No. 40 best universities according to US News/ Best Colleges. Although the history of Tulane University was built on racially discriminatory ideologies, the university today does not discriminate on one's race, accepting all nationalities to receive a higher education. Gibson Hall still stands strong and is one of the main buildings on campus for undergraduate admissions. Studying the history of Gibson Hall sheds some light on the Tulane's foundation and offers some explanations as to why there are several Confederate monuments on the university. As of now, Tulane University still has Confederate monuments on their campus today, and one of is main undergraduate admissions building is perhaps the largest and most recognizable.
Sources
1. Bernofsky, Carl. "Shedding Light on Tulane History." http://www.tulanelink.com/tulanelink/history_05a.htm

2. Adam Fairclough, Race & Democracy: The Civil Rights Struggle in Louisiana, 1915-1972. Athens: University of Georgia Press, 1999, 3-7, 262-63.

3. Walter Johnson, Soul By Soul: Life Inside the Antebellum Slave Market. Cambridge, MA: Harvard University Press, 1999, 189-210.

4. Mary G. McBride. "Senator Randall Lee Gibson and Establishment of Tulane University." Louisiana History (Summer 1987): 245-262.

4. Pierre, Nile. "Tulane Confederate Monuments Remind Students of Past, Present Oppression." Tulane Hullabaloo, April 6, 2017.

5. Daniel J. Scharfstein. "Black or White?" Opinonator Blog, New York Times, May 14, 2011. https://opinionator.blogs.nytimes.com/2011/05/14/Black-or-white/

6. Charles Reagan Wilson. Baptized in Blood: The Religion of the Lost Cause, 1865-1920. Athens: University of Georgia Press, 1980, 1-17.