Kirby-Smith Hall and Confederate Memories at LSU
Introduction
This article documents a building currently existing on the campus of Louisiana's flagship university--Louisiana State University. Named for a Confederate officer, the dormitory is just one example of Confederate memorialization on LSU's campus.
Images
Kirby-Smith Hall on the campus of LSU in Baton Rouge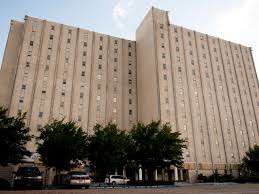 Backstory and Context
Louisiana State University (LSU) is known for their purple and gold, incredible athletes and their fans nationwide. LSU is the home of several Confederate tributes, but this entry will focus on one of the lesser known memorials of the Confederate States of America- the short- lived southern nation established to perpetuate slavery and white supremacy- developed during the twentieth century long after Louisiana's participation in the rebellion. LSU, in addition to many southern universities, honors the Confederate past by nnaming buildings after Confederate officers and "heroes" to the white supremacist cause. In this case, a dormitory on campus honors a Confederate officer who served in Louisiana and refused to surrender in April 1865.
Kirby-Smith Hall is a co-educational dormitory that currently houses more than 500 students, located on the west side of campus near the Quad and the Middleton Library. Kirby-Smith, a utilitarian style dormitory, was established in 1967 and only housed male students but was shut down and reopened in 2011 after $1.7 million dollars worth of renovations. Kirby-Smith Hall was named after the Confederate General Edmund Kirby Smith.
Lieutenant General Edmund Kirby Smith was born in St. Augustine, Florida on May 16, 1824. After serving in the Mexican-American War as did many Confederate and United States Army officers at the time, he was a professor of mathematics at the U.S Military Academy at West Point. Smith resigned his United States Army commission after the Civil War broke out in 1861, thereby violating his sworn oath to defend the U.S. Constitution against all enemies foreign and domestic (thus committing treason). Smith decided to join the Confederate States Army where entered as a Lieutenant Colonel. In the early year of 1863, he was moved to the Trans-Mississippi Department and entrusted with helping stop the Union's progress on the Mississippi River. Smith repulsed the U.S Army's Red River Campaign under the command of General Nathaniel Banks, but due to his isolated location, Smith's success would end there.

Smith, unlike many other Confederate officers at the time, rejected the surrender terms that Robert E. Lee--commandant of the Army of Northern Virginia, and most of his underlings, had accepted. Smith and the Confederate Governor of Louisiana, Henry Watkins Allen, vowed to fight on and insist on better terms from the U. S. Army. According to historian John Kelly Damico, it was Smith's troops stationed out of Shreveport that turned in their weaponry and headed home. In other words, Smith's troops surrendered themselves and prevented a war of conquest from occurring in northern Louisiana (but the Reconstruction era would be extremely violent in the area, including East Texas and southern Arkansas). The portrayal of Smith in Damico's article is that he was a true believer in the Confederate cause, white supremacy, and the expansion of slavery.

Today Kirby Smith Hall, still stands but will face possible demolition. Kirby Hall will not be torn down due to the Confederate implications, rather for the convenience of building retail and recreational space and student housing. This project is currently in the second phase, and if the State Commission Bond obtains all their loans, one can begin to see these changes take place in the year 2019.
Sources
1. Jordan Blum, Advocate Capitol news bureau. "LSU Dorm's Waiting List Now Empty." The Advocate, 15 Aug. 2011, www.theadvocate.com/baton_rouge/news/education/article_364b7be1-e6aa-571e-8dc4-49949b1efda3.html.
2. Damico, John Kelly, "Confederate Soldiers Take Matters into their own Hands: The End of the War in North Louisiana." Louisiana History (Spring 1998): 198-205.

3. James, Joseph B. "Edmund Kirby Smith's Boyhood in Florida," The Florida Historical Society Quarterly (April 1936): 244-54.
4. Grady McWhiney & Perry D. Jameison. Attack & Die: Civil War Military Tactics and the Southern Heritage. Tuscaloosa: University of Alabama Press, 1984, 41-59.