Stonewall Jackson High School (Stonewall Jackson Middle School)
Introduction
Named for noted Confederate general and slaveholder Thomas "Stonewall" Jackson, Stonewall Jackson High School was completed in 1940 and was celebrated as the most modern school in the state of West Virginia. After nearly fifty years, the school was repurposed as a middle school following the completion of Capital High School in 1989. Recognizing the concerns of some community members, students, and parents of this school, which has the highest percentage of African American students in the state, a 2015 petition called on the school board to change the name of the school. The school was not renamed, but in 2020, the issue again received consideration. In July 2020, by a 3-2 vote, the Kanawha County Board of Education determined to rename Stonewall Jackson Middle School to West Side Middle School.
Images
Picture of Stonewall Jackson High School in 1940 on opening day.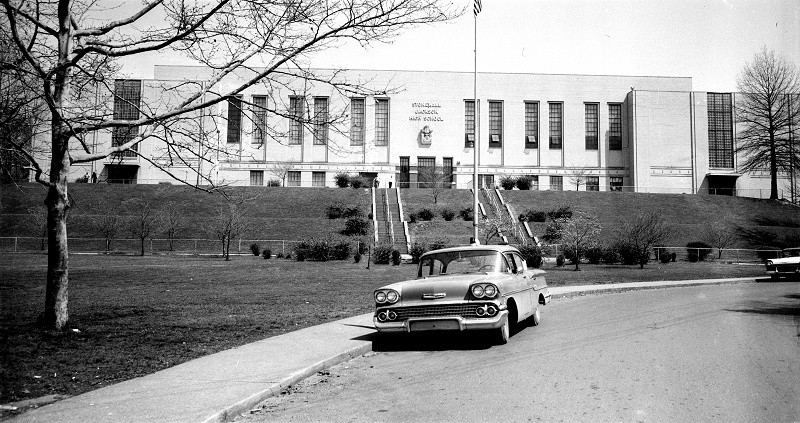 Newspaper article on Stonewall Jackson High School.
Backstory and Context
Born in 1824 in Clarksburg, Virginia (now West Virginia), Thomas Jackson was raised by his uncle before attending the U.S. Military Academy at West Point, where he graduated in 1846. As an officer in the military, Jackson served in the Mexican War. In 1851, he left he U.S. army and spent nearly a decade teaching at the Virginia Military Institute. During his time in Lexington, Jackson and his wife Anna owned several slaves. A deeply religious man, he also preached to the local enslaved population.
With Virginia's secession and the outbreak of the Civil War in 1861, Jackson served as a general within the Confederate army. Earning the title "Stonewall" for his stout performance at the Battle of First Manassas, Jackson rose to great prominence for his generalship. In particular, his strategic vision during the 1862 Valley Campaign and 1863 Chancellorsville Campaign won him great acclaim. He was wounded by his own men at the Battle of Chancellorsville in May 1863 and died shortly thereafter.
As West Virginia's most well-known military figure, many monuments and public buildings are dedicated to Thomas "Stonewall" Jackson. Built in 1940, Stonewall Jackson High School was celebrated as the finest and most modern school in the state. The school was located on the grounds of a former plantation. This school cost approximately $800,000 to build and operated as a high school for 49 years. With the opening of Capital High School in 1989, this building became home to Stonewall Jackson Middle School.
In 2015, following the racist mass shooting at Charleston, SC's Emanuel African Methodist Episcopal Church, many Confederate monuments and memorials came under scrutiny. In 2015, a petition circulated calling for the renaming of Stonewall Jackson Middle School. The petition was started by Dr. Gregg Suzanne McAllister, a professor at West Virginia State University. Dr. McAllister hoped to change the name of the school to something that would better reflect the diverse student body and the population of Charleston's West Side neighborhood. Black children make up over 40% of the school's student population.
The 2015 effort failed, however. Reflecting the views of many white residents and alumni to the 2015 petition to change the school's name, school board member Becky Jordon denigrated the effort as "crazy" and went so far as to suggest that the effort to change was an attempt to stir racial discord. "We're lucky we don't have these racial issues in our area, and we don't need anyone stirring them up," Jordon said in response to the petition.[2]
In 2020, following nationwide protests over the death of Black man George Floyd and systemic racism, Confederate symbols again emerged as a center of contention. Once again, the possibility of renaming Stonewall Jackson Middle School was raised. A second petition gained support, and the Kanawha County Board of Education took suggestions for a new school name via an online survey. In July 2020, the Board of Education ultimately voted 3-2 to rename the school the West Side Middle School. Having once opposed renaming the school, Becky Jordan voted in favor of the measure.
Sources
1. James I. Robertson, Jr. "Stonewall Jackson." e-WV: West Virginia Encyclopedia. December 7, 2015. Web. Accessed September 22, 2020. https://www.wvencyclopedia.org/articles/948
2. Ryan Quinn. "Kanawha school board against renaming Stonewall Middle School." July 13, 2015. Charleston Gazette-Mail. Web. Accessed October 14, 2018. https://www.wvgazettemail.com/news/kanawha-school-board-against-renaming-stonewall-middle-school/article_d9152c00-1484-5d1a-abd1-bdb4b868b381.html.
3. Megan Kennedy. "Petition created to change name of Stonewall Jackson Middle School." July 8, 2015. Charleston Gazette-Mail. Web. Accessed September 22, 2020. https://www.wvgazettemail.com/news/education/petition-created-to-change-name-of-stonewall-jackson-middle-school/article_9635a2eb-5cd8-5b1f-9954-d770838bef4d.html
4. "Kanawha school board selects new name for Stonewall Jackson Middle." July 16, 2020. MetroNews. Web. Accessed September 22, 2020. https://wvmetronews.com/2020/07/16/kanawha-school-board-selects-new-name-for-stonewall-jackson-middle/
Additional Information