The Confederate & Redeember Origins of Nicholls State University
Introduction
Nicholls State University, named for the first Democratic Governor Francis L.T. Nicholls elected after Reconstruction (1868-1877), has a long history of serving white supremacy and maintenance of Confederate and Redeemer or "Bourbon" memory in Louisiana.
Images
The original Nicholls State Colonel Mascot
The updated Colonel Tillou mascot.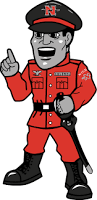 Backstory and Context
Nicholls State a Memorial to "Bourbon" Governor
Nicholls State University is in the heart of LaFourche Parish in Thibodaux, Louisiana. It is a public institution founded in 1948, and was named for the one-armed, one-footed former Governor Francis Redding Tillon Nicholls, the first Democratic or "Bourbon" Redeemer governors of Louisiana following Congressional Reconstruction (1868-1877), and Confederate Army veteran.
The 287-acre that rests in the center of Lafourche Parish is Nicholls State University. This school had its grand opening on September, 23, 1948, with the opening title of Francis T. Nicholls Junior College of Louisiana State University. In 1956, the Louisiana legislature disassociated Nicholls from LSU and accredited it to establish a 4-year undergraduate institution. In September 1956, the name of institution changed to Francis T. Nicholls State College and two years later in May of 1958 after individuals were issued degrees. In 1970, another State legislative decision gave the final name of Nicholls State University.
The institution commemorated and dedicated to Francis Redding Tillon Nicholls, who was an Ascension Parish native. Nicholls apprenticed to practice law, and later joined the Confederate armed forces and quickly rose to the rank brigadier general during the Civil War. During the conflict, Nicholls ended up as a prisoner of the Union Army and lost an arm and leg in the process.

After the Civil War, Louisiana attempted as did other former Confederate states to resume the status quo antebellum or "way things were before the war." In other words Louisianans attempted to recreate slavery. Congress got involved in 1868 and took over Federal Reconstruction from then-President Andrew Johnson. Passage of the Fourteenth Amendment granted citizenship to the state's black majority population--most of whom had been slaves before the Civil War. This and the Fifteenth Amendment, ratified in 1870, angered white Louisianans, who violently resisted Federal Reconstruction policy by forming terrorist organizations such as the Order of the White Rose of Camelia and the White League. These Ku Klux Klan type organizations threatened freedpeople, teachers, and anyone resisting Louisianans attempts to recreate slavery and white supremacy. Out of this atmosphere, Nicholls was elected governor in 1876. His election is created a pathway to the end of Louisiana's political Reconstruction and the re-establishment of "Home Rule."

During his second term as governor (1888–1892), Nicholls attempted to clean up the fraudulent practices of the Louisiana Lottery Commission. After successfully accomplishing two gubernatorial terms, he was given the title Chief Justice to the Louisiana Supreme Court. He retired to his Thibodaux home in 1911 and died in 1912.
Nicholls State University resides close to the Gulf of Mexico in southern Louisiana known as "Acadiana," and colloquially as "cajun country." The 287-acre Thibodaux campus is approximately 50 miles west of New Orleans and 60 miles southeast of Baton Rouge. For more than half a century, the university's has catered to local Louisianans seeking an inexpensive education, and one in which class sizes are much smaller than those offered by nearby Louisiana State University. Nicholls takes pride in the Southern Louisianan tradition, and embraces the culture by granting peculiar academic programs in the culinary arts and geomatics.
The institution has a major advantage because it resides alongside the banks of Bayou Lafourche, Nicholls also offers a Football Championship Series (FCS) football team, and for a long part of the twentieth century, the team was known as the Colonels--perhaps in honor of its namesake, who briefly held that rank before ascending to Brigadier General. The mascot choice has come under public scrutiny, and it has also received a transformation since Nicholls became a 4-year higher education institution in the 1950s.
In the early 2000s, the original Colonel mascot changed its uniform and style--perhaps in attempt to prevent the University from scrutiny over its Confederate and Redeemer past. The newer Colonel Tillou has angered people because he resembles a "nazi" or "Soviet" soldier instead of a Confederate. Yet these criticisms do not fully acknowledge that the former Colonel mascot was a direct emulation of the Confederate General Nicholls, who fought for white supremacy in the South much as Nazis in Europe fought much later for an Aryan-domninated world.
-- Submitted by Revius Gilton, Grambling State University, for Dr. Johnson's Louisiana history class

Sources
1. Jenny Hurwitz. "New Nicholls Mascot Has Many Alumni Up in Arms." New Orleans Times-Picayune, Aug. 15, 2009.

2. Sidney J. Romero. "Frank T. Nicholls." Know Louisiana Digital Encyclopedia. n.d.