Don F. Pratt Museum at Fort Campbell
Introduction
Fort Campbell began construction on February 4, 1942. After about a year construction was complete and the new Army Post was labeled as Camp Campbell. The camp housed one armored division, 2,422 officers, 42,198 enlisted men, and 23,000 various support troops. Fort Campbell is located between Hopkinsville, Kentucky and Clarksville, Tennessee. Fort Campbell is also home to two Special Forces Units and the world famous 101st Airborne Division (Air Assault). Fort Campbell is also home to the Don F. Pratt Museum of the 101st Airborne Division
Images
Fort Campbell's Front Gate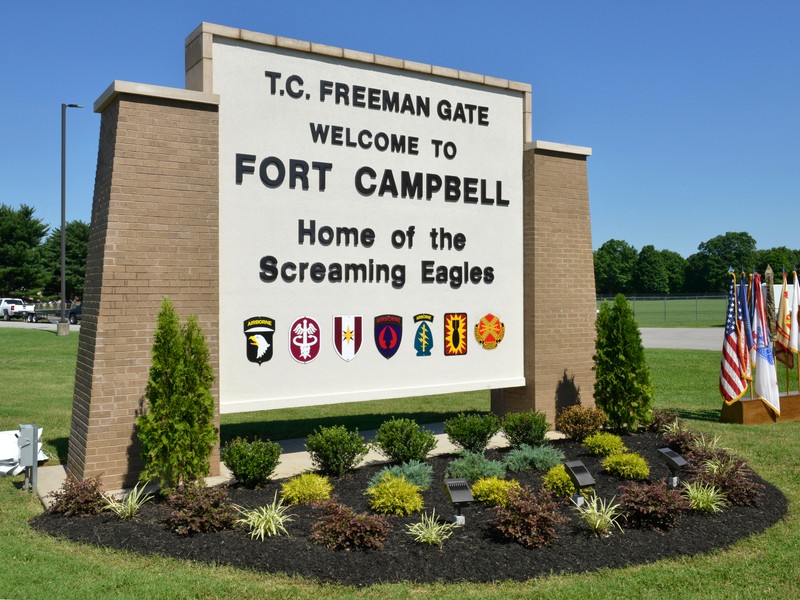 101st Airborne Divison (Air Assault) at Fort Campbell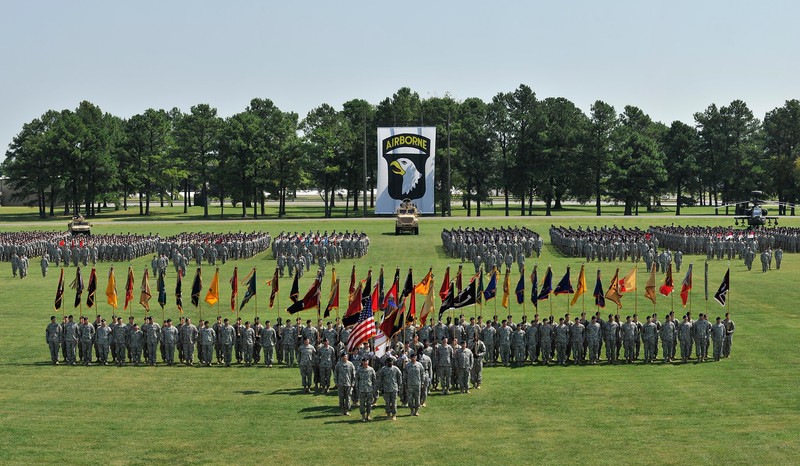 Backstory and Context
Fort Campbell site selection was on July 16, 1941, and construction began on February 4, 1942. After about a year construction was complete and the new Army Post was labeled as Camp Campbell. Originally the camp was designed to house one armored division, 2,422 officers, 42,198 enlisted men, and 23,000 various support troops. Fort Campbell is located between Hopkinsville, Kentucky and Clarksville, Tennessee, meaning the post spans across two states. The strategic placement of the post means it can deploy mission-ready assets by air, rail, ground, and inland waterways at a moment's notice.
In the Summer of 1942, the post initially inhabitants reported to Camp Campbell consisting of one officer and 19 enlisted men, from Fort Knox, Kentucky. From the posts opening up until the end of WWII, Camp Campbell was the training ground for the 12th, 14th, and 20th Armored Division, as well as, the Headquarters for the IV Armored Corps and the 26th Infantry Division. In April of 1950, the training camp was converted to a permanent installation and was renamed, Fort Campbell.
Fort Campbell is now home to the only Air Assault Division in the world, the 101st Airborne Division (Air Assault). Fort Campbell is also home to two Special Operations Command Units, the 5th Special Forces Group (Airborne) and the 160th Special Operations Aviation Regiment (Airborne). The post also provides support for training and mobilization for many Army National Guard and Army Reserve units in the region.
The Don F. Pratt Museum was established in 1956 as a division museum for the 101st Airborne Division, whose mission was to preserve the history of the "Screaming Eagles" from the early 1940s to Present Day. The Museum was named after Brig. Gen. Don F. Pratt, who was a member of the 101st. The Museum exhibits 101st Airborne memorabilia, an exhibit for the CG-4A cargo glider, which carried glider-borne Soldiers into combat during World War II, two 17th century bronze eagles, An illuminated Dutch Manuscript recognizing the Divisions role in Liberating Holland in WW2, captured enemy weapons and equipment from Vietnam, a recruiter's jeep from the 1970s, and items which once belonged to Adolph Hitler and other high ranking Nazi officials.
Sources
Fort Campbell Army Base. Military.com. Accessed December 04, 2017. http://www.military.com/base-guide/fort-campbell/contact/base-public-affairs-office/3901.

Fort Campbell. Militarybases.us. Accessed December 04, 2017. http://www.militarybases.us/army/fort-campbell/.


Additional Information