4th Infantry Division Museum at Fort Carson
Introduction
Fort Carson, also known as "Best Hometown in The Army – Home of America's Best," is located near Colorado Springs, Colorado. The Army post has been in service since January 31, 1942, and has been home to over 100 different units since its inception, first being the 89th Infantry Division. Carson has been known being one of the best places to be stationed throughout its history and is also home to the 4th Infantry Division Museum.
Images
Arial view of Fort Carson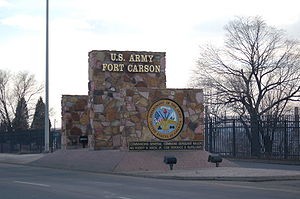 Backstory and Context
Fort Carson is located in El Paso County, Colorado, just outside of Colorado Springs, named after Army scout, General Christopher "Kit" Carson, who explored a larger portion of the West in the 1800s. The installation was completed on January 31, 1942, and building began following the Attack on Pearl Harbor, during WWII. The Fort took 11,500 workers to complete and was constructed to house 35,173 enlisted men, 1,818 officers, and 592 nurses. The base contained a hospital that had space for 1,726 beds and could be expanded to 2,000 beds if necessary.
During WWII Carson had over 100,000 soldiers that trained there, including nurses, cooks, mule packers, tank battalions, a Greek infantry battalion, and an Italian ordnance company. The first major unit to be activated at Fort Carson was the 89Th Infantry Division, along with three other infantry divisions: the 71st, 104th, and 10th, Mountain. More than 125 units were activated at Camp Carson and more than 100 others were transferred to the Mountain post from other installations.
By the end of WWII Fort Carsons, activity had greatly decreased and military strength at the camp had dropped to about 600. The thought was that Camp Carson was going to be closed, but with the Korean War brewing activity around the base started to regain. Fort Carson has a proud history of supporting the nation's call to arms. The Mountain Post supports over 350 community events such as parades, concerts, and fairs every year. Fort Carson is known as "Best Hometown in The Army – Home of America's Best."
Also offered is the Fort Carson 4th Infantry Division Museum. The mission of the museum was to preserve all historical artifacts pertaining to the 4th Infantry Division, from 1917-present day. Secondly, the Museum is responsible for supporting post education, training, research, and historical programs around Fort Carson and the 4th Infantry Division.
Sources
Accessed December 02, 2017. http://www.carson.army.mil/.

Fort Carson Army Base. Military.com. Accessed December 02, 2017. http://www.military.com/base-guide/fort-carson.


Additional Information