FedEx Field
Introduction
Landover, Maryland, north of the United States Capitol, is the home of the Washington Redskins. The Redskins played their first game in this stadium on September 14, 1997. Having 80,116 seats, it was the largest stadium in the National Football League at the time. Yellow and red seats surround the field from all sides, completed with two giant video screens at each endzone.
Images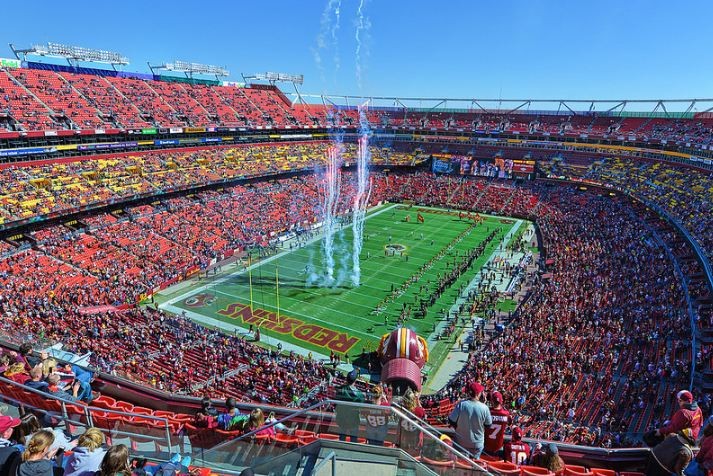 Backstory and Context
FedEx Field was not always the home for the Redskins. The owner, Jack Kent Cooke, wanted a newer bigger stadium in the 1980s. He planned to build a new stadium in D.C. next to RFK stadium. The National Park Service declines his plan due to the fact that it would have fill in part of the Anacostia River to provide adequate parking. Wanting the field built in D.C., he continued to provide proposals. On the chance that the plans did not work, the team also talked to Fairfax and Loudon counties in Virginia.

In 1992 all negotiations between the Redskins and D.C. had stopped, meaning the team was likely to move to Alexandria, Virginia. This plan also fell through and Cooke picked back up with D.C. However, just like the last time, this agreement fell through. Cooke finally bought land in Maryland in Landover. Construction for the stadium began immediately in 1995. Cooke died just months before the stadium was completed, so initially, it was named Jack Cooke Kent Stadium.

Daniel Snyder bought the Redskins in 1999 and sold the naming rights to the Federal Express company. It was then renamed FedEx Field. Along with a new name, the field got many new upgrades and renovations. Many more seats were added, 100 foot long HD TV screens were installed, and more luxury suites were opened up. FedEx Field is no longer one of the largest stadiums in the league. After removing seats from the upper deck, and a portion of seating for a party deck being standing only, the stadium seats 79,000 people.




Sources
FedEx Field, Washington Redskins football stadium - Stadiums of Pro Football. (n.d.). Retrieved December 04, 2017, from http://www.stadiumsofprofootball.com/stadiums/fedex-field/
Additional Information