Cathedral Mansions North (Cathedral Park)
Introduction
Cathedral Mansions North, now known as Cathedral Park, was built between 1922 and 1923. While today it is independently owned and operated, Cathedral Mansions North was originally one of three buildings in the Cathedral Mansions complex built by developer Harry Wardman.
Images
Cathedral Mansions North, now Cathedral Park, is the only one of the Cathedral Mansions buildings painted a different color.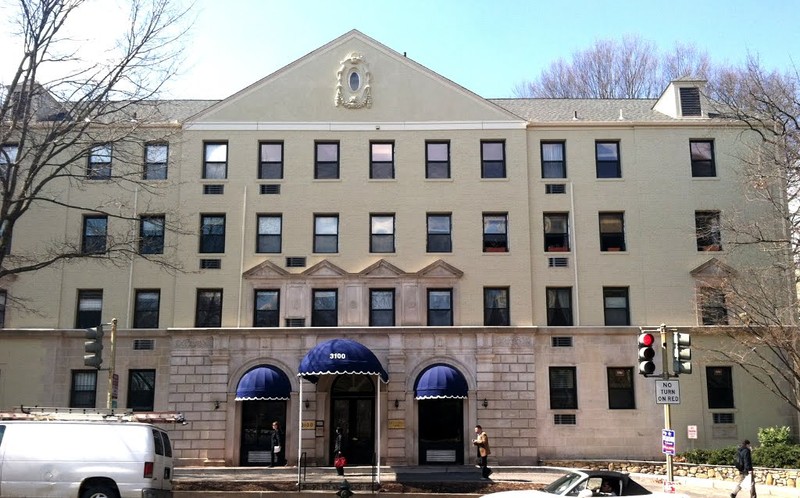 Cathedral Mansions North was once known as Klingle Mansions, named for the nearby Klingle Valley. The Klingle Valley Bridge would be constructed in 1931. The bridge mentioned in this 1924 ad references the Taft Bridge. Library of Congress.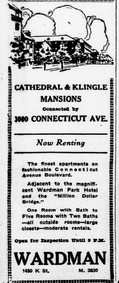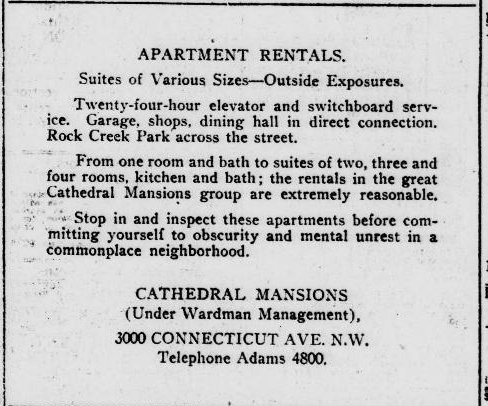 Backstory and Context
Nestled within the tall trees of Connecticut Avenue, Cathedral Mansions North was the second of three apartment buildings constructed by Harry Wardman. Having moved to Washington, D.C. in 1895, it only took Wardman four years to establish his own business. By 1903, he was well known for his work in constructing apartments and row houses. His Cathedral Mansions project was an effort to create a profitable apartment complex within the confines of D.C.'s zoning laws established in 1920. Excavation of the North building began in June 1922 and construction took place between September 1922 and August 1923.
Cathedral Mansions North is located alongside the Klingle Valley and the art deco styled Klingle Valley Bridge, or Connecticut Avenue Bridge. Both features, one natural and one manmade, reflects a larger history of urban planning in the suburban districts of Washington, D.C. The wooded Klingle Valley reflects of D.C.'s early interest in natural preservation, as it connects with Rock Creek Park, which was purchased by the federal government for protection and public recreation in 1890. Connecticut Avenue also became an increasingly significant transportation route for vehicles, foot traffic, and utilities in the late nineteenth and early twentieth centuries. The old bridge across Klingle Valley proved inadequate for the growing neighborhoods of Woodley Park and Cleveland Park. The construction of the large and luxurious Cathedral Mansions only added to local citizens' arguments that a new bridge was necessary. Cathedral Mansions North, therefore, influenced and was influenced by its surroundings. Originally, the North building was named Klingle Mansions due to its proximity to this important feature of the area.
Cathedral Mansions North is an irregular V-shaped structure with several projections. The two wings form a cozy courtyard with a fountain and landscaped gardens. The five-story structure is red brick painted to match the limestone details around the windows and trim. The main entrance along Connecticut Avenue is reminiscent of the symmetrical architecture of France. The triangular pediment above the main entrance includes a small oval window decorated with scrolls, fruits, and leaves.
In 1974, in a time when luxury living of the earlier decades declined, Cathedral Mansion North was sold to developer Matthew Mezzanotte. It underwent renovations and the 170 apartments were altered and updated, and the slate roof and original windows were replaced. The was name changed to Cathedral Park.
Sources
National Park Service. "Cathedral Mansions Apartment Buildings." National Register of Historic Places Inventory-Nomination Form. Prepared by Betty Bird. Washington, D.C.: National Park Service, Department of the Interior, 1994. Accessed December 2017. http://focus.nps.gov/GetAsset?assetID=e880cd79-9479-4905-b959-2db5da168739
Cathedral and Klingle Mansions ad. Evening star. May 26, 1924, Page 30, Image 30. Washington, D.C. Chronicling America. Library of Congress. Accessed December 2017. http://chroniclingamerica.loc.gov/lccn/sn83045462/1924-05-26/ed-1/seq-30/
Cathedral Mansions ad. Evening star. February 24, 1927, Page 50, Image 50.
Washington, D.C. Chronicling America. Library of Congress. Accessed December 2017. http://chroniclingamerica.loc.gov/lccn/sn83045462/1927-02-24/ed-1/seq-50/
Additional Information