Notasulga, Alabama: Birthplace of Zora Neale Hurston
Introduction
Notasulga, Alabama is in north-central Macon County and Southwestern Lee County in the east-central part of the state. It is known historically as Zora Neale Hurston's birthplace. Hurston, born on January 7, 1891, was known as a central figure in the Harlem Renaissance and was the most successful, and most significant, Black woman writer of the first half of the 20th century. In addition to writing, Hurston also devoted her life to the study of anthropology and the preserving of African-American culture.
Images
A candid of Zora Neale Hurston
Zora Neale Hurston was born to two former share-cropping slaves - John Hurston and Lucy Ann (Potts) Hurston.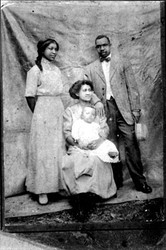 Zora Neale Hurston's landmark that identifies her birthplace is located outside of Macedonia Baptist Church, where her parents are said to have met.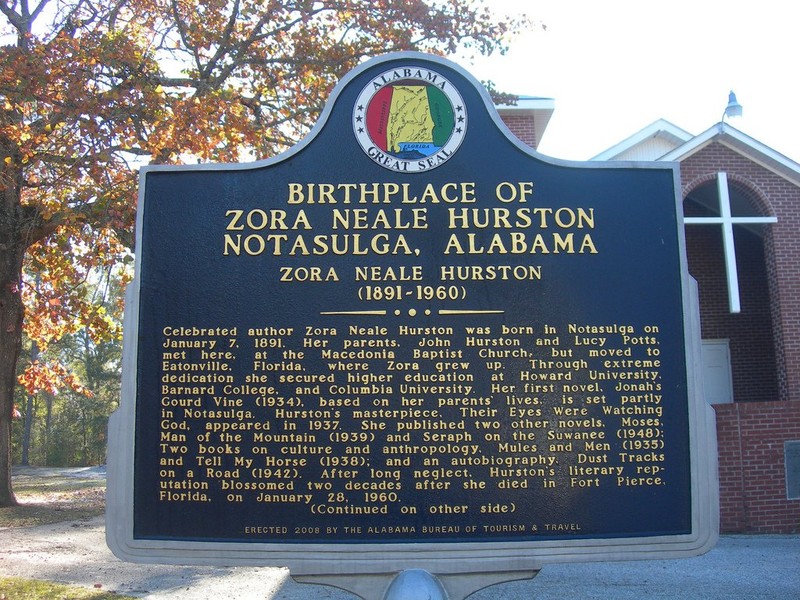 Backstory and Context
Zora Neale Hurston was born on January 7, 1891, in Notasulga, Alabama. Her parents, Lucy Ann (Potts) Hurston and John Cornelius Hurston, were both former share-cropping slaves. At a young age, her family moved to Eatonville, Florida – the first incorporated African-American community. Surrounded by an environment fully embraced the African American community, Zora developed a pride for her heritage at a very young age. This would influence her theatre productions, anthropological emphases, and writings in her later life.
Because Zora Neale's mother died with she was only 11 years old and her father quickly remarried, Zora spent several years traveling between family members. This experience led to her first realization of being "colored" while she briefly lived in Jacksonville. Such exposure to the tension regarding African Americans as she traveled between family members would continue until her brother, Robert, invited her to be his children's nanny. Although these circumstances were beneficial for a time, her insatiable curiosity incited controversy between her and her brother, who did not condone her finishing high school. Choosing her education over his wishes, she enrolled and graduated from Morgan Academy, supporting herself as a maid in the meantime.
Upon graduating from Morgan Academy, Hurston pursued her first degree from Howard University, beginning her writing career through journal articles and stories, leading her to receive several awards from the 1925 Opportunity banquet, said to instantly win the audience. Of the several people introduced to her that evening, Annie Nathan Meyer would prove to be of the most beneficial. As a founder of Barnard College, she was able to help Zora Neale Hurston be accepted and receive a scholarship for study. She focused her degree on anthropology, studying with Frank Boas – the father of modern anthropology. This would prove to be a pivotal point in Zora's life. She would spend the rest of her life celebrating the distinctions and uniqueness of the African American culture, traveling to Haiti, Jamaica, as well as several communities in the United States, hoping to preserve the African American experience. During this time, she would continue to write, including her most famous work Their Eyes Were Watching God, over the course of seven weeks.
Although her career and lively spirit gained immediate admiration, her reputation would be soiled after a false accusation of molesting a mentally retarded ten-year-old. She would soon prove her location in Honduras during the time of the accusation, and the boy would admit to falsely accusing her as well. However, because of the rumors published in the African American tabloids, her renown immediately dwindled. Zora would resort to housekeeping, for her writings were no longer being published because of this. In the end, several detrimental strokes rendered her helpless until her death. Her name was buried in infamy. Almost a decade after her death, however, Alice Walker sparked a great interest in her life and her works. She reestablished the name of Zora, introducing her works to a newer audience, instigating her popularity yet again.
Sources
Biography.com Editors. "Zora Neale Hurston." Biography.com. April 28, 2017. Accessed December 2, 2017. https://www.biography.com/people/zora-neale-hurston-9347659#!
Kaetz, James P. "Notasulga." Encyclopedia of Alabama. November 7, 2014. Accessed December 2, 2017. http://www.encyclopediaofalabama.org/article/h-3479.
Lillios, Anna. "Hurston's Life." Zora Neale Hurston Digital Archive. 2017. Accessed December 2, 2017. https://chdr.cah.ucf.edu/hurstonarchive/?p=hurstons-life.
The Estate of Zora Neale Hurston. "Zora Neale Hurston." The Official Website of Zora Neale Hurston. 2015. Accessed December 2, 2017. http://www.zoranealehurston.com/about/index.html.
Additional Information