Henry Street Settlement
Introduction
The Henry Street Settlement is a not-profit social service agency in the Lower East Side neighborhood of Manhattan, New York City that provides social services, arts programs, and health care services to New York residents of all ages. It was founded under the name "Nurses' Settlement" in 1893 by progressive reformer and nurse, Lillian Wald.
Images
Henry Street Settlement, located in New York, New York.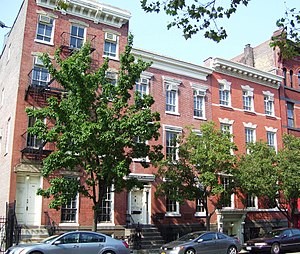 Portrait of Lillian D. Wald, author, Women's Rights activist, and nurse.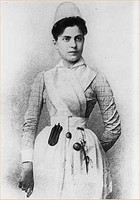 Backstory and Context
In 1892, Lillian Wald, a nurse, volunteered to teach a class on home health care for immigrant women. One day, she was approached by a young girl who kept repeating "mommy ... baby ... blood". Wald gathered some sheets and followed the child to her home, a cramped two room apartment home. When she got inside, she found the girl's mother had recently given birth and was in desperate need of health care. Because she could not afford to pay the doctor she had before, he left her stranded and without proper postpartum care. This was Lillian's first poverty experience: she called this her "baptism by fire" and dedicated herself to provide nursing care, and eventually education, to the immigrant poor in Manhattan. The next year, she founded the Nurses' Settlement, which later changed its name to the Henry Street Settlement.

Lillian committed her life to helping others. In addition to her public health contribution, she worked to improve women's rights and the welfare of children. In 1903, to help women in the workforce, she helped establish the Women's Trade Union League. Two years later, Wald established a federal organization to help children and end child labor. She spent years lobbying for this idea until it became official: The Children's Bureau was established in 1912.

With social reformer Jane Addams and others, she formed the American Union against Militarism in 1914, during a world war outbreak. Wald and Fanny Garrison Villard led a march of more than 1,000 women in New York City to protest the war on August 29, 1914"(biography.com, 2016). Wald later created the Women's International League for Peace and Freedom.

Over the years the settlement was a powerful source of innovation in the social settlement movement and in the broader field of social work. The Neighborhood Playhouse was opened in connection with the settlement in 1915, through the benefaction of Irene Lewisohn, who is a long time contributor to dance. Residents at Henry Street included U.S. secretary of the Treasury under President Franklin D. Roosevelt.

Sources
Henry Street Settlement. (2017, November 10). In Wikipedia, The Free Encyclopedia. Retrieved 02:17, December 4, 2017, from https://en.wikipedia.org/w/index.php?title=Henry_Street_Settlement&oldid=809655352


Lillian D. Wald. Biography.com. February 19, 2016. Accessed December 03, 2017. https://www.biography.com/people/lillian-d-wald-9521707.

Encyclopedia britannica. Lillian D. Wald. February 26, 2017. Accessed December 03, 2017. https://www.britannica.com/biography/Lillian-D-Wald.


Additional Information