Pleasanton School Integration Marker
Introduction
Ever since Pleasanton School District first granted Black students limited access to an education in 1913, Black families sent their children to the segregated Abraham Lincoln High School. This was the case until 1957 when Black residents of Pleasanton, Texas petitioned the city to integrate the school system following the 1954 Supreme Court decision striking down segregation. Upon the construction of a new elementary school and a new high school, a vote was taken and the schools were integrated on the first day of classes that year, making Pleasanton the first town in Texas to do so.
Images
Pleasanton School Integration Marker located near the high school building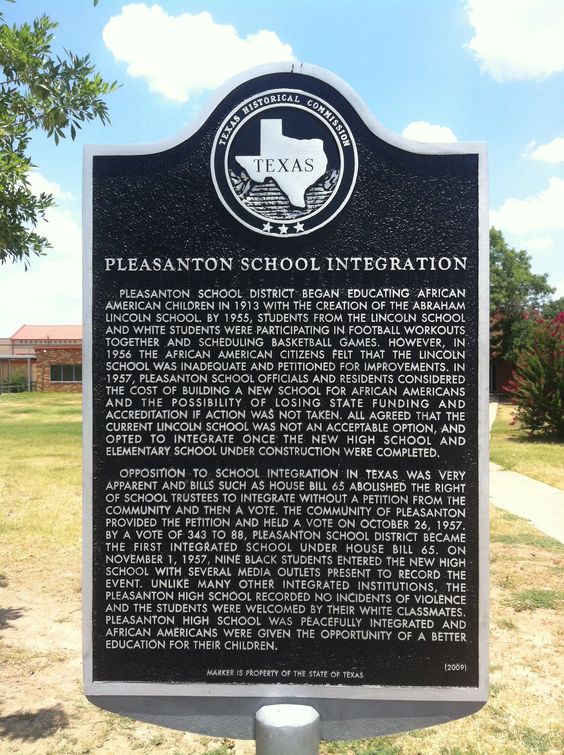 Pleasanton High School today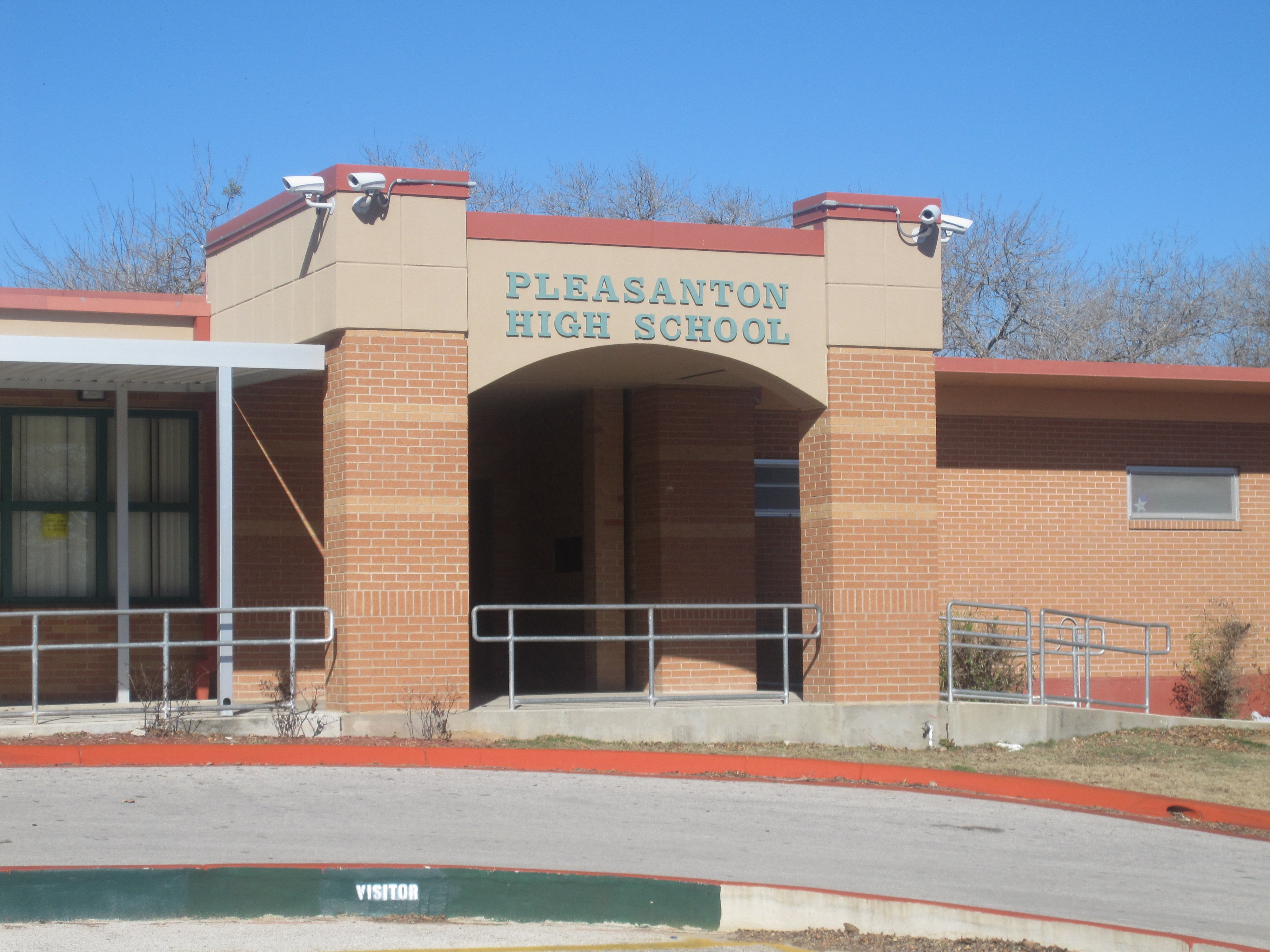 News script from Fort Worth news station WBAP-TV about integration at Pleasanton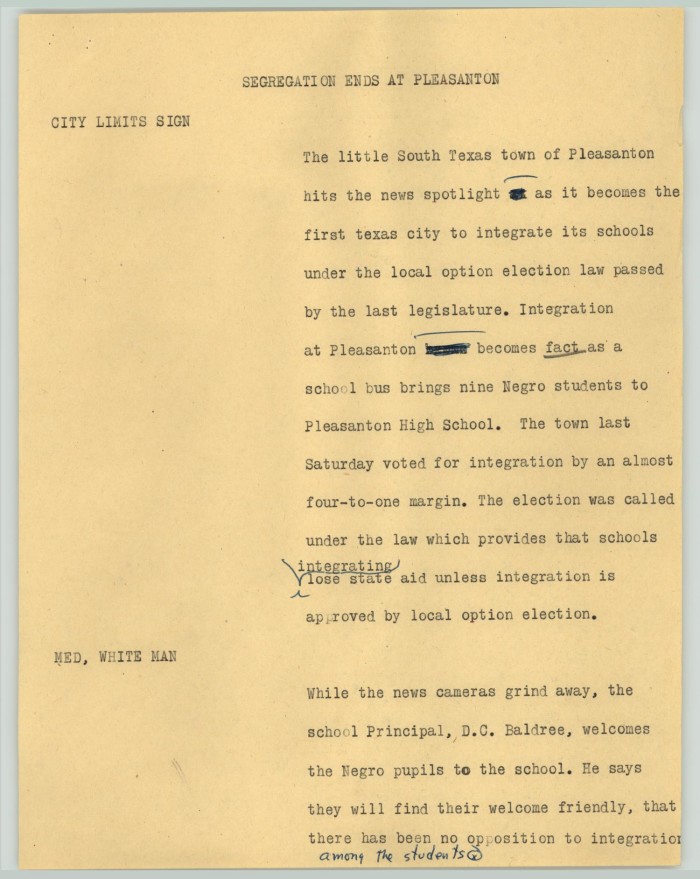 Students working together at Pleasanton High School in 1957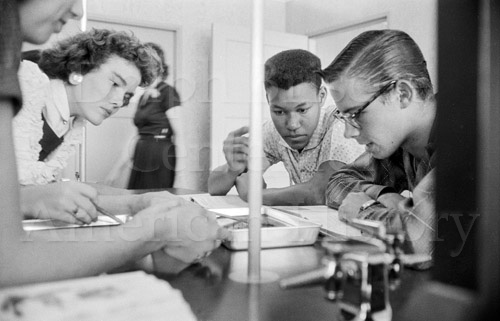 Backstory and Context
Pleasanton School District began allowing Black children go to segregated schools in 1913. By the 1950's, one of the schools, Abraham Lincoln High School, was no longer adequate enough for the students who went there. This prompted Pleasanton's Black community to organize and petition for better educational conditions in 1954. In response to this petition, the city pledged to fund the construction of new school buildings.
After the completion of the new high school and elementary school buildings, Pleasanton school officials introduced the option of integrating the formerly segregated system. The school trustees needed a petition from the community, followed by a vote, in order to do this.
The plan for Pleasanton's integration was put into place two months after the crisis at Little Rock Central High School in Arkansas. There, integration was forced by the Federal Government after nine Black students were famously denied entry to the school by the Governor of Arkansas. This was in direct defiance of the 1954 'Brown v. Board of Education of Topeka, Kansas' Supreme Court ruling, which ordered the integration of all public schools.
On October 27, 1957, the citizens of Pleasanton held a vote regarding integration. There were 343 votes in favor and 88 votes against the process. On the morning of November 1, 1957, Pleasanton's Black high school students and their white counterparts integrated peacefully and Pleasanton High School became the first racially integrated school in Texas. Black elementary school students in Pleasanton remained in classes with Black teachers until January of 1958, when the teachers' contracts were set to expire. All Black teachers in Pleasanton lost their jobs due to the integration. In 2009, the Atascosa County Historical Commission placed a marker not far from the high school building to commemorate the integration.
Sources
"Home - Atlas: Texas Historical Commission." Home - Atlas: Texas Historical Commission, atlas.thc.state.tx.us/.
"Pleasanton School Integration - Pleasanton - TX - US." Historical Marker Project, www.historicalmarkerproject.com/markers/HM12BZ_pleasanton-school-integration_Pleasanton-TX.html.
WBAP-TV (Television station : Fort Worth, Tex.). [News Script: Segregation ends at Pleasanton], item, November 1, 1957; (https://texashistory.unt.edu/ark:/67531/metadc794959/: accessed October 3, 2020), University of North Texas Libraries, The Portal to Texas History, https://texashistory.unt.edu; crediting UNT Libraries Special Collections.
Image Sources
https://www.pinterest.com/pin/509117932853268281/?nic_v2=1a32E8Bik

https://en.wikipedia.org/wiki/Pleasanton_High_School_(Pleasanton,_Texas)#/media/File:Pleasanton,_TX,_High_School_IMG_2593.JPG

https://texashistory.unt.edu/ark:/67531/metadc794959/#when

https://www.cah.utexas.edu/db/dmr/image_lg.php?variable=e_sh_0009

Additional Information