Livestock Exchange
Introduction
Currently vacant and in disrepair as of early 2019, the Livestock Exchange building holds tremendous significant for St. Joseph. Listed on the National Register of Historic Places, it was once the main hub of the country's fifth largest livestock trading and meatpacking center. The four-story building was constructed in 1899 and remains a fine example of Classical Revival architecture, despite its dilapidated condition. The St. Joseph Stockyard Company and other tenants, including a USDA office, occupied the building through the end of 2004. It was at that point that it was abandoned. Today, the non-profit Friends of St. Joseph owns the old building and is hoping to restore it. The stockyards are still in operation, although it is not the same size as it was.
Images
The Livestock Exchange building was constructed in 1899 and was at one time the center of one of the country's largest stockyards.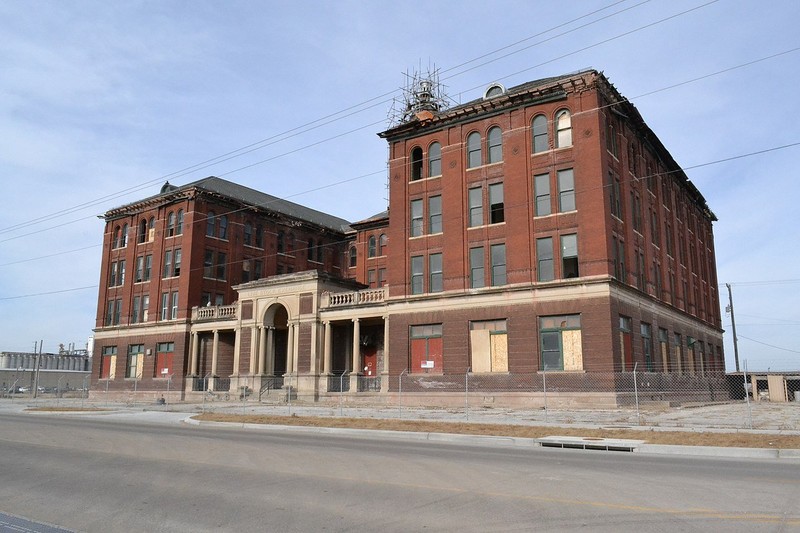 Backstory and Context
The livestock (hog and cattle) and meatpacking industry began in St. Joseph in the 1840s to meet the needs of the growing city. It provided meat to the wagon parties who would set out westward (St. Joseph was a starting point of the Oregon Trail), filled the orders of local residents, and supplied cattle drives and other businesses, such as railroads, the first of which completed a line to the city in 1859.
However, it wasn't until the stockyards opened in 1887 (and three new railroad lines reached the city) that the industry really took off. Before that, the livestock and meatpacking businesses struggled to keep up with demand. By the early 20th century, meatpacking and livestock became the most important and largest industry in St. Joseph, employing over 4,500 workers. As such, it played a central role in the city's development.
The apex of the stockyards came in 1918 when it sold well over four million livestock were sold. Between 1951-1961, it consistently sold over three million. Its fortunes began to decline in the mid-1960s when local meatpacking plants began to close. A number of factors caused this downturn, including the passage of the Packers and Stockyards Act of 1921, which implemented rules to regulate interstate and foreign commerce in livestock trading (as well as in dairy and poultry).
As a result, the Act forced local meatpackers to relinquish their controlling interests in the stockyards, build smaller rural meatpacking plants, and buy directly from farmers. Now, instead of raising fat cattle ready for meatpackers, farmers raised cattle that would be sent to feedlots where they (the cattle) would be fattened up to market weight. The stockyards made the same transition. Although it is not as large as it once was, the stockyards continue to be an important part of the local economy today.
Sources
"History of the Livestock Exchange." Friends of St. Joseph. Accessed February 7, 2019. http://www.friendsofstjoe.com/history-of-the-livestock-exchange.

Snider, Becky L. "Livestock Exchange Building." National Park Service - National Register of Historic Places Nomination Form. April 20, 2004. https://dnr.mo.gov/shpo/nps-nr/04000342.pdf.

White, Marshall. "Stockyards Exchange building sold." News-Press & Gazette. March 10, 2017. http://www.newspressnow.com/news/local_news/stockyards-exchange-building-sold/article_43df05e1-c430-575f-8a48-9115fdd24aca.html.

Photo: Wikimedia Commons
https://en.wikipedia.org/wiki/Livestock_Exchange_Building_(St._Joseph,_Missouri)#/media/File:Livestock_Exchange_Building,_St._Joseph,_MO.jpg

Additional Information