Hans Christian Andersen Statue
Introduction
Created in the mid-1950s, Central Park's Hans Christian Andersen Statue has been a favorite storytime location for area children featuring guest readers. Andersen is well known for his fairy tales such as "The Ugly Duckling," "Thumbelina," "The Princess and the Pea," and many other works. He is also the author of "The Little Mermaid" which became a Disney movie in 1989. The statue was dedicated on September 18, 1956, by the Danish American Women's Association. Many children from Danish and American backgrounds helped by raising around $75,000 for the statue.
Images
A close up picture of the Hans Christian Andersen Statue.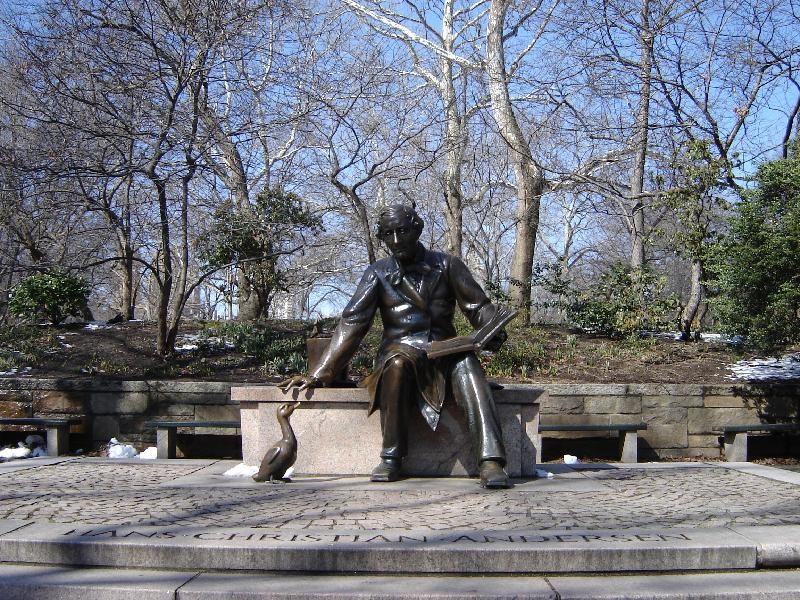 A picture of the Hans Christian Andersen Statue from behind.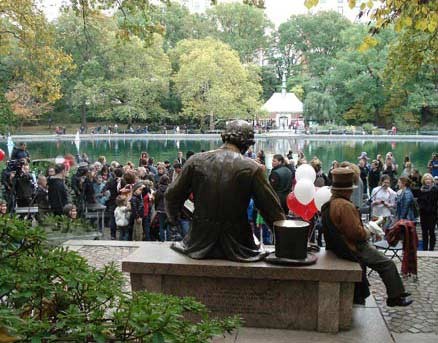 A portrait of Hans Christian Andersen.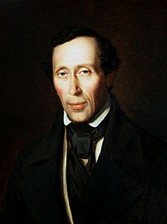 A portrait of Hans Christian Andersen.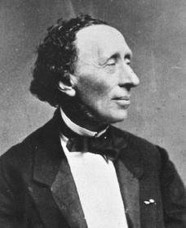 Backstory and Context
This statue began as an idea from a Denmark native Alma Dahlerup, who later became the president of the Danish-American Woman's Association of New York. The Danish baroness previously worked to promote Andersen's fairytales by having them read over the radio. Over the years, she and other supporters worked on finding a place for readings for area children, and with the help of the New York City Parks Commissioner, Robert Moses, the City Department of Parks and Recreation and the Central Park Conservancy approved this location for both a statue and a place for the reading of children's books.
With the help of both Denmark and American school students, the project secured donations, and the children raised about 75,000 dollars. In 1954, Danish-American sculptor George Lober was commissioned to craft the statue which was revealed to the public the following year on the author's 150th birthday. To this day, local and well-known guest readers sit near this state to read Andersen's fairytales to area children.
As time passed, the statue not only became a place for children, it also became a symbol of good relations between both Denmark and the United States. The royal family of Demark still visits the Andersen Statue as a tradition that was started by Queen Margrethe II parents. Which Queen Margrethe II visited in 1976.
Hans Christian Andersen was born in Odense, Denmark on April 2, 1805. He grew up in a poor family and dreamed of becoming rich at a young age. His father died when he was just a mere boy of 11 years old. A few years later, at age 14, he left home for good. Andersen decided to try his luck in Copenhagen, Denmark. He lived in the poor part of town and got jobs such as an actor, a singer, and a dancer, but these jobs did not have any success for him. At seventeen, Andersen was able to go back to school. It took him seven years to complete school and as his victory, he wrote his first narrative in 1828. This was a major success for him as a writer and his life was just beginning as a writer.
By the time of his death in 1874, not only was Andersen a well-known writer but he had written over a hundred and fifty stories. Some of his most popular stories and fairytales include The Ugly Duckling, The Emperor's New Clothes, The Princess and the Pea, The Nightingale, The Red Shoes, The Match Girl, Thumbelina, and The Little Mermaid. 
Sources
Official Website of the New York City Department of Parks & Recreation. Hans Christian Andersen. Accessed December 01, 2017. https://www.nycgovparks.org/parks/central-park/monuments/36.
The Hans Christian Andersen Storytelling Center. The Hans Christian Andersen Storytelling Center. Accessed December 01, 2017. http://www.hcastorycenter.org/.
Hans Christian Andersen. Encyclopedia Britannica. October 06, 2017. Accessed December 01, 2017. https://www.britannica.com/biography/Hans-Christian-Andersen-Danish-author.
Additional Information