Midwestern University Desegregation Marker
Introduction
This Texas historical marker shares the story of the desegregation of Midwestern University in Wichita Falls, Texas. Between 1948 and 1954, numerous African Americans applied for admission to Hardin Junior College, a division of Midwestern University. The board of trustees denied their admission because of their race, but a lawsuit filed in the United States District Court sided with a class of six plaintiffs who had been denied admission to the university. The ruling compelled Midwestern University to comply with the 14th Amendment as interpreted by the Supreme Court in Brown vs. Board of Education and other cases related to racial segregation in American universities. The marker was dedicated in 2017 and is located next to Midwestern State University's Ferguson Building.
Images
This official Texas Historical Marker shares the story of integration at Midwestern University.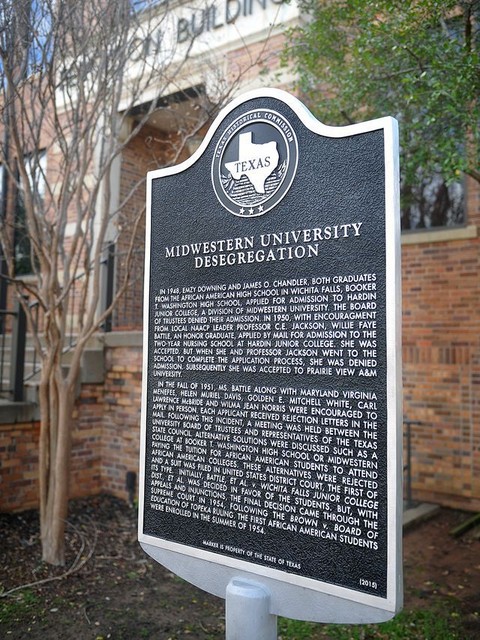 Backstory and Context
Emzy Downing and James O. Chandler, Graduates from Booker T. Washington High School, applied to Harden Junior College, a division of Midwestern University, in 1948. Hardin Junior College was a state institution which was open to white students only at that time and these high school graduates were denied admission. Other students had been accepted through a mail application but denied when they appeared in person. In the fall of 1951, local NAACP leader, Professor C.E. Jackson, encouraged six students to apply in person, rather than by mail.
The six students were denied admission and the university board of trustees offered an alternative solution. Midwestern University would pay tuition for the students to attend an African American college, or they would start a college program at the all-Black Booker T. Washington High School. The closest African American college at the time was Prairie View A&M which was 367 miles from Wichita Falls and the fare for transportation was expensive. The alternative choices were not accepted by the students who filed a lawsuit in federal court. This case was seen by the NAACP as an opportunity to challenge Texas segregation laws.
The plaintiffs demonstrated that they made proper application for admission into Hardin Junior College and were refused admission by the defendant. The plaintiffs demonstrated that this refusal violated the Fourteenth Amendment of the Constitution of the United States. After appeals and injunctions, the Supreme Court made a decision in favor of the plaintiffs. The Court believed African Americans were qualified and entitled to equal educational opportunities in Wichita Falls. In the fall semester of 1954, 12 Black students were accepted and enrolled at Midwestern University. Despite the desegregation of Midwestern University, African American students still experienced racial tension and insults by their white counterparts. However, these twelve students became the harbinger for racial integration at Midwestern University and the state of Texas.
Sources
Knight, Bridget. "Historical marker to recognize MSU's desegregation." Wichita Falls, Wichita, 20 Feb. 2017, www.timesrecordnews.com/story/news/local/2017/02/20/historical-marker-recognize-msus-desegregation/9....
"Wichita Falls Junior College Dist. et al. v. Battle et al, 204 F.2d 632 (5th Cir. 1953)." Justia Law, law.justia.com/cases/federal/appellate-courts/F2/204/632/456364/.

Additional Information