Belvedere Hotel, Baltimore (1903-1991)
Introduction
This Beaux Arts hotel was built between 1902-1903 and its Second Empire roof is a distinctive landmark in Midtown Baltimore.The Belvedere Hotel was named after Colonel John Eager Howard's Belvidere Estate, a bucolic tract north of the city of Baltimore at the time of the American Revolution that would become the site for many of the city's cultural treasures. The hotel saw fewer guests as the Mt. Vernon neighborhood became more residential and as luxury hotels faced increased competition from interstate hotel chains. The hotel was turned into condominiums in 1991, but many areas are still open to the public and the building has become a destination for weddings and other celebrations. The building was added to the National Register of Historic Places in 1977.
Images
Although the Belvedere Hotel is no longer in operation, the building remains an icon of Baltimore history.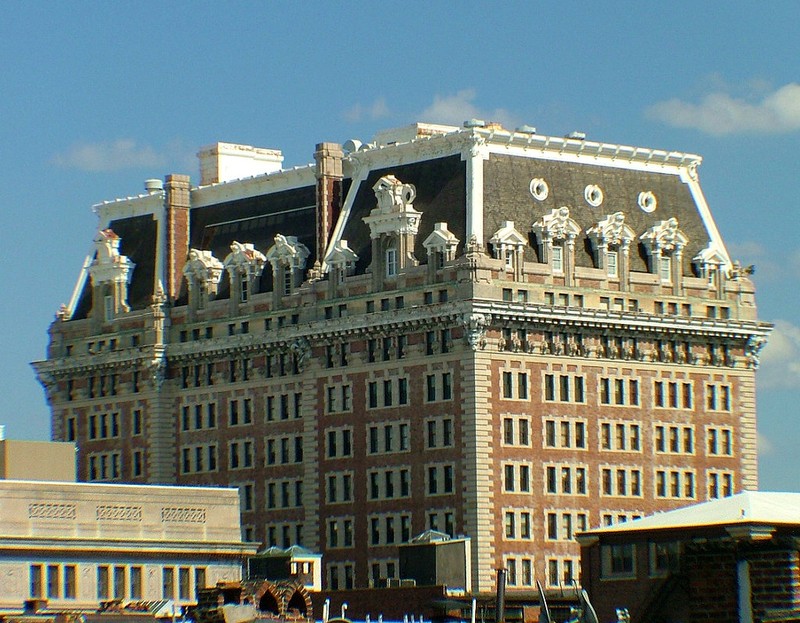 Backstory and Context
As a distinctive monument in an upscale neighborhood well north of downtown (where most Baltimore hotels have clustered), the Belvedere was long a destination for politicians, celebrities, and other visitors of note. Woodrow Wilson, a former Ph.D. history student at Johns Hopkins University, stayed at the Belvedere during the Democratic Convention in 1911, where he was nominated for President. Other famous visitors included Theodore Roosevelt, John F. Kennedy, Wallis Simpson, and Clark Gable. When novelist Henry James stayed at the Belvedere he called it "imposingly modern yet quietly affable."
Sources
"The Grand & Platinum Ballrooms," Belvedere & Co. Events, https://www.belvedereandcoevents.com/tour/grandplatinum/, accessed Dec 3, 2017.
Jacques Kelly, "Henry James Wrote Lavishly of Baltimore," Baltimore Sun, June 13, 1995.
Hayward, Shivers, eds., The Architecture of Baltimore: An Illustrated History (Baltimore: The Johns Hopkins University Press, 2004), 229.
Additional Information