Big Joe Williams Mississippi Blues Trail Marker
Introduction
In the late '50s, Big Joe Williams began a career as a "folk blues" artist. He performed widely at coffeehouses and festivals and recorded many albums for Delmark, Arhoolie, Testament, and Bluesville. He was particularly popular in Chicago, where he lived in the basement of the Jazz Record Mart, and his legendary travels and cantankerous personality were captured in guitarist Mike Bloomfield's memoir, Me and Big Joe. Williams died in Macon on December 17, 1982, and is buried about six miles west of town in Oktibbeha County. He was inducted into the Blues Hall of Fame in 1992.
Images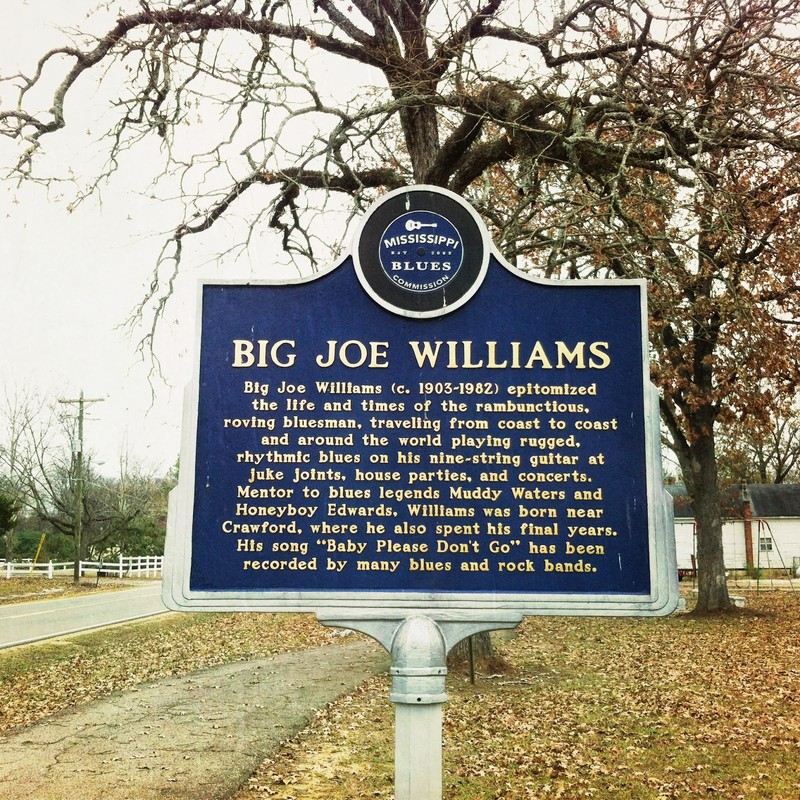 Big Joe Williams, pictured with his famous nine-string guitar.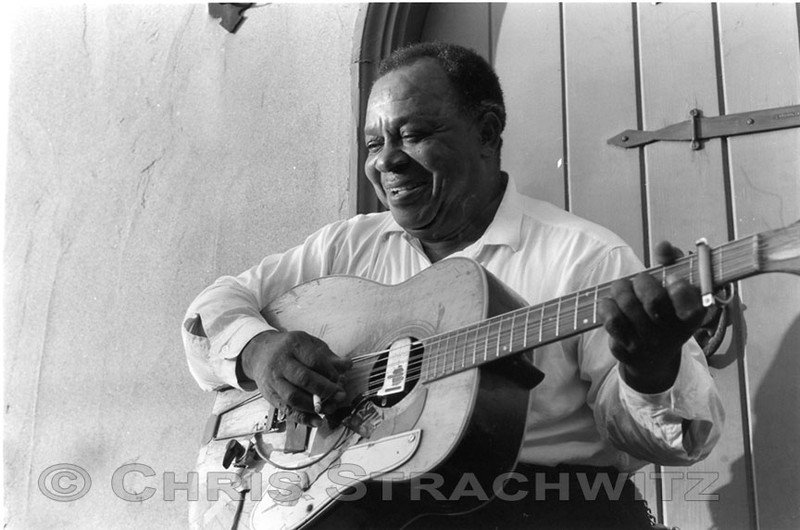 Backstory and Context
"Big Joe" Williams was born in 1903 just outside of Crawford, Mississippi, near the Noxubee Swamp. Williams' created instruments, including his first guitar, which had only one string. Later, Williams would be known for his nine-string guitar, which he created by adding additional strings to a standard guitar. After leaving home as a teenager, Williams made his living by performing anywhere he could, including railway, turpentine, levee, and logging camps; he also traveled with minstrel acts and medicine shows.
Big Joe Williams had a reputation for being a fighter (often called "cantankerous"), as detailed in Michael Bloomfield's Me and Big Joe, but he was nonetheless a very respected musician. He mentored Honeyboy Edwards and Muddy Waters, who would both become notable musicians in their own right.
Later in his career, Williams transitioned from traditional blues to "folk blues" and performed in coffeeshops, nightclubs, and festivals. He also took great pride in his work as a talent scout. Williams died in 1982, and was inducted into the Blues Hall of Fame posthumously in 1992.
Sources
Big Joe Williams, Mississippi Blues Trail. Accessed April 13th 2021. http://msbluestrail.org/blues-trail-markers/big-joe-williams.
Big Joe Williams, All Music. Accessed April 13th 2021. https://www.allmusic.com/artist/big-joe-williams-mn0000060679/biography.
Image Sources
https://line.17qq.com/articles/uuqsescrx.html

https://arhoolie.org/18-minutes-with-big-joe-williams/

Additional Information