General Leroy Pope Walker Historical Marker
Introduction
This historical marker commemorates the life of Confederate General Leroy Pope Walker. Walker was born on 7th February 1817 in Huntsville and served as Secretary of War for the Confederacy during the American Civil War. While some blame Walker for some of the supply problems suffered by the Confederacy, others point out the many handicaps that Walker faced as Confederate states refused to provide supplies to the central government in the quantities requested. After a disagreement with the Confederate President Jefferson Davis, Walker resigned his position but remained active in support of the Confederacy, serving as a brigadier general.
Images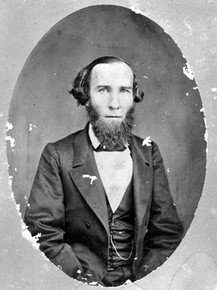 Walker was a supporter of secession and served as Secretary of War for the Confederacy. He later served as an attorney for the notorious outlaw Frank James.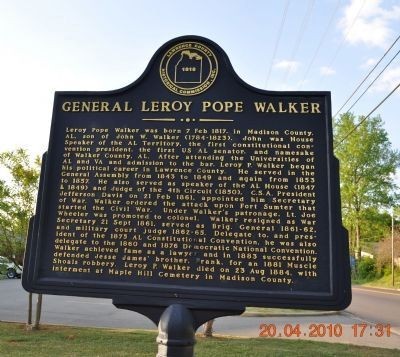 Backstory and Context
Leroy Pope Walker was born on February 7, 1817. He grew up in his birthplace of Huntsville, Alabama which his grandfather was the founder of. He went on to study at the University of Alabama then the University of Virginia. After he graduated, he was admitted to the BAR in 1837 and started practicing law.
Walker was pro-slavery and tried to protect the freedom to own slaves as much as possible. He was a delegate to the Nashville Convention of 1850 where secession was brought up. In 1860 he was the leader of the delegation from Alabama for the national Democratic Convention. When the Democratic party did not support the protection of slavery in new territories, all the Alabama delegates walked out.
The southern states seceded in 1861 and formed the Confederate States of America. The Confederate President Jefferson Davis wanted a cabinet consisting of people from each state. Walker ended up being Davis's third choice for Secretary of War after the first two choices declined. He had no war experience, so he struggled with this position and ended up resigning after a disagreement with Davis. He was then made a brigadier general and commanded troops at Mobile and Montgomery in Alabama.



Sources
White, Johnathan. Leroy Pope Walker. Encyclopedia of Alabama. October 03, 2011. Accessed November 28, 2017. http://www.encyclopediaofalabama.org/article/h-1854.


Additional Information