B'nai Jacob Synagogue
Introduction
Built in 1906 and located just south of Harrisburg, Pennsylvania in Middletown, the B'nai Jacob Synagogue is the oldest building erected as a synagogue in continuous use in Dauphin County. The synagogue was designed and built by its founders in a simple architectural style with Gothic Revival elements, especially with its pointed arched windows. It has served the relatively small Jewish community in Middletown for well over a century despite its declining numbers over the years. Tours are available upon request and services are held the first Friday of every month and on High Holiday Days. The Synagogue was added to the National Register of Historic Places in 1985.
Images
The B'nai Jacob Synagogue was completed in 1906 and has changed little since.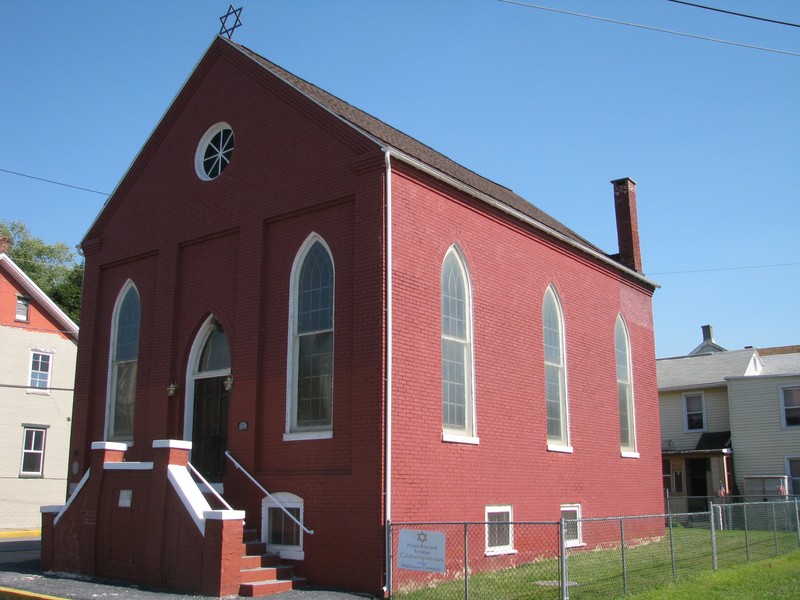 A close-up of the entrance steps that were rebuilt in 2017.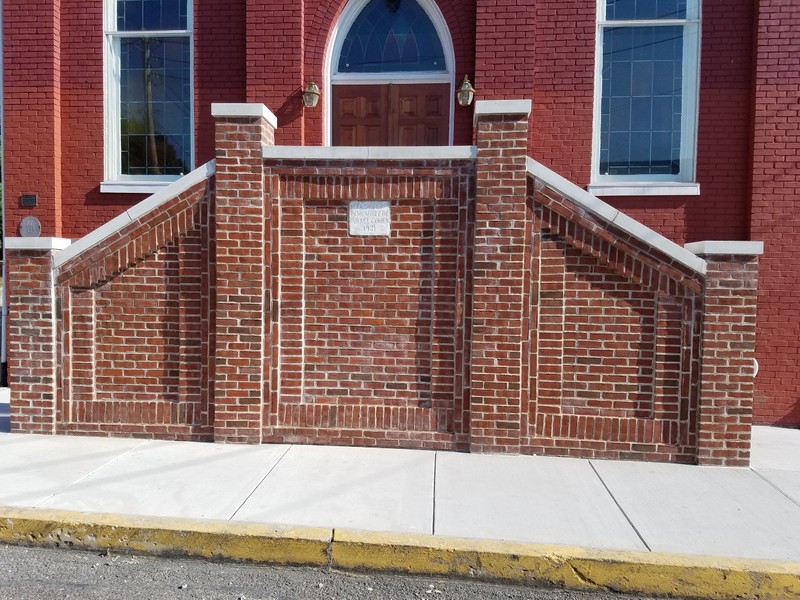 A floor view of the central Bimah and Holy Arch.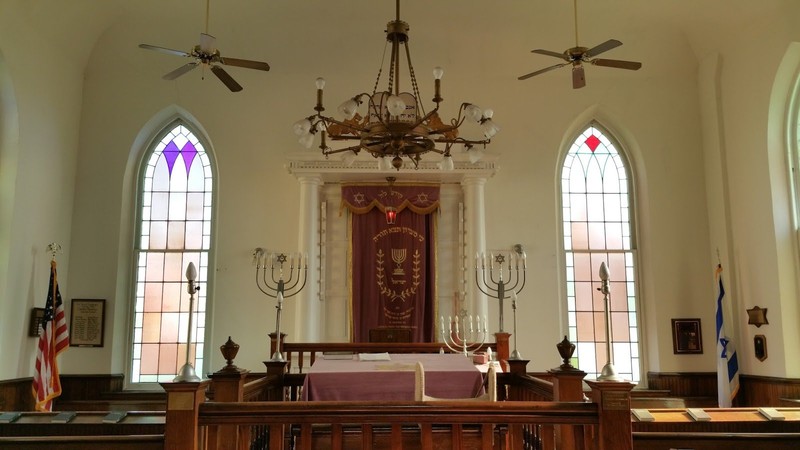 A view of the main worship room from the synagogue's balcony.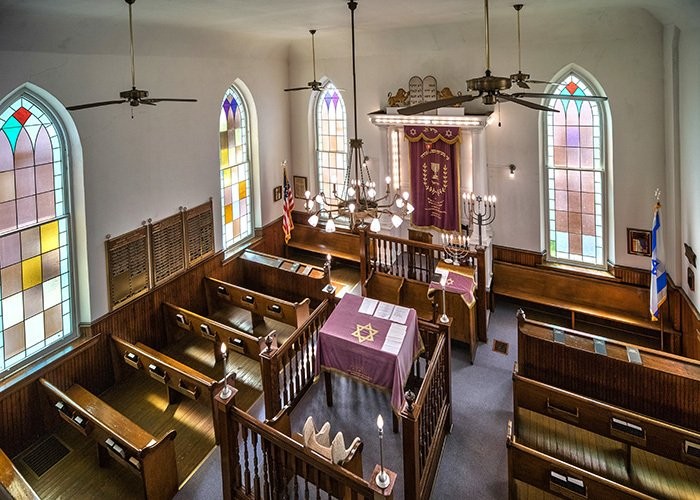 Backstory and Context
During the late 19th and early 20th centuries, immigrant and first-generation Jews began to leave large urban areas, such as Philadelphia, in search of new and better lives in smaller towns. One such town was Middletown, Pennsylvania in which a small number of Lithuanian Jews settled. These Jewish peddlers, cobblers and grocers chose Middletown for its relatively small size, its proximity to Harrisburg, and its location along the Pennsylvania Railroad which offered easy transportation to visit and for visiting family and friends. The early arrivals, about 20 Jewish families, initially met at the home of Yoel and Ida Hervitz until the charter members of the congregation designed and built the B'nai Jacob Synagogue in 1906.
The austere red-brick building is of a single story with a full basement that now serves as a Jewish community center. Its exterior features tall pointed arch windows and a single circular window near the peak of its front gable roof that has a Star of David affixed to it. Its interior is as equally austere as its exterior. Visitors enter through a small foyer prior to walking into its main worship area that features a balcony and original brass light fixtures, center chandelier, wainscoting and balustrade staircase to the balcony. This balcony was the seating area for the women of the congregation. The focus of the room is its centrally located Bimah, analogous to an altar. The Bimah's location in the center of the room is rare in American synagogues but common to orthodox shuls. The worship area also contains a holy arch which houses the Torah within its ark.
It is speculated that the synagogue, which was a Jewish island within a Protestant sea, was designed to blend in with the numerous Protestant churches in the area. The synagogue also possesses several Torahs over two centuries old as well as numerous hand-made perochots, or ark curtains, several of which are located in its basement social hall, within protective frames. The only significant change to the building was the addition of an exterior double staircase in 1921 which was replaced in June of 2017 at cost of $25,000. Today, the neighborhood that surrounds the synagogue is no longer as quaint as it once was as fast food joints and strip malls have invaded due to its close proximity to the Harrisburg International Airport, Route 230, and the campus of Penn State – Harrisburg.
Sources
Gruber, Samuel. "Middletown, Pennsylvania's B/nai Jacob is Small, but Still a Treasure (and Tied to Pusalotus, Lithuania)." Samuel Gurber's Jewish Art and Monuments. August 24, 2015. Accessed November 28, 2017. http://samgrubersjewishartmonuments.blogspot.com/2015/08/usa-middletown-pennsylvanias-bnai-jacob.htm...

"History and Background." B'nai Jacob. Accessed November 28, 2017. http://www.bnai-jacob.org/about.html
Stuart, Jeb. "National Register of Historic Places Nomination Form." United States Department of the Interior/National Park Service. February 1, 1985. Accessed November 28, 2017. http://www.dot7.state.pa.us/CRGIS_Attachments/SiteResource/H077464_01H.pdf.

Zimmerman, Phyllis. "Historic Middletown synagogue to celebrate renovations on Sunday." Press and Journal. May 17, 2017. Accessed November 28, 2017. http://www.pressandjournal.com/stories/historic-middletown-synagogue-to-celebrate-renovations-on-sun...
Additional Information