Beverley; Bullskin; Stephenson-Whiting-Burns Farm
Introduction
Established prior to the American Revolution, the Beverley Estate has changed names over the years but the property remains a working farm just as it was at the time of its establishment in 1750. The original stone house was built in 1760 by John Stephenson on land surveyed by his friend George Washington. Stephenson's house was replaced by the current grand home in 1800 by Beverley Whiting. Whiting's plantation took advantage of the fertile soil of the Shenandoah Valley and produced supplies that aided Washington's troops during the French and Indian War. The estate also produced notable soldiers as well. During the American Revolution, Stephenson's sons John, Hugh, and William all rose to the rank of Colonel. Bullskin passed to the ownership of Beverley Whiting: a prominent and wealthy planter of Jefferson County. Whiting served as a court justice and prominent member of the agricultural producers of the community. In 1845, the property was officially renamed from Bullskin to Beverley in Whiting's honor. The property remained in the Whiting family until 1870 when it passed to the Burns family in whose possession it still remains and operates as a farm. Beverley has been home to revolutionaries, Colonels, soldiers, wives, widows, children, and slaves. Each individual has their own unique story woven into the history of the land. Sadly, the only documentation of the enslaved people who lived and worked here are tax documents and the modest slave quarters where they lived. Some of these structures still stand and provide some glimpse into the life of enslaved persons in western Virginia.
Images
Beverley is significant not only because of the people who lived here but also due to excellently preserved Federal period architecture with Greek revival embellishment as well as stone colonial outbuildings.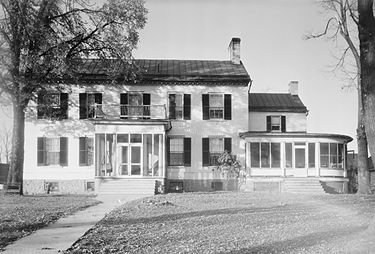 Taken in 1937, this stone structure was built by Richard Stephenson circa 1750-1760 and is listed individually on the Register of Historic places due to its age, historic use as office, and school house during the late 19th and early 20th century.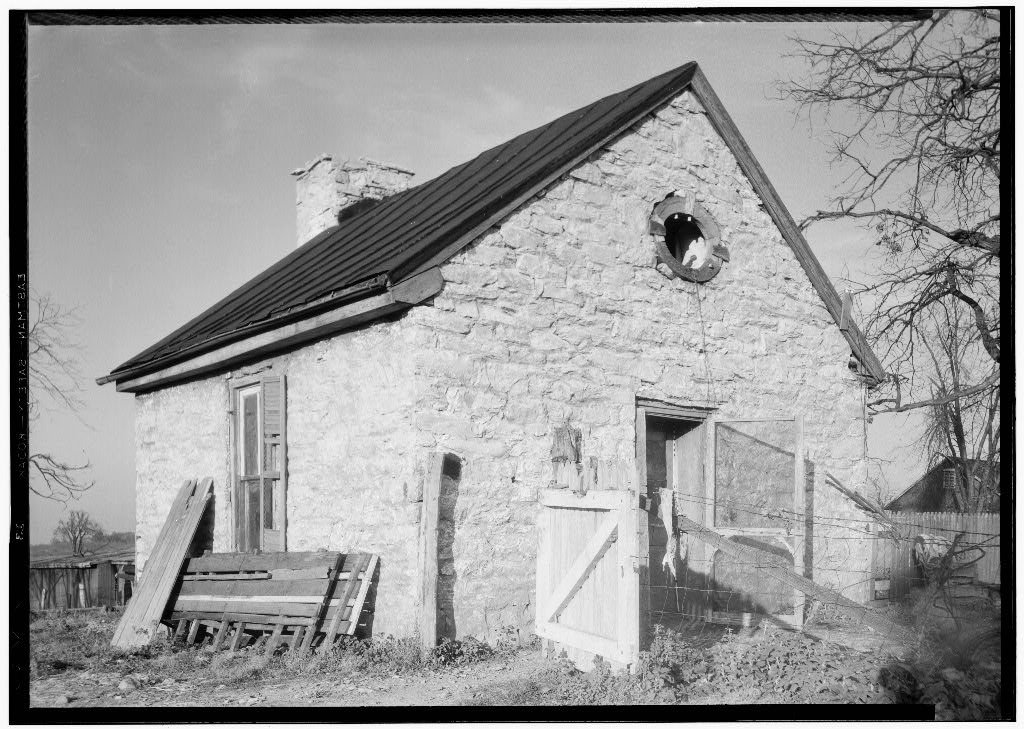 Backstory and Context
This historic house resides on land originally purchased from Lord Fairfax by George Washington's friend Richard Stephenson in 1750 which he named as Bullskin. By 1760 Stephenson constructed a stone residence, several stone outbuildings, and produced grain in the fertile Shenandoah Valley soil. The farm establishment supplied Washington's troops during the French and Indian War with flour and beef. Stephenson had seven children at Bullskin; two of his sons rose to prominence during their service in the American Revolution. Colonel John Stephenson served with noted distinction. Colonel Hugh Stephenson served in the French and Indian War, Lord Dunmore's War, and in 1775 he was recommended by George Washington to command one of Virginia's two rifle companies: the famous "Morgan Spring" Company fighting for American Independence. Hugh led the famous "Bee Line March" in 1775 covering over 600 miles in 24 days to join the Continental army. 1776, Hugh Stephenson was promoted to the rank of Colonel in the American Army; however, shortly after he became ill with camp fever and died in his home here at Bullskin. Colonel Stephenson's half-brother, Colonel William Crawford, lived at Bullskin and served with notability in the Revolution until his death in 1782 when he was burned at the stake by Native Americans.

Bullskin passed by purchase from the Stephenson family to Beverley Whiting in 1795. Whiting was a leading planter in the region in possession of many human slaves. In 1798, Whiting was assessed for taxes, not only for agricultural production, but for his human property as well. 21 adult male slaves were assessed as well as three slaves under the age of 12 which forcibly labored here at Bullskin. The main residence, still standing today, was constructed by Beverley in 1800 in place of the original stone structure.
Public buildings such as a courthouse and jail were erected in the county from voluntary contributions from its citizens. The first case of crime was that of theft of two silver dollars; this court of justices was made up of George Washington as foreman along with Beverly Whiting. This court of justices also sentenced a slave owned by a local planter to be hung for "committing an outrage". Slaves John and Robert owned by Robert Baylor were convicted of theft and sentenced to be burned in the hand, given twenty lashes, all in the presence of the court and justices.The court proceedings of June 1807 revealed multiple punishments to slaves such as branding, burning the hand with a hot iron, and whipped at the public whipping post. However, during this year there were also a large number of slaves set free, manumitted, yet the reason remains a mystery. By 1815 Whiting was assessed for 25 adult male slaves. In 1820, Elizabeth Whiting listed herself as a widow as well as in possession of a total of 31 slaves. The property name was changed from Bullskin to Beverley around 1845 in honor of Beverley Whiting.
1861, the nation was divided into North and South. The fertile and lush fields of the Shenandoah Valley became known as "The Granary of the Confederacy"; leading plantations such as Beverley provided much of this wealth. The Baltimore and Ohio Railroad passed through Jefferson, Berkeley, and Morgan counties; the fields and railroads of these counties were a constant attraction to Confederate as well as Union troops. In 1863 Virginia was divided and West Virginia was formed as a Union state including the three counties containing the railroad. Beverley was part of the Union; however, the Shenandoah Valley was still devastated by Union General Philip Sheridan's "Valley Campaign" of 1864.
The property, now Beverley, remained in the Whiting family until 1870 when Beverley's great-grandnephew, sold the farm to John Burns, in whose family the home and property still remains. This property represents agricultural history in Jefferson County over no less than two centuries. One family has remained on these grounds for 140 years. War veterans and planters dating back to 1756 to the present have lived on these grounds. Slaves have worked these fields and lived behind the house in quarters still standing. Families have been born, raised, worked, and died on this soil. From Bullskin to Beverley this excellently preserved land and grounds remain a historical wealth of history.
Sources
Bushong, Millard Kessler. A History of Jefferson County West Virginia 1719-1940. Heritage Books, 2009.

Pauley, Michael J. National Register of Historic Places Inventory-Nomination Form. Beverley; Bullskin; Stephenson-Whiting-Burns Farm. 1986.

Allen, John C. Jr. Uncommon Vernacular. The Early Houses of Jefferson County, West Virginia 1735-1835. West Viginia University Press, 2011.

Norris, J. E. History of the Lower Shenandoah Valley. Virginia Book Company, 1972.


Additional Information