Old Mobile General Hospital
Introduction
This three-story brick and plaster Greek Revival style hospital is one of the oldest hospitals in Mobile. The cornerstone for the building was laid in 1830 and was dedicated after completion of the building in 1831. The building served as a hospital for over a hundred years from 1831 to July of 1966, seeing the city through multiple rounds of yellow fever and the Civil War. Between 1839 and 1897 Mobile was plagued with recurring epidemics of yellow fever, those afflicted were often cared for here. In 1873, 40% of those who were treated for yellow fever at the City Hospital died. In 1897 yellow fever's last year in Mobile, 35 of the 300 afflicted by yellow fever perished. During the tail end of the Civil War, the building was occupied by Confederate Soldiers and was used as a medical facility during the Battle of Mobile Bay in August 1864. In 1854 the Daughters of Charity began practicing nursing in the hospital and by 1861 had taken over the administration of the hospital. The sisters continued to run the facility until April 15, 1959. Not long after, the hospital was closed in July 1966 when patients were admitted to the newer city hospital. The hospital was given a historical marker in 1964 and on February 26th, 1970 the building was added to the National Register of Historic Places. Today the building serves as office space for Mobile businesses.
Images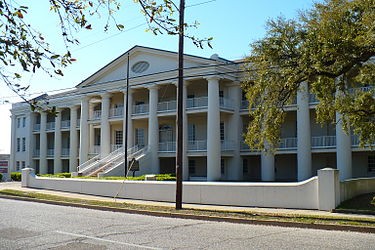 Sources
Floyd, W. Warner. Mobile City Hospital, National Register of Historic Places. February 26th 1970. Accessed November 13th 2020. https://npgallery.nps.gov/NRHP/AssetDetail?assetID=2f6abc40-39d6-4fec-8c45-0deaa9359353.
Hilton, Mark. Mobile City Hospital, Historical Marker Database. July 28th 2015. Accessed November 13th 2020. https://www.hmdb.org/m.asp?m=86404.
Additional Information