The American Jazz Walk of Fame, Kansas City
Introduction
The American Jazz Walk of Fame was established on August 23, 2014 when the tradition of honoring jazz artists began under the influence of Congressman Emanuel Cleaver II. Every year, a committee of musicians selected one or more musicians and dedicated a medallion in their honor in the sidewalk in front of the American Jazz Museum and the historic Gem Theater. Over the years, these medallions have formed a "Walk of Fame" within the heart of the 18th & Vine Jazz District. The medallion dedication ceremony has become an annual event, with celebrated jazz musicians performing in nearby venues to honor new inductees.
Images
2014 inductees: - William "Count" Basie - Jay McShann - Charlie Parker, Jr - Pat Metheny - Mary Lou Williams - Bobby Watson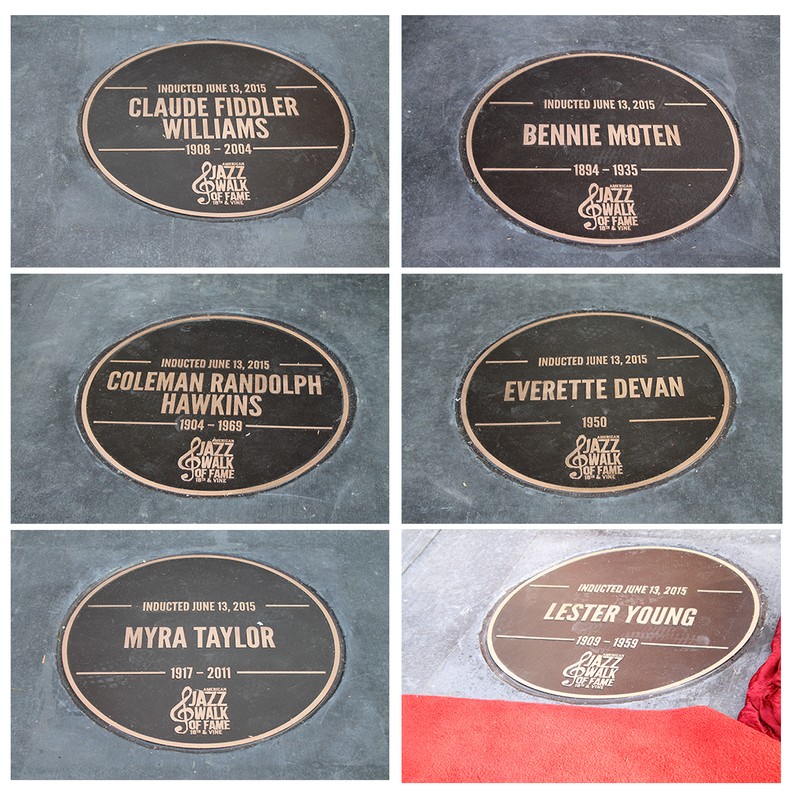 2015 Inductees: - Everette DeVan - Myra Jardine Taylor - Coleman Hawkins - Claude "Fiddler" Williams - Bennie Moten - Lester Young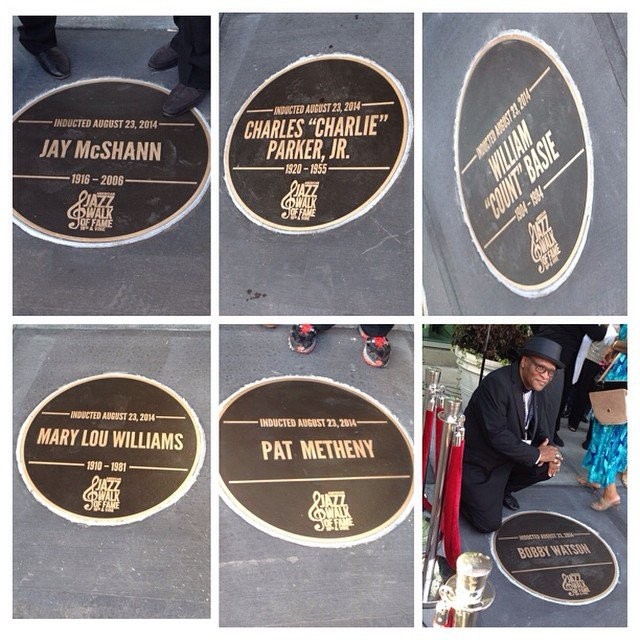 2016 Inductees: - Louis Armstrong - Melba Liston - George Benson - Nina Simone - Queen Bey - Ben Webster - Luqman Hamza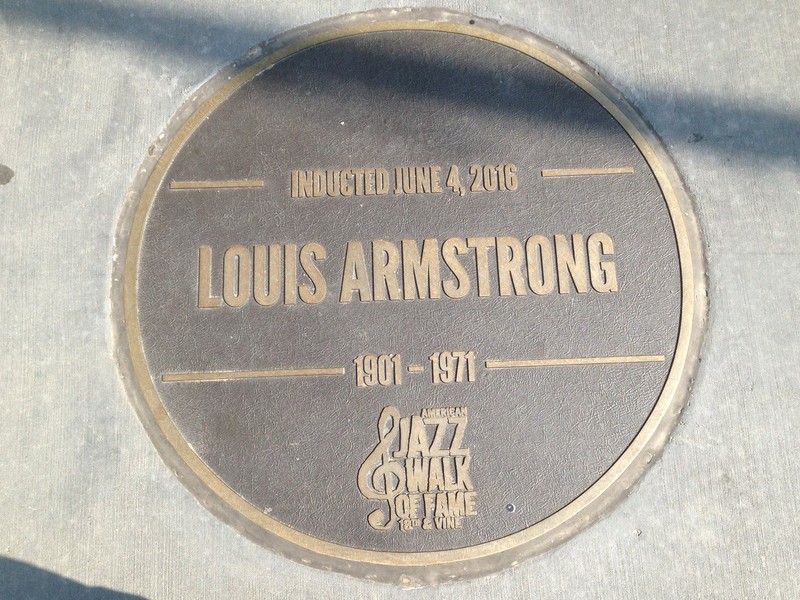 Backstory and Context
The American Jazz Walk of Fame celebration began on August 23, 2014, with the induction of 6 jazz legends: William "Count" Basie, Jay McShann, Charlie Parker, Pat Metheny, Mary Lou Williams, and Bobby Watson. Each artist was given a 30-inch bronze medallion that rests proudly outside the American Jazz Museum at the heart of the 18th & Vine Jazz District. Inspired by Congressman Emanuel Cleaver II, and carried out by the Jazz District Renaissance Corp., the Jazz Walk of Fame has become an accessible and public entry point to deeper explorations of the Jazz District's history.
In 2014, the induction ceremony was followed by a concert at the Gem Theater, which sits directly across the street from the American Jazz Museum. The performance featured the Count Basie Orchestra and a second band of local musicians led by Kansas City's Bobby Watson.
The celebration is held annually and the festivities include the induction ceremony and live music featuring both local and national artists. The event is a favorite for many area families and the festival is supported by donors from both Kansas City, MO, and elsewhere.
Some of the artists recognized in the Walk of Fame include:
Bobby Watson, 2014 inducted, saxophonist, composer and director of Jazz Studies at University of Missouri at Kansas City.
Charlie Parker, Jr., 2014, soprano and alto saxophonist.
Jay McShann, 2014, jazz pianist, vocalist, composer, and bandleader and Kansas City legend.
Pat Metheny, 2014, from Lee's Summit, MO, a contemporary Latin jazz guitarist and composer. Metheny has three gold albums and 20 Grammy Awards and is the only person to have won Grammys in 10 categories. 
Count Basie, 2014, jazz pianist, organist and big band leader.
Mary Lou Williams, 2014, jazz pianist, arranger, and composer.
Lester Young, 2015, jazz tenor saxophonist and occasional clarinetist, known as "Prez" or "Pres".
Claude "Fiddler" Williams, 2015, was the first guitarist to record with Count Basie but his best known for jazz violin.
Myra Taylor, 2015, jazz singer, songwriter and dancer
Coleman Hawkins, 2015, from St. Joseph, MO, played the tenor saxophone and was known as "Hawk" or "Bean."
Bennie Moten, 2015, a ragtime pianist who became the leader of "Bennie Moten's Kansas City Orchestra," which later led by Bill "Count" Basie.
Melba Liston, 2016, as one of few women in jazz to face both racial and gender discrimination and abuse and even so went on to become a notable composer and trombonist.
Louis Armstrong, 2016, nicknamed "Satchmo," "Satch," and "Pops," was a trumpeter and vocalist.
Nina Simone, 2016, singer, songwriter, pianist, and civil rights activist. Her music spanned styles including classical, folk, gospel, blues, jazz, R&B, and pop.
Everette DeVan, 2016, famously known for playing the Hammond B-3 organ.
Luqman Hamza, 2016, (pronounced Luke-mahn Hahm-za) Born Larry Cummings, he was known for his sensual and seductive singing alongside stylish piano play.
Queen Bey, 2016, (no, not Beyoncé Knowles-Carter), who began performing at age 12 and appeared in several movies in addition to her jazz performances.
George Benson, 2016, guitarist and vocalist. Ten Grammy awards and a star on the Hollywood Walk of Fame.
Ben Webster, 2016, known for the beauty of his tenor saxophone tone and for his melodic inventiveness.
Ida McBeth, 2017, Kansas City's "Queen of Jazz and Blues" singer.
Ella Fitzgerald, 2017, known as "Lady Ella," "Queen of Jazz," and the "First Lady of Song" for her improvision of jazz classics.
Ben Kynard, 2017, alto and baritone saxophonist.
Oliver Todd, 2017, jazz band leader, organist, pianist, and trumpeter. Todd was one of the city's most famous band leaders and led a band known as the Hottentots in the 1930s.
Ramsey Lewis, 2017, jazz pianist, composer, and radio personality. Lewis recorded over 80 albums and received five gold records and three Grammy Awards in his career.
Thelonious Monk, 2017, jazz pianist and composer. He had a unique improvisational style and is the second-most-recorded jazz composer after Duke Ellington.
Sonny Kenner, 2018, the guitarist was the first African American to open Kansas City's first Black book store, the Pyramid Book Store and Record Shop.
Jerry Lieber & Mike Stoller, 2018, were a Grammy award-winning songwriting and record production duo.
Marilyn Maye, 2018, a highly praised singer, actress, director, arranger, educator, a Grammy nominated recording artist and a musical treasure.
David Sanborn, 2018, the alto saxophonist has won six Grammy Awards and has had eight gold albums and one platinum.
Leon Brady, 2019, youth educator and professional percussionist.
Dr. Nathan Davis, 2019, a hard bop jazz multi-instrumentalist who played the tenor saxophone, soprano saxophone, bass clarinet and flute. Born in Kansas City, Kansas, Davis is probably best known for his work with Eric Dolphy, Kenny Clarke, Ray Charles, Slide Hampton and Art Blakey.
Harry Belafonte, 2019, Carribean-American singer and actor. Three time Grammy award winner. In addition to a musical career spanning calypso music to blues and folk music was a civil rights activist and close friend of Dr. Martin Luther King, Jr..
Oleta Adams, 2019, local lounge jazz singer and pianist. Her song "Get Here" became an anthem of sorts during the Persian Gulf War.
Quincy Jones, 2019, the trumpeter is record producer, musician, songwriter, composer, arranger, and film and television producer.
2020 - event postponed due to Covid-19 concerns
Mutual Musicians Foundation, 2021, African-American Musicians Union, founded in 1917, and is located at 1823 Highland Avenue.
Al Jarreau, 2021, Grammy award winning jazz singer and musician.
The McFadden Brothers, 2022, sons of famous dancer and performer "Smilin' Jimmy McFadden", Ronald and Lonnie are a true piece of Kansas City musical history.
Sources
Klopus, Joe. 18th and Vine unveils American Jazz Walk of Fame. The Kansas City Star. April 16, 2014. Accessed November 27, 2017. http://www.kansascity.com/entertainment/music-news-reviews/article734480.html.
Images: American Jazz Walk of Fame. KC Jazz District. web. accessed 11/29/2017. http://www.kcjazzdistrict.org/american-jazz-walk-of-fame/
American Jazz Walk of Fame http://www.kcjazzdistrict.org/american-jazz-walk-of-fame/
Klopus, Joe. Jazz Town: 18th & Vine will go from festival to Walk of Fame concert. The Kansas City Star. May 28, 2017. Accessed November 27, 2017. http://www.kansascity.com/entertainment/music-news reviews/article152585064.html
Additional Information