The Kansas City Call
Introduction
Author-Uploaded Audio
The Call is a prominent African American weekly newspaper founded in Kansas City, Missouri in 1919 by Chester A. Franklin. Franklin took his newspaper from a small 4-page weekly to one of the leading African American weeklies in the nation, covering a mix of local and national events and playing an instrumental role in pushing for civil rights campaigns in Kansas City. However, Franklin's position on race was fundamentally conservative, and the ideal of racial uplift characterized his politics and the paper's attitude toward African American progress. Roy Wilkins, one of The Call's leading journalists, would go on to become the Executive Secretary of the NAACP, a position he would hold until 1977. The Call is published every Friday.
Images
A picture of the store front accompanied by some classic cars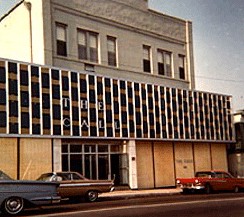 Roy Wilkins was one of The Call's leading journalists before he moved to New York City to work for the NAACP, where he led that organization's paper, The Crisis, before becoming Executive Secretary.

Chester A. Franklin, founder of The Call.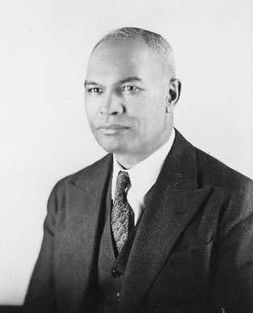 Photograph of a unidentified newsboy holding the Kansas City Call.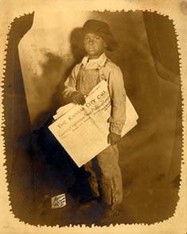 Backstory and Context
Founded in 1919 by Chester A. Franklin, The Call grew into one of the most significant African American newspapers in the United States. The paper continues to serve the African American community to this day. Chester A. Franklin moved to Kansas City, Missouri with an ambition to start a local paper that would capture the spirit of the Black community and give a clear and direct voice to the people of that community, given that many newspapers at that time were being run by and directed toward the white population of Kansas City. After cutting his teeth on another local paper, The Star, together with his mother Clara Franklin, he set up shop in a small building on East 18th St., a few blocks from The Call's location today. [1]
By 1920, The Call was ensconced in new offices at 1715 East Street; "next door at 1717 is our press room and stereotyping room; upstairs is our composing room; in the basement, we store paper direct from the mill...Come yourself and bring your out-of-town friends to see The Call, one of the three modern newspaper plants the Negro race has in America." [2] The sense of pride in the paper's technological sophistication and financial stability, and the sense that these attributes were nationally significant, was palpable in this 1928 promotion for The Call.
Setting a high standard for The Call, Franklin's newspaper focused on constructive news, reporting on achievements and newsworthy events. The wide geographic coverage of the paper reflects its circulation throughout Kansas, Missouri, and other states in the region. The paper investigated local stories related to civil rights in addition to providing an overview of national news and happenings of importance within Black communities from Oklahoma to the northern Great Plains and Iowa. Mrs. Ada Crogman Franklin recorded her belief that the most important thing about the Kansas City paper was its reputation for accuracy.
The Call was instrumental in civil rights campaigns, including allowing Black people to serve on local juries and some measures toward residential integration. However, the paper's general position was one of racial uplift, and Franklin "believed strongly that the Black community needed to focus on its internal issues as much as equal legal rights," according to historian Jason Roe. [3] For instance, Franklin strongly encouraged African Americans living in Kansas City to purchase homes, arguing that renting condemned them to poverty—an argument that, while true, ignored the structural barriers to Black homeownership created by practices like restrictive covenants, discriminatory lending practices, and workplace and income inequality. [4] Similarly, the tone of Franklin's paper was emblematized by the special "Tenth Anniversary and Progress Edition," published in 1928. The cover, with a seated statue of liberty, bustling scenes of towns, trains, factories, and lush greenery, counseled, "Look up and go up!" [5]
From humble beginnings which saw a four-page sheet sell 2000 copies to a sixty-four-page sheet that became the sixth-best selling African American weekly in the nation, Chester A. Franklin's dream of creating and managing a reputable and far-reaching African American newspaper was achieved—indeed, exceeded. Upon Franklin's death in 1955, his wife Ada Franklin took control of The Call. It continues to be published every Friday.
Sources
Footnotes:
Jason Roe, "The Call Newspaper," The Pendergast Years: Kansas City in the Jazz Age & Great Depression. Accessed February 12th, 2020. https://pendergastkc.org/article/buildings-orgs/call.
"You Are Welcome!" Kansas City Call, July 27th, 1928, page 2.
Jason Roe, "The Call Newspaper,"
National Register of Historic Places Multiple Property Documentation Form - Historic Resources of the 18th and Vine Area of Kansas City, Missouri, 1991, Section E, pages 5-6.
Julius Rosenwald, "Progress," Kansas City Call, July 27th, 1928, page 1.
Additional Sources:
Black Archives of Mid-America, "Chester Arthur Franklin Biography." http://Blackarchives.org/node/104
Black Archives of Mid-America, "The History of The Kansas City Call." http://Blackarchives.org/node/106
The Kansas City Call, "About Us." http://www.kccall.com/
Black Archives of Mid-America, "The Call." Image: Store Front. http://Blackarchives.org/sites/default/files/article_images/the_call_building.png
Image Sources
Carl Van Vechten, 1958. Library of Congress Prints and Photographs Division. https://www.loc.gov/item/2004663738/.

Franklin Collection, Black Archives of Mid-America. http://blackarchives.org/collections/photograph-chester-franklin.

Franklin Collection, Black Archives of Mid-America. http://blackarchives.org/collections/photograph-unidentified-newsboy-kansas-city-call.

Additional Information