Catfish Alley
Introduction
In its heyday, Catfish Alley was a vibrant, one-block-long row of businesses just off Main Street in downtown Columbus, Mississippi. A world within a world, the Alley was a gathering place for the area's fishermen and farmers, merchants and residents, people from every walk of life. There, when the day's catch was delivered from the waters of the Tombigbee, it was fried and served up with a side of news, politics and tall tales. Every town in the South has an Alley of sorts — a place that epitomizes the region's cultural diversity. A place for sharing the food, the art, the music and the ideas that begin to define the Southern experience.
Images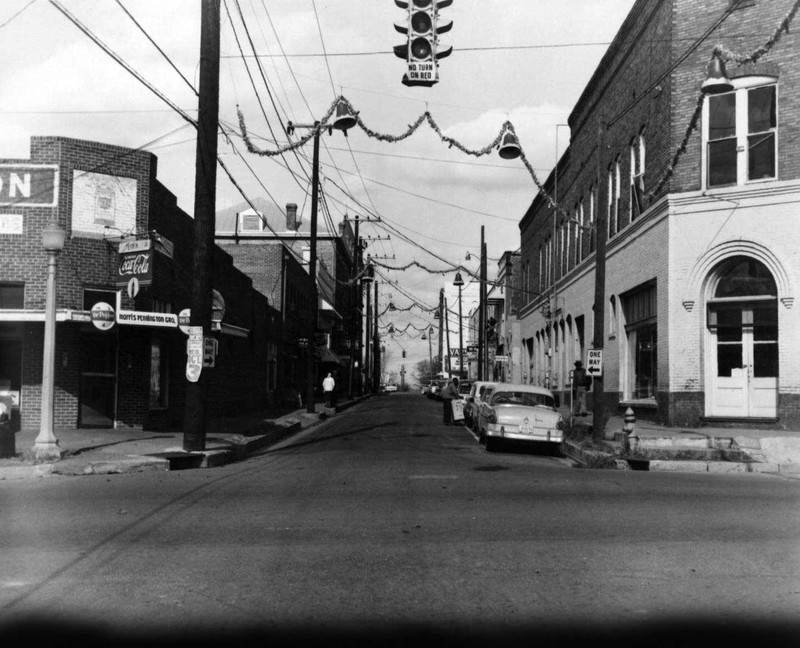 Studdard Law, Corner of Catfish Alley and College St., Columbus, MS
Backstory and Context
History
Located between Main Street and College Street, Catfish Alley was a central meeting and business district for the Columbus African-American Community in the late nineteenth and early twentieth centuries.
Boats would come off the river and bring various items into the city. The alley was known for the smell of delicious catfish sandwiches and the name "Catfish Alley" was born. African Americans would bring horse drawn wagons full of vegetables and ice tubs full of large catfish into the alley. The Alley held numerous businesses on both sides of the street.For over 50 years, Jones' Restaurant has represented a typical Catfish Alley business of the early years. Additionally, you would find a café, barber shops, cleaners and a drug store in the Alley.
The South end close to College Street was a vacant lot. In this area you would find the annual carnival. There was a ferris wheel, merry go round and other games and activities. The carnival was usually held in the fall after cotton picking season ended.
On Saturdays, African Americans would come to Catfish Alley to meet and discuss farming and various other trades. In this area you would also hear some of the best blues performers in the South.
http://visitcolumnbusms.org/index.php/interactive_map/location/52#top

Sources
http://visitcolumnbusms.org/index.php/interactive_map/location/52#top http://catfishalleymag.com/
Additional Information