Old Wakulla County Courthouse
Introduction
Built in 1892-1893, the Old Wakulla County Courthouse is a historic site in Crawfordville, Florida. The building was added to the U.S. National Register of Historic Places in 1976. Believed to be Florida's last wood-frame courthouse still in operation, it was restored and served as the Wakulla County library for a short while. In 1948 after the construction of a new Wakulla County Courthouse, the structure was moved 500 feet but still remains a part of the center of Wakulla County.
Images
Old Wakulla County courthouse - Crawfordville, Florida. 1948. Black & white photoprint. State Archives of Florida, Florida Memory. Accessed 24 Nov. 2017.<https://www.floridamemory.com/items/show/36453>.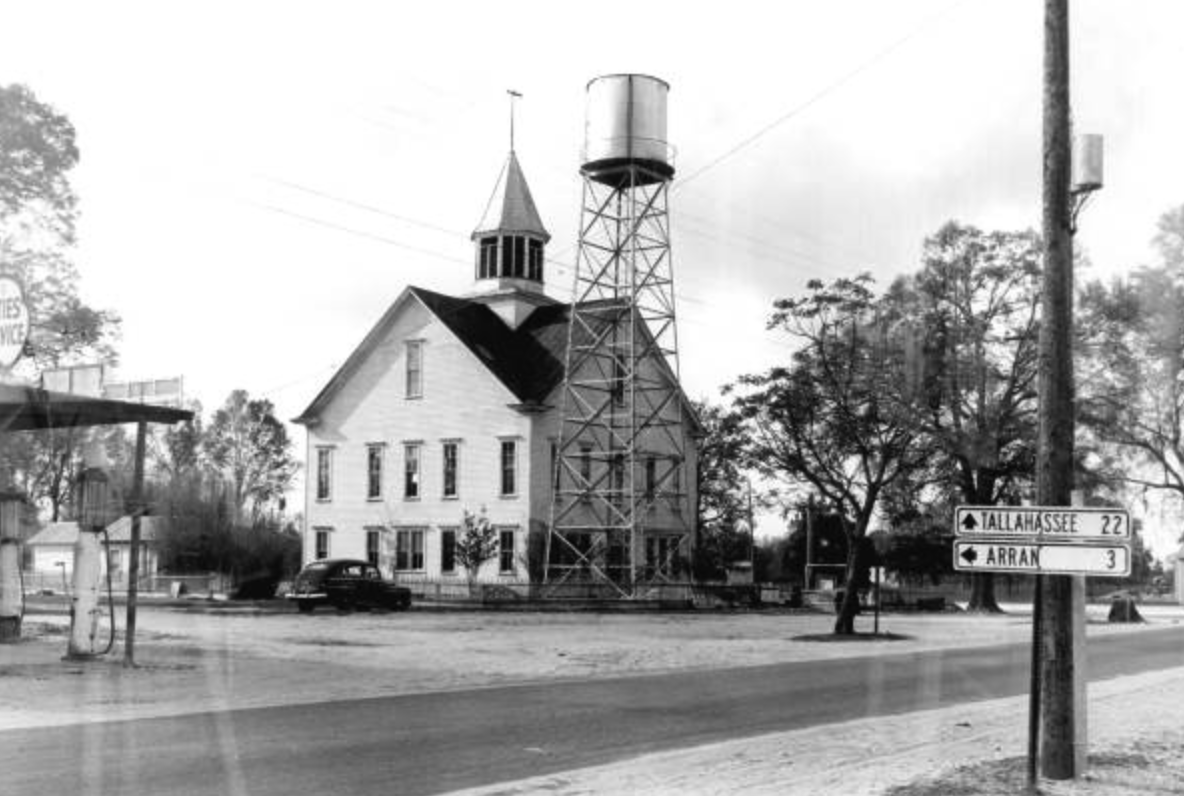 Recent photo of the historic Wakulla County Courthouse.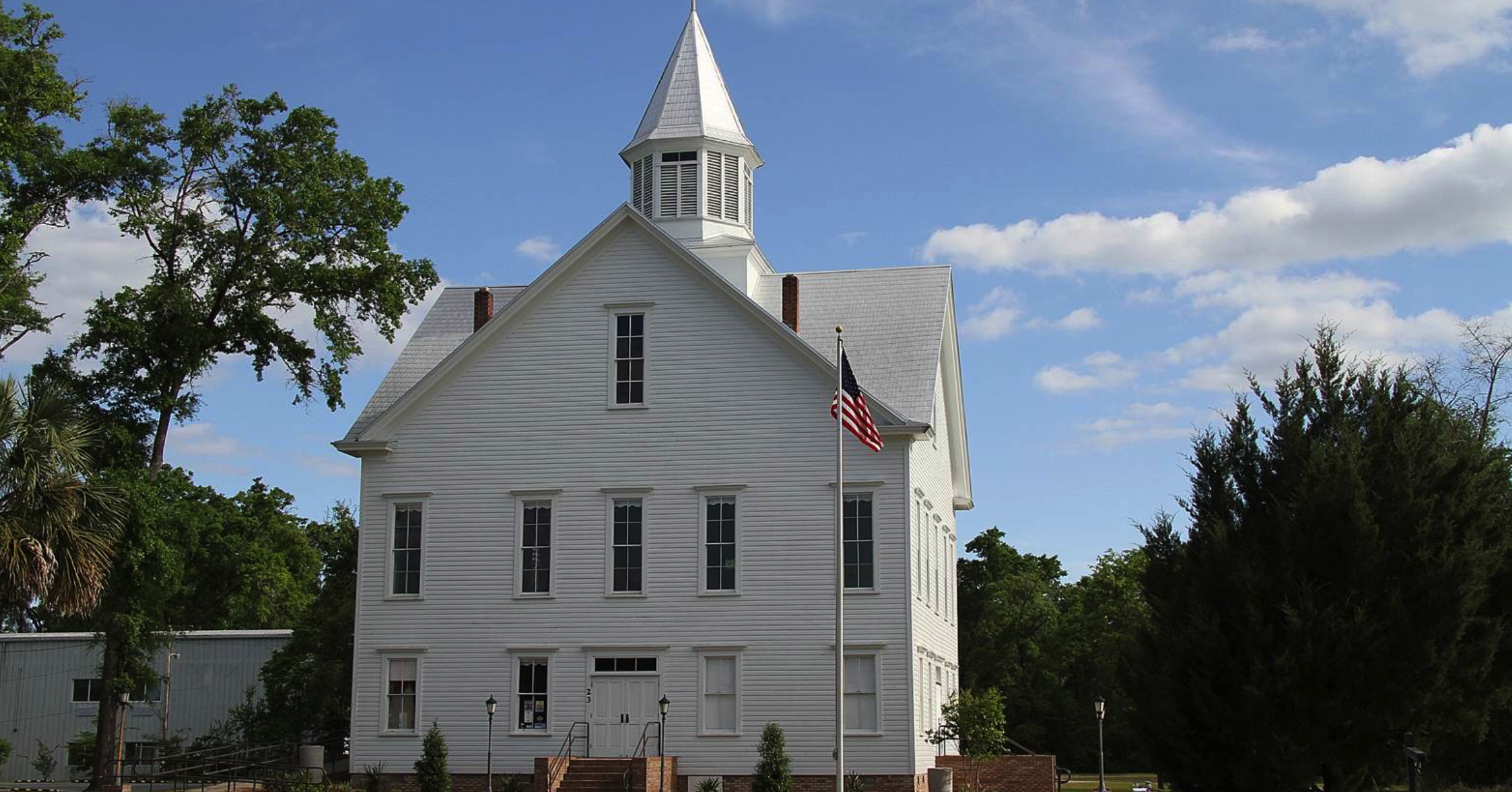 Backstory and Context
The Historic Courthouse is the heart of Wakulla County Crawfordville, FL. This north Florida community is proud of the heritage that this courthouse represents to its people and their traditions. This structure is a rare example of the functional but yet simple public buildings which were constructed in Florida during the late 19th century. Even though there are 2 other wooden courthouses that remain in Florida from this era, this one is the least altered.

Most Florida counties of this time did not have the money or even the need for large governmental structures such as the Wakulla County Courthouse, but this courthouse remained in service for longer than any other similar structures built during this era.

After the first Wakulla County Courthouse was destroyed by arson, this second courthouse which was completed in 1894 is still standing and was constructed with hearty pine cypress. According to the National Register of Historic Places Nomination Form, the building was completed in August 1894, at a total cost of $3,739.4 and. J. E. Pigot was awarded the contract for the seats which cost $69.50.

The structure s a simple wood frame building, that is square with an intersecting gable roof of metal sheeting. From the top of the intersection of the roof gables stands an octagonal cupola with a steeply pointed roof with louvered enclosures. The primary exterior has a five-bay regular fenestration made of a double door entry with transom flanked by two windows on both sides.

The second story repeats this layout with a single window over top of the first-floor door. Each opening on the exterior has a capping of an elaborately molded drip cap. At the top of the center cupola stands a weather vane which was carved of tight grain heart pine in the shape of a commercial fish called a mullet which was an important fish in the commercial history of Wakulla.

In 1948, the Historic Courthouse was moved a block to make room for the construction of a new courthouse. At this point, the building was used for a short time as the public library. But as the building fell into disrepair, the Chamber of Commerce took over occupancy in 1996. Local citizens led the drive to restore the courthouse to its former splendor. The building was moved for a second time a short distance to where you can find the historic structure today. The first two floors have been historically renovated to be historically complete and accurate for its era include gas light fixtures and mouth-blown glass windows which were imported from Germany.

The historic structure is listed on the National Register of Historic Places as one of only three existing wooden courthouses that remain in the state of Florida.
Sources
1. National Register of Historic Places Nomination Form. National Register of Historic Places. Accessed November 24, 2017. https://npgallery.nps.gov/NRHP/GetAsset/c77e7ce0-1f6a-4282-af1e-298c99ecefd3/?branding=NRHP.

2. Historic Old Wakulla County Courthouse. Visit Wakulla. Accessed November 24, 2017. http://www.visitwakulla.com/Things-to-Do/Historic-Old-Wakulla-County-Courthouse.


Additional Information