Saint Bartley Primitive Baptist Church Historical Marker
Introduction
This marker commemorates the oldest African American congregation in Alabama. William Harris organized the congregation in 1820 and served as the minister despite his enslavement. After the Civil War, the congregation built a brick church at this location. The church stood from 1872 to 1964 when the congregation constructed a new church on Belafonte Avenue. During the Civil War, the congregation assisted many former slaves as they attempted to emancipate themselves. The church, like many other Huntsville buildings, was destroyed during the war during the Union occupation of the city. The church was eligible for assistance from the Southern Claims Commission which was established during the Civil War to compensate Southern Unionists for their losses during the war.
Images
One side of the marker which states the overview of the St. Bartley Church located on Williams Avenue.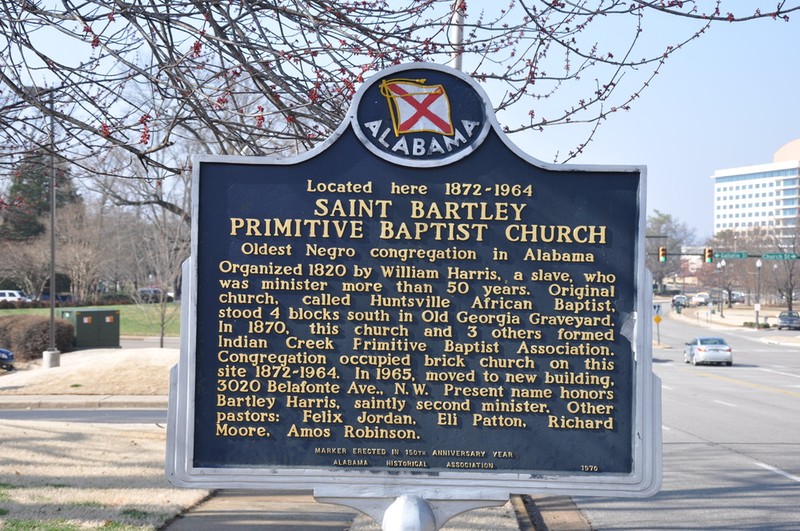 The other side of the marker which repeats the same overview.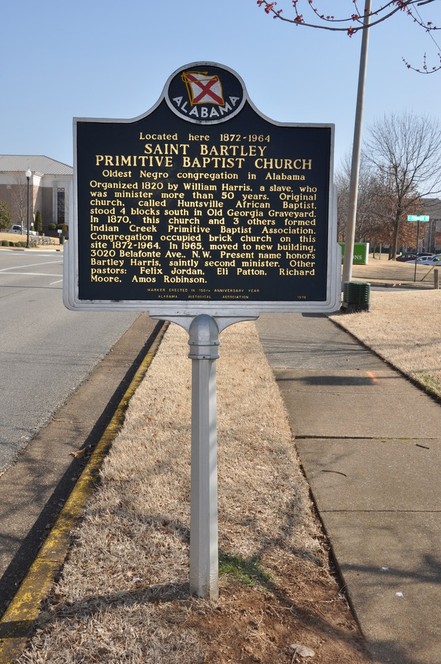 Backstory and Context
St. Barley Primitive Baptist Church dates back to 1808, when enslaved persons in Huntsville began holding religious meetings. The congregation met at a variety of locations, including a graveyard where slaves were buried beyond the city limits. The congregation also went by several names, such as the African Huntsville Church, and owing to its longevity it is regarded as Alabama's oldest Black church.

Southern whites passed many laws barring African Americans from holding their own meetings owing to fears of rebellion, so the church's service was held at night. These meetings mixed Bible study with a chance for members to freely share their religious beliefs which often mixed Biblical stories of deliverance and reflected their desire for slavery to end. Although precise numbers are difficult to determine, the congregation grew quickly and sources indicate 265 members in 1840 and 432 members in 1849. Even though the association was ran by white people, they allowed a degree of independence.

After the Civil War, the church was destroyed by fire during the Union occupation in the area. The building was reconstructed in 1872 after securing funds from the Southern Claims Commission, a fund established by Congress that offered compensation for the loyal Southerners who had lost property during the war. While there is now a current building named St. Bartley Primitive Baptist Church in honor of the historical church, this monument is directly dedicated to the church and those who attended since it was built in 1808.

Sources
Dennis, Carol Ann. St. Bartley Primitive Baptist Church. Blackpast.org. January 29, 2014. Accessed November 22, 2017. http://www.Blackpast.org/aah/st-bartley-primitive-baptist-church-huntsville-alabama-1808.


Additional Information