Silver Springs State Park
Introduction
Silver Springs is a Florida state park and is located in Ocala, Florida off of the Silver River in Marion County. Starting off in the 1870s, it was made Florida's first tourist attraction and it is also the largest artesian springs in the world. With background pertaining to the film industry, it makes it the perfect place for movie buffs to get close and personal with sets. Silver Springs was once the largest amusement park in Central Florida, but is now owned by the state and is classified as a state park.
Images
Tourists on one of the glass bottom boats.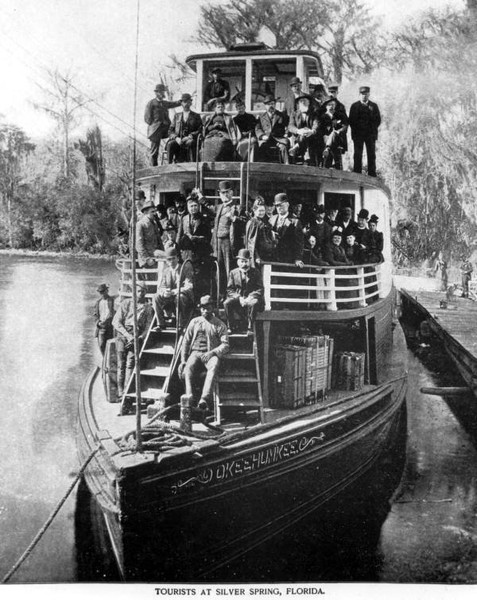 Rhesus monkey from Tarzan film franchise that was filmed in Sliver Springs between the 1930s to the 1950s.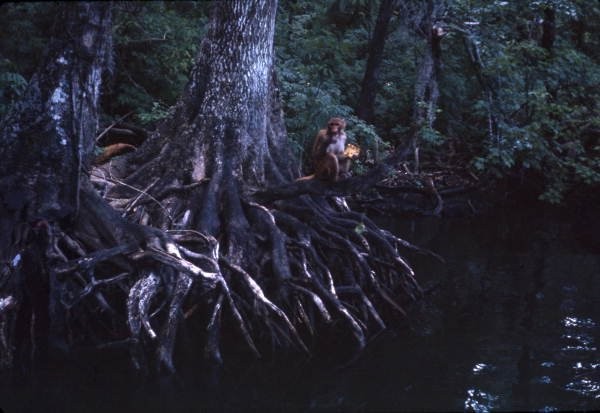 Giraffes that were once in Silver Springs.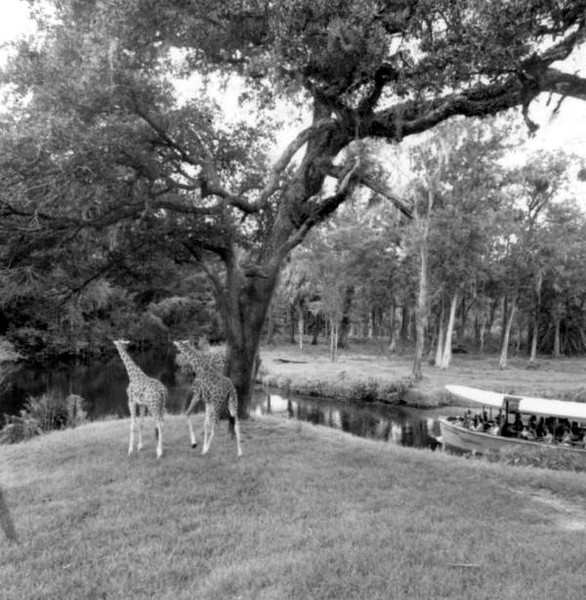 Overview of Silver Springs. Tourists use to be able to swim in the springs.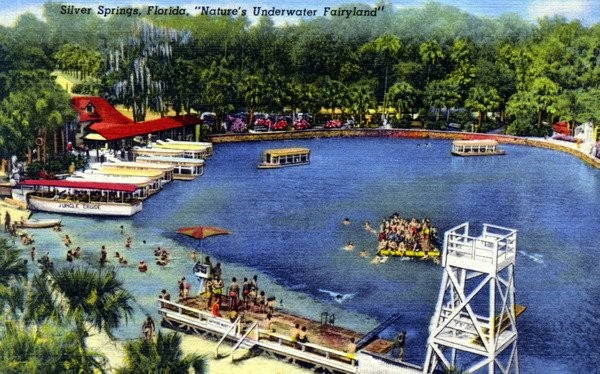 Underwater painting class skit that showed how clear the water in the springs really was.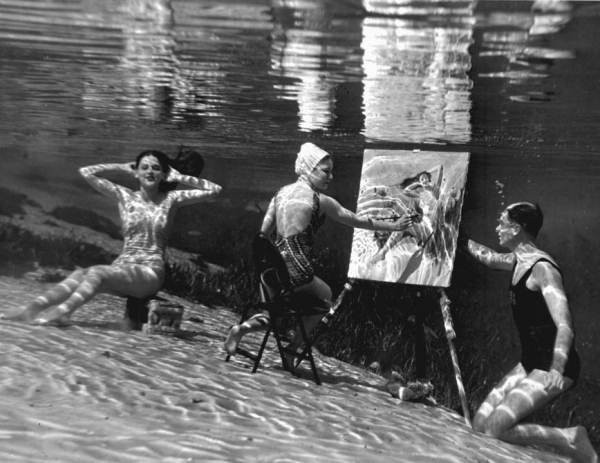 Cast of Sea Hunt at Silver Springs which was filmed here from 1958 to 1961.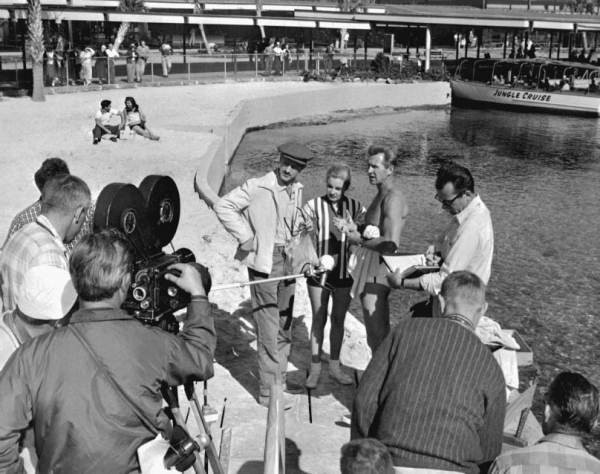 Silver Springs main front sign.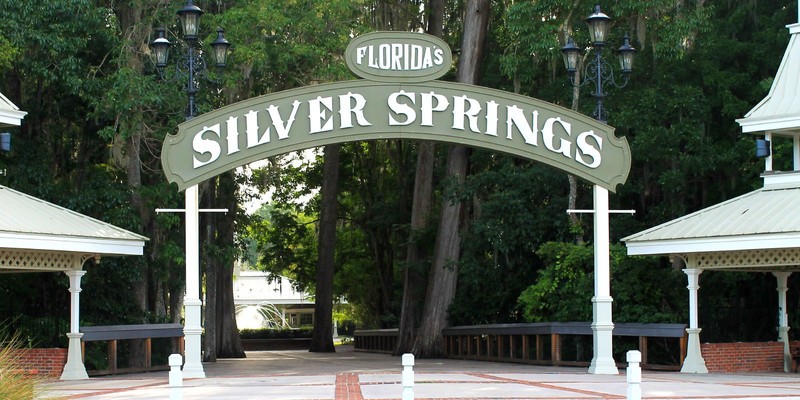 Overview of a map of the water park owned by Silver Springs called Wild Waters.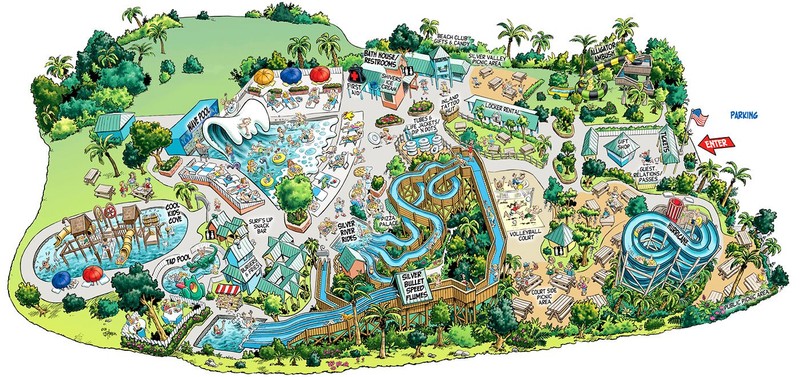 Overview of a map of Silver Springs.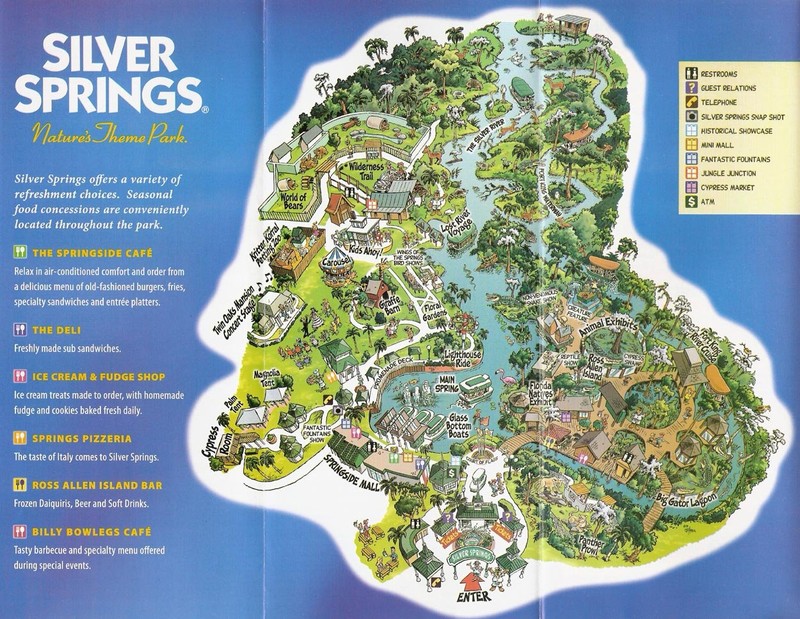 Backstory and Context
Before signing a 20-year agreement with the state of Florida in 2012, Silver Springs housed quite a few attractions for visitors to experience. Guests could take a ride on the carousel, get a bird's eye view in the lighthouse ride, or go on an adventure on the Wilderness Trail Ride that took you in a Jeep to explore the forest. After that you could explore the activities that they had to offer; from "Wings of the Springs" show where you got a close view of birds from around the world, watch a show filled with nonvenomous reptiles, or parents could relax while their children played in the Kids Ahoy! Playground. Guests could also take a walk around the park and view animals such as gators, reptiles, giraffes, panthers and bears.
Since 2012 some things have changed though. All of the animal encounters, rides, and shows have since been shut down. What remains to this day are glass-bottom boat tours ($11 for adults and $10 for children over the age of five) and the Silver River Museum and Enviromental Education Center where visitors can learn about 19th century farming. They also offer a museum that gives information to visitors on the natural history, information on the first European settlers, and archaeology.
Silver Springs also owned what they called their 'sister park.' This was the water park, Wilder Waters. Opening in 1978, Wild Waters attracted guests due to it not having such a high-volume compared to other competitors. It was also one of the first water parks in the country to use fiberglass flumes for their rides. The water park offered several different rides, something for the whole family to enjoy. They specialized in water flume rides, where the guest would sit on the water slide and go down, being carried by water through twists and turns and enclosed areas. For younger guests, they offered a smaller flume ride, a wave pool, and 'Cool Kids Cove' a water ride area that offered multiple kid rides for $3 a ride. Pricing was $25 for a day pass and $40 for an annual pass. Although it was loved by the local community, Wild Waters closed in 2016, and has since been left to deteriorate.
Before the abundance of theme parks started popping up in Central Florida, such as, Walt Disney World, SeaWorld and Universal, Silver Springs was one of the places to be. For decades, Silver Springs was the most populated tourist destinations in the state of Florida. "It was not an amusement park in the sense of Coney Island and the rides that one might associate with it," Marwick says. "It was kind of the natural Florida, and I think that's what people are hoping to see it go back to now," (Allen, Greg). With prices of theme parks sky rocketing, sometimes as much as $140 for one park, one day, it is clear to see why tourists would want to visit somewhere a little less bank breaking.
Along with the things to do, the television show Sea Hunt was filmed within Silver Springs from 1958 to 1961, where later a ride called Lost River Voyage in 1991 would take guests through a boat tour of the filming location. Movies such as the Tarzan film franchise, that started filming in the 1930s and ended in the 1950s, were also filmed here, (Allen, Greg). Guests can still see the species of Rhesus monkeys, that were used for filming, when walking along the river. Creature from the Black Lagoon (1954) was also filmed here, (Florida, Visit). With all of productions that were filmed here, it makes the perfect place for film buffs to explore further into the history of the film industry.
Besides the attractions that are left for guests to do, Silver Springs has many recreational activities to explore. Recreational activities that are available include canoeing and kayaking ($20 for an hour or $45 for a full day), geo-seeking (explained as a GPS treasure hunt game), and many other exciting options.
Visitors can also rent out cabins ($110 a night), camping sites and primitive camping sites (both are $5 for adult and $1 for children, but can only be provided to organized groups). Cabins can accommodate up to six guests and include a dining area, two bedrooms, a kitchen with all the necessities inside, a bathroom with toilet and shower, air conditioning, fireplace and a fire pit outside. Regular camping area include water and electrical hook up, fire pit, grill and picnic table, (Florida Division of Recreation and Parks).
Sources
Allen, Greg. "Now Endangered, Florida's Silver Springs Once Lured Tourists." NPR, NPR, 13 Apr. 2013, www.npr.org/2013/04/13/177105692/before-disney-floridas-silver-springs-lured-tourists.

"Creature from the Black Lagoon Official Trailer #1 - (1954) HD." YouTube, 2 Sept. 2011, youtu.be/svyPswixryM.
"Florida Division of Recreation and Parks." Activities | Florida State Parks, www.floridastateparks.org/park-activities/Silver-Springs.

Florida, Visit. "Glass-Bottom Boats, History and Monkeys at Silver Springs (PHOTOS)." The Huffington Post, TheHuffingtonPost.com, 2 Oct. 2013, www.huffingtonpost.com/visit-florida/glass-bottom-boats-histor_b_4031504.html.

"Scuba Diving at Silver Springs, Florida." YouTube, 5 Mar. 2016, youtu.be/Xz_bWQL1jeY.

"Silver Springs Lost River commercial." YouTube, 12 Aug. 2011, youtu.be/MxIUDgO7jtk.

"Tarzan The Ape Man Trailer 1932." YouTube, 24 Oct. 2014, youtu.be/zJyXfpSBXLo.
"World Famous Glass Bottom Boats." Silver Springs State Park, www.silversprings.com/.
Additional Information