Buckroe Beach (Bay Shore Beach and Resort)
Introduction
Buckroe Beach originated as a plantation for English settlers in 1619. From around 1637 to the end of the Civil War, it was transformed into a commercial tobacco farm. Leaders from Hampton Institute, an African American institute in Virginia now known as Hampton University, purchased eight acres of the beach around 1890 to be used for student activity. A hotel, known as the Bay Shore Hotel, was also founded at this location and grew as African Americans from distant states came to visit. By 1930, the hotel had expanded to become Bay Shore Beach and Resort. The area of Buckroe Beach was divided until the 1964 Civil Rights Act, as this Black resort competed with the white-only Buckroe Beach Amusement Park.
Images
Buckroe Beach is a popular attraction in Hampton, Virginia, with an array of activities for people of all ages.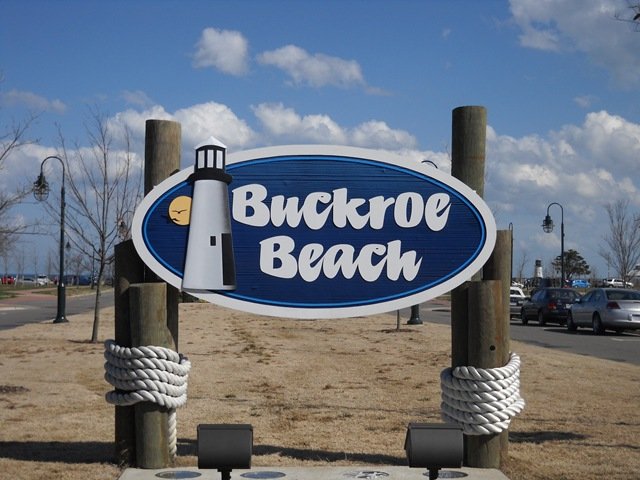 Newspaper article promotes the Bay Shore Beach and Resort, describing its entertainment opportunities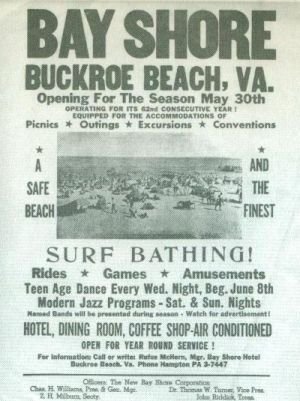 Backstory and Context
Following its expansion in the 1930s, the Bay Shore Beach and Resort was booming with business. What had once been a small cottage with four rooms became a three-story building consisting of 70 rooms, a fishing pier, dance hall, and amusement park. Important figures within the Black entertainment community, such as Louis Armstrong and Ella Fitzgerald, performed in the halls, drawing a great deal of tourists. Some of the artists at the resort were so prominent they attracted white fans from nearby locations. Being pre-integration, a fence separated the Black Bay Shore Beach and Resort from the white Buckroe Beach Amusement Park; yet, this did not stop many white fans from climbing this barrier to enjoy these artists. The amusement park was also a big hit among guests with a roller coaster known as the Dixie Flyer, bumper cars, a Ferris wheel, etc. Along with being a top vacation spot for Blacks during the 1930s, it was a popular location for a variety of Black conventions.
In 1933, Buckroe Beach was hit hard by a hurricane sweeping through the area. The resort had difficulties recovering from this point on but remained open for approximately fifty more years. Following the Civil Rights Act of 1964, which promoted integration within the United States, the Bay Shore Beach and Resort along with the white resorts of the area struggled to stay in business with nearby competitors, such as Virginia Beach and Bush Gardens. The resort which had once thrived, closed its doors to tourists in 1985. Although the attraction was demolished in 1991, Buckroe Beach would eventually be revived during the early 2000s.
Today, Buckroe Beach is once again a popular attraction located in Hampton, Virginia. The pier, destroyed by Hurricane Isabel in 2003 and restored in 2009, provides guests with a bait shop for fishing and a snack bar for refreshments. There are many additional recreational opportunities that accompany a beach rental, such as kayaking and paddle boating. The area also consists of walking and cycling paths, a massive playground, and pavilions beneficial for large events. Along with being a significant historic site, Buckroe Beach is a vibrant location that provides a variety of activities for individuals of all ages.
Sources
Erickson, Mark St. John. Remembering one of the South's premier Black seaside resorts. Daily Press. August 21, 2013. Accessed November 26, 2017. http://www.dailypress.com/features/history/our-story/dp-bay-shore-seaside-resort-20130821-post.html.

From the Archives: Buckroe Beach. Richmond Times-Dispatch. June 30, 2017. Accessed November 26, 2017. http://www.richmond.com/from-the-archives/from-the-archives-buckroe-beach/collection_a6d90a0c-4621-1....

Stephens, Ronald J.. Buckroe Beach, Hampton, Virginia (1890- ). Blackpast.org. Accessed November 26, 2017. http://www.Blackpast.org/aah/buckroe-beach-hampton-Virginia-1898.


Additional Information