Historical Marker for James "Slim Harpo" Moore
Introduction
Born in February in 1924, in Lobdell, LA, James "Slim Harpo" Moore was one of the most successful artists that pioneered a type of blues sound called Swamp Blues. Initially known as "Harmonica Slim", Moore became a school dropout and started playing everywhere he could. Through his arduous work and talent, Moore (now "Slim Harpo") worked his way up the Billboard top 40 charts and had a cross-over sound appreciated by Black and white audiences alike. During his career, Moore produced multiple albums and worked with various artists of different genres of music. Slim Harpo died of a heart attack on January 31, 1970, but he will be remembered for his music and the historical marker on Highway 190 in Port Allen, LA.
Images
Album cover with Slim Harpo's first hit- "I'm a King Bee"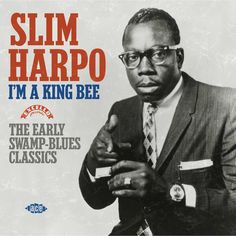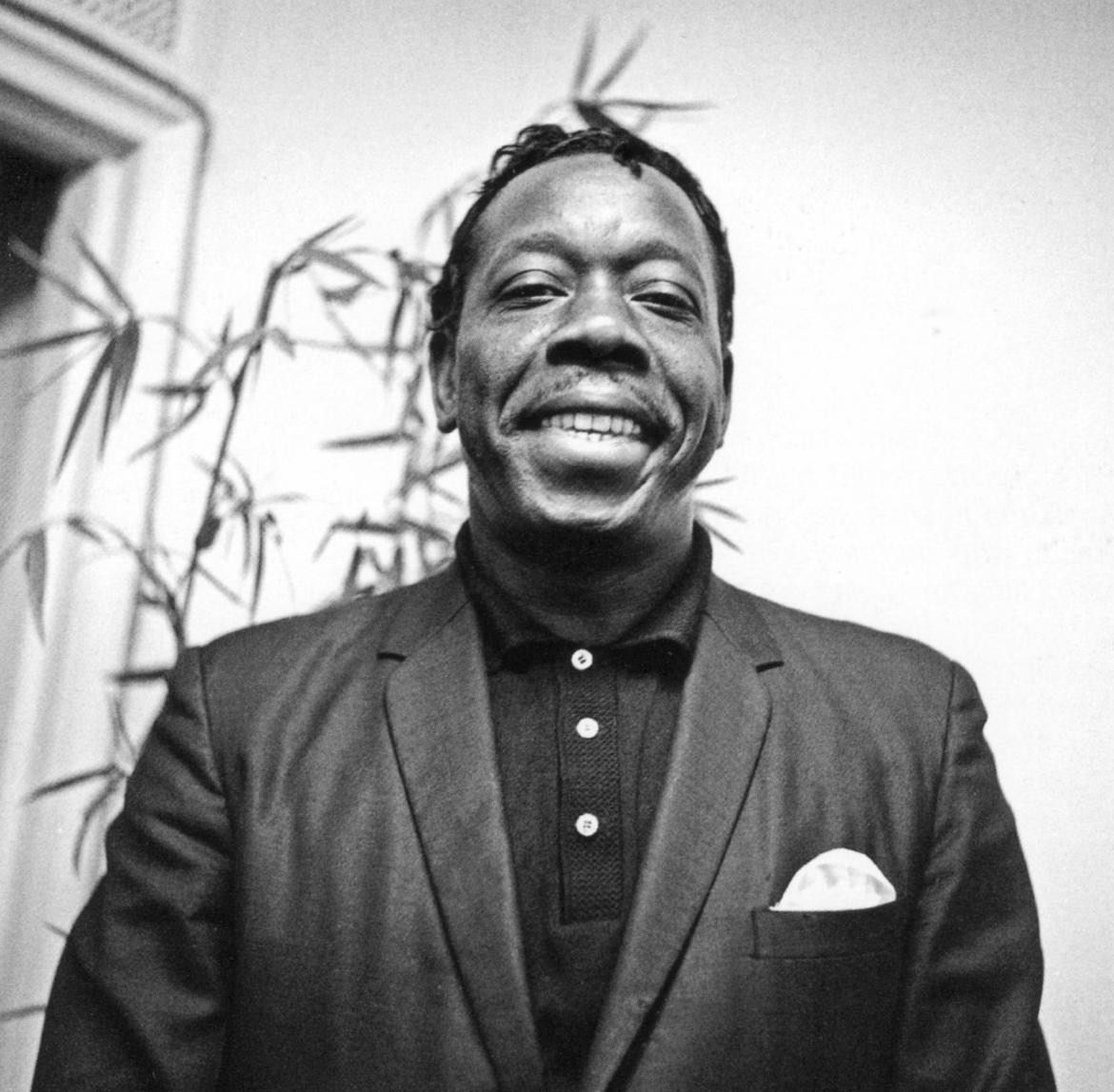 Album single "I'm A King Bee"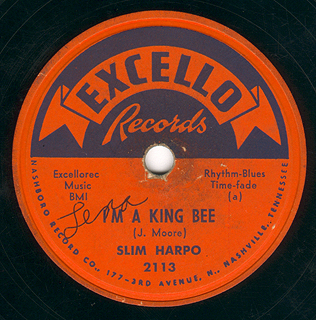 Location of Historical marker along hwy 190 in Port Allen, LA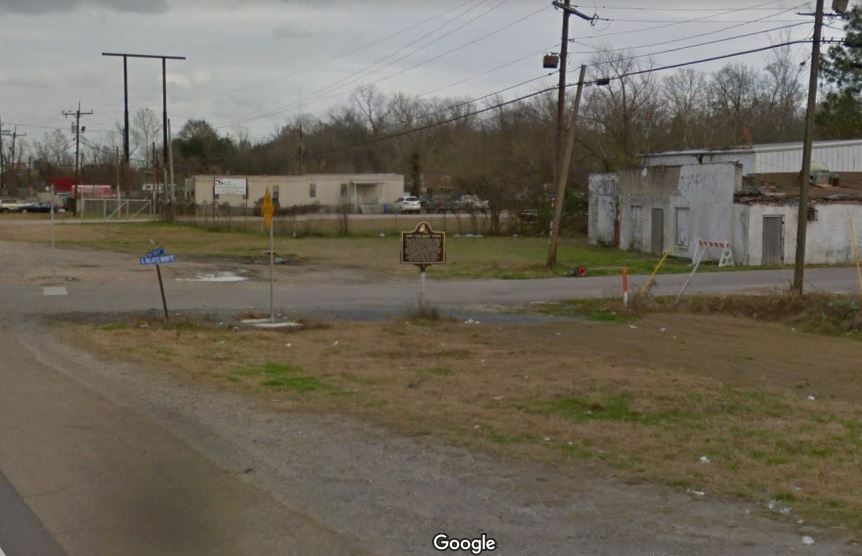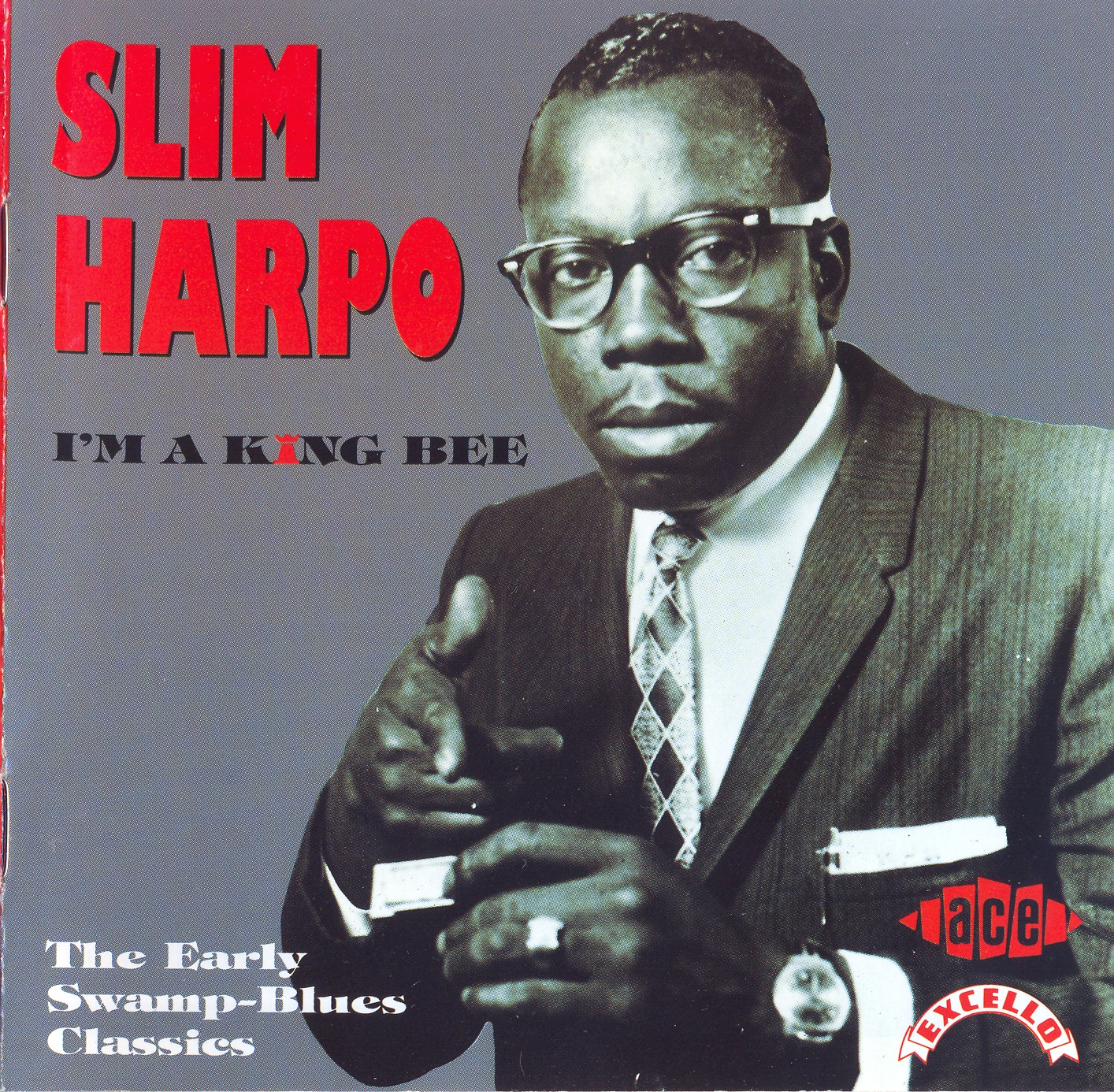 Slim Harpo with harmonica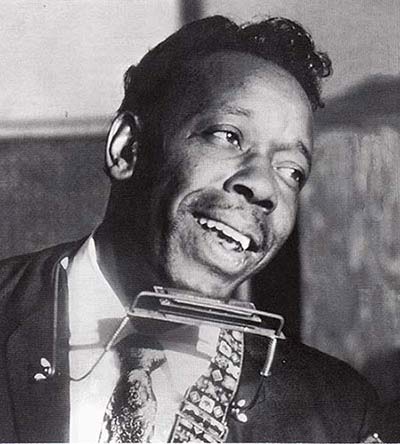 Closeup Picture of Historical Marker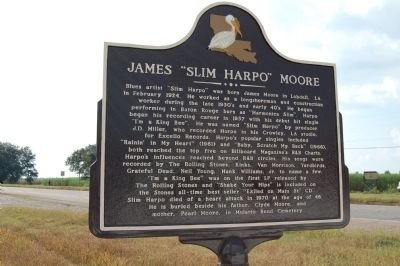 Backstory and Context
Slim Harpo was born James Moore in Lobell, LA right outside of the capital city of Baton Rouge. He dropped out of school and had various jobs including longshoreman and construction worker. At this time, he started his music career playing wherever he could, including bars and blues clubs. Initially, Moore was known as Harmonica Slim because of his harmonica playing, and later (and from then on) he became known as "Slim Harpo". It's ironic that his nickname was harmonica-related as he wasn't exactly an expert harmonica player, and his true talent would be found elsewhere. Slim began working for a local record label and kicked off what would be a successful career creating Swamp Blues music.
Slim Harpo started out playing on other's records like recording artist Lightening Slim and eventually was featured on his own records. Slims first single in 1957 was "Got Love If You Want It" with the other side of the record being one of his hits "I'm a King Bee" which was later played by the world-famous Rolling Stones. The biggest song of his career was the 1966 hit "Baby, Scratch My Back", and he had other hits like "Rainin' In My Heart" which made the Billboard charts. He did have other famous songs (though less popular than the others) in the genre of dance "Tip On In" and "Tee-Ni-Nee-Ni-Nu". Both songs were able to make the R&B charts. Slim worked for the record producer JD Miller out of Crowley, LA, as many of his peers did. It was a bit controversial at the time due to some racist connections the producer had. Slim's colleagues included: Lightning Slim, Lazy Lester, and Silas Hogan.
Slim Harpo's sound was famous and iconic because of the long pauses between notes and the seductive quality of his singing. His genre would eventually be known as Swamp Blues. The sound often found in Swamp Blues was partially a result of the style, influence, and sound found in the place where Slim's record producer licensed his artist's music: Nashville, TN. He licensed it through a company called Excello. It was often mistakenly thought that Slim and his fellow musicians were from TN and not Louisiana.
At the height of his career, Slim Harpo began to tour the country as far out as Detroit, New York City, and Los Angeles. He reunited with his contemporary Lightening Slim with whom he later did a blues tour around the country in a dual capacity. This lead to an eventual European tour where he was slated to perform and record in a studio there. Slim got sick and suddenly died of a heart attack on January 31, 1970, leaving his European tour unfinished. He will be forever remembered in his music, his iconic sound, and his foray into Swamp Blues that has left a mark in the genre of Blues and music as a whole. Not to mention, one can visit the historical marker that reminds us of the talented musician that once hailed from Port Allen, LA.
Sources
James "Slim Harpo" Moore. hmdb.org. July 05, 2015. Accessed November 19, 2017. https://www.hmdb.org/marker.asp?marker=85007. Historical Marker for James "Slim Harpo" Moore

Sandmel, Ben. James "Slim Harpo" Moore. Music Rising. Accessed November 19, 2017. http://musicrising.tulane.edu/discover/people/317/James-Slim-Harpo.

Koda, Cub. Slim Harpo. Bluesharp. http://www.bluesharp.ca/legends/sharpo.html.


Additional Information